The Fast Lane
Designer Georgina Chapman's first collection of wedding gowns for Marchesa is aimed at the impromptu bride.
---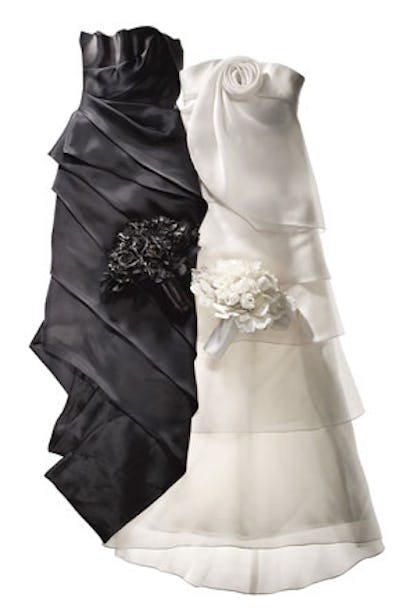 Georgina Chapman and Harvey Weinstein's wedding last December was full of memorable moments. But as is often the case for brides, not all of them were entirely pleasant. A week before Chapman was to marry the movie mogul, the English beauty found that the wedding gown she'd designed was far from perfect. "The tulle came back from India brown," she recalls, laughing. "I thought, Oh, that's nice, a brown wedding dress. We had to wash it for hours and paint it all."
As trying as those last few days before the big event may have been, they didn't dissuade Chapman from creating her first bridal collection for Marchesa, the label she cofounded with Keren Craig in 2004. For its first capsule collection, scheduled to launch exclusively at Bergdorf Goodman in July, Chapman came up with six dresses that reflect Marchesa's romantic design sensibility, from a silk crepe column with a draped bodice and flowers to a silk chiffon goddess gown with an embroidered neckline.
Designing wedding gowns came naturally to Chapman even before she was a bride herself. She had a number of private clients special-order such dresses, including a gown rumored to have cost into the six figures for British girl-about-town Coleen McLoughlin, who plans to wed Manchester United soccer star Wayne Rooney this summer.
McLoughlin, however, is hardly typical of the customer for Chapman's line, which represents a new concept in the crowded bridal arena. The frocks will be off-the-rack rather than individually ordered, suitable for the woman who marries on impulse and for the last-minute shopper, both of whom are usually neglected by designers who generally cater to those brides—the majority—who go in for meticulous long-term planning. The collection, priced from $3,100 to $5,600, will be displayed in Bergdorf's fourth-floor Couture Evening Salon, not far from Marchesa's evening gowns. "Although there is still nothing as gracious as the exacting fittings and pamperings that the traditional wedding gown process entails, there is a market for what we loosely call the runaway bride," says Linda Fargo, a senior vice president at Bergdorf's. "While some women make their hopefully once-in-a-lifetime gown their first priority after saying 'Yes,' others overlook it until the last minute."
Marchesa's evening designs were already a perfect fit for some such brides. Fargo remembers a friend who couldn't find the right gown for her wedding and began to panic three weeks before the big day. The retailer perused her store and came up with an off-white Grecian dress with an embroidered gold band from Marchesa's Notte diffusion line. "She just wore little gold sandals, and she looked so beautiful," Fargo recalls.
Chapman's experience as a bride has taught her a thing or two about designing wedding gowns. "You want to look beautiful and feel comfortable," she says. "You don't want to feel awkward on your wedding day."
And just because the dresses come in shades of white doesn't mean that only those about to take their vows can wear them. Chapman once fitted a woman in an embroidered white fishtail gown: "I said, 'Oh, it's exciting. When is your wedding?' and she said, 'No, no, no, it's not my wedding; it's my daughter's wedding,'" the designer recalls. "I said, 'Maybe we should go for color.'
The customer said, 'She won't mind.'"
Styled by Livia Cetti for The Green Vase.