March Release: Madonna
Madonna appears in 46-page Steven Klein photo spread, Jimmy Fallon's hopes to be new "Voice of America," and Kimberly Ovitz on using father's name to build a fashion brand
---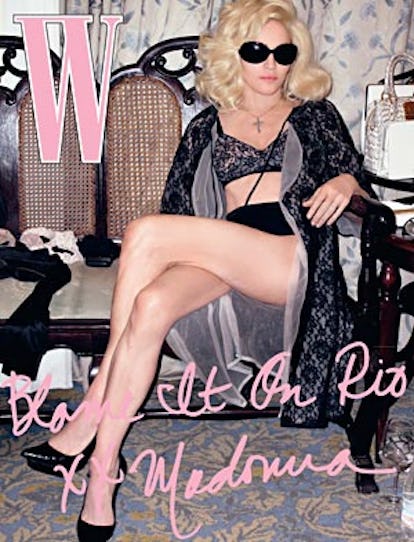 Highlights from the March issue of W magazine are below:
MADONNA: "BLAME IT ON RIO" PHOTO SPREAD BY STEVEN KLEIN
"Blame It on Rio" is Madonna and Steven Klein's third collaboration in W magazine. Told in Klein's cinematic style, the 46-page photo spread is the story of a strong, powerful, exceedingly chic woman and her appreciation of the male form.
ACTOR/COMEDIAN JIMMY FALLON
ON THE COMMENTS HE RECEIVES ABOUT HIS DAILY "WEBISODES" ON THE LATE NIGHT WITH JIMMY FALLON WEBSITE…"They are just brutally honest. I'm embracing it. When it's constructive, it's good. They're like, 'You touch your hair too much. You say "um" too much.' And you're like, 'You're right, I gotta stop that.' But when it's like, 'Jimmy Fallon's a douche bag,' what am I gonna do? I don't wanna be one. But I don't know what to do differently to make that guy like me."
ON HIS HOPES TO BE "A VOICE OF AMERICA" AS THE NEW LATE-NIGHT HOST… "Watching Dave Letterman after 9/11, as a New Yorker, I was like, 'Wow, that's exactly how I feel.' And hopefully I can be a voice of America like that; hopefully people will say, 'I wonder what Jimmy Fallon thinks.'"
FASHION DESIGNER KIMBERLY OVITZ
ON FEELING LIKE SHE HAS TO PROVE HERSELF MORE BECAUSE OF HER FAMOUS FATHER…"I want to define myself away from who my dad is. I want to be Kimberly Ovitz. When I was first doing this, I thought about whether I should or shouldn't use my name and how that would affect people. I was finally confident enough to just say, 'This is my name; I'm going to use it.' People will have preconceived notions, but my clothes will back it up."
Please credit the March issue of W for the above. For additional information or to schedule an interview with a W editor, please contact Engelman & Co. at 212.645.9222. Thank you.