Marcia Patmos Loves Flat Shoes, Seasonal Layering
The fashion designer shares a page from her style notes.
---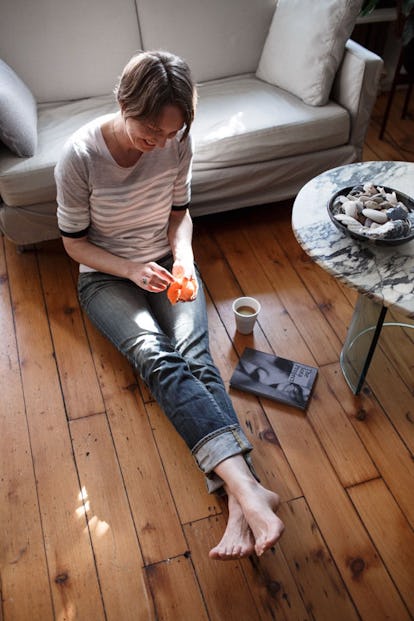 Marcia Patmos is a walking advertisement for her women's wear line, M. Patmos. The designer, who lives in New York City, has an enviable ability to make casual jeans, t-shirts, scarves, and flat shoes look chicly pulled together. Here, she breaks down her favorite pieces.
Define your style in three words: Easy modern layers.
Daily Uniform: Jeans and trousers (Levis, R13, M. Patmos), Billy Kirk belt, t-shirts (James Perse, M. Patmos, Isabel Marant), and different variations of layers depending on the weather—sweaters, button-down shirts, or cardigans.
Greatest hits: A creamy ivory A Detacher leather jacket, polo riding boots that I bought in Argentina several years ago, a grey Derek Lam coat with big front pockets and leather undercollar, a Margiela gigantic crystal necklace, Lutz & Patmos fire red cashmere eternity scarf, R13 sweatshirt, super destroyed Uniqlo men's jeans that I recently had resurrected by Brooklyn Denim, M. Patmos Mariner striped cashmere boatnecks (I have a few colors).
Preferred footwear: Flat Birkenstocks in summer, Common Projects sneakers in temperate weather, boots in winter. Almost always flat.
Finishing touches: My great aunt's ring, my wedding rings, a vintage Bedouin ring, my grandmother's bracelet, a 10,000 Things necklace, an Anna Sheffield necklace, and often a metallic leather accessory like a shoe or belt.
Nighttime look: Unless it is a very dressy event, it is the same or similar to what I am wearing during the day. Maybe add heels and some lip gloss.
Best recent discovery: Yale University art gallery, kickboxing.
Favorite stores: Kinokuniya bookstore, GRDN, Erie Basin, Book Court, Sahadi Imports, Of a Kind Vintage, Layla, Bird, Warm, Kisan, Edit, The Primary Essentials, Tophat, Maryam Nassir Zadeh, Foxy & Winston, Eva Gentry Consignment, and, of course, Barneys.
Style pet peeve: Makeup application on the subway.
Style icons: David Bowie, Charlotte Rampling, Pina Bausch.
Last purchase: Dark green Pentel refillable pencil and tiny black Rhodia notebook, the new Bryan Ferry album on iTunes, and a very satisfying small square wooden comb.
Lusting after: A long Vietnamese vacation (my husband and I somehow never managed to take our honeymoon).
Favorite haunts: Blue Bottle Coffee, Milk Bar for an avocado-egg-cheese melt, Long Island restaurant for cocktails, Hasaki for sushi, Lovely Day for long beans, Rucola for branzino crudo, Cucina (in Woodstock) for kale salad, Café Habana Outpost (in warmer months) for tacos, Bar Pitti for just about everything, but especially the spinach.
Winter survival tips: Jurlique moisture replenishing cream, M. Patmos scarves and layers, my mom's vintage '70s ski parka for seriously cold New York days, shearling slippers, Ten Ren ginger tea.
What's always in your bag: Snakeskin zip pouch (holding Weleda lip balm, metrocard, credit card, ID, money, insurance card, lip gloss, comb), keys to home and studio, toothbrush/toothpaste, Emergen-c, Oscillococcinum, headphones, phone charger, healthy snack to fend off low blood sugar when running around (almonds, etc.), iPhone, iPad, sketchbook, pencil, pen, highlighter.
Photos: Marcia Patmos Loves Flat Shoes, Seasonal Layering
Portrait of Marcia Patmos. Courtesy of the designer.
Wooden combs. Courtesy of Marcia Patmos.
Common Projects sneakers and M.Patmos static tweed trousers. Courtesy of the designer.
Morandi at Yale University Art Gallery. Courtesy of Marcia Patmos.