Designers Are Making Moves
In case you missed them, here are the top style stories of the week.
---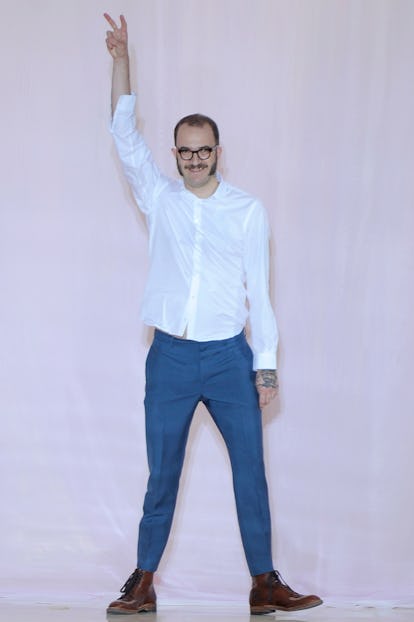 Alexander McQueen The brand opened up shop in a Madison Avenue palace, naturally.
Anderson, J. W. Accepted a role at Loewe in exchange for LVMH's purchase of shares in his own brand; has business smarts.
Armani, Giorgio Starting a war with Tod's chief Diego Della Valla over who is better at helping Italy.
Beckham, Victoria The designer announced vague plans for an upcoming collaboration with Skype. Was Target unavailable?
Bowie, David Starring in Louis Vuitton's new campaign with Arizona Muse, and unfortunately not his wife Iman.
Campbell, Naomi May get her own talk show; will hopefully be contractually obligated to throw cell phones at audience members.
Coppola, Sofia Is the new face of Marc Jacobs. Again.
COS The Swedish high-street brand announced plans to open up in the US. Dreams do come true.
Cyrus, Miley Tells Rolling Stone that Kanye West gave her five pairs of Céline fur-lined slippers; takes her clothes off. No surprises here.
Jacobs, Marc The rumor mill is yet again reporting that the designer may leave Louis Vuitton. This time, however, there are anonymous sources backing up the claim.
Jay Z The hyphen-less musician has announced a partnership with Barneys for the holiday season. Because nothing says luxury shopping quite like rap.
Kardashian, Kim Is still blonde. That's all.
Louis Vuitton Has hired a new accessories designer; still has Marc Jacobs on the payroll.
M.I.A. May be collaborating with Versus; no word as to whether or not Skype will be a part of this as well.
Neophitou, Sophia The casting director for Victoria's Secret reveals the process is "terrifying." Well, duh.
Owens, Rick Traded models walking down the runway for college girls who can step at his spring 2014 show.
Pharrell Will collaborate with Moncler on a collection of sunglasses. Why not?
Rihanna Won her lawsuit against Topshop; loses when judge points out she overpayed her lawyers.
Versace Is looking to sell a 15-20% stake. Any takers?
West, Kanye Did not think that it was funny to be spoofed by Jimmy Kimmel; disses Hedi Slimane. Needs to get a sense of humor, stat.
Zanini, Marco Announced that he will be the new designer for Schiaparelli; No.21's Alessandro Dell'Acqua will fill his role at Rochas.
Zoos Ban wearing animal print out of concern for tacky guests confusing zebras.