See Margot Robbie as Daphne Milne in the Trailer for Goodbye Christopher Robin
The Winnie the Pooh origin story costars Domhnall Gleeson.
---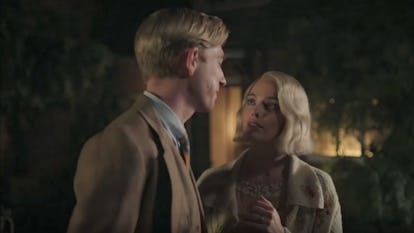 Fox Searchlight UK /Youtube
If Oscar movie season starts in the fall, then Oscar movie trailer season starts… right now. Margot Robbie, fresh off of being the only good part of Suicide Squad, begins a series of dramatic performances with Goodbye Christopher Robin, in which she plays Daphne Milne, wife of Winnie the Pooh author A.A. Milne (Domhnall Gleeson) and mother of Christopher Robin.
From the trailer (below), it looks like Goodbye Christopher Robin focuses on the healing nature of stories in a time after World War I, and a return to the magic and innocence of childhood—much like 2004's origin-of-Peter Pan film Finding Neverland, which won acclaim for its leads Johnny Depp and Kate Winslet, and went on to become a Broadway musical of the same name. We see the stuffed animals that become Piglet and Pooh, the invention of the summertime classic game Poohsticks, and at least three very chic early 20th century dresses on Daphne Milne.
Director Simon Curtis is no stranger to British period dramas; his best-known work stateside is My Week With Marilyn, starring Michelle Williams as Marilyn Monroe. (Hopefully, Robbie gets some of the same awards buzz Williams received for her work.) Robbie's upcoming projects include historical dramas like Marian (about Maid Marian grieving over the death of another Robin, this time Robin Hood), Mary Queen of Scots (costarring Taylor Swift's new beau Joe Alwyn), and the hotly anticipated I, Tonya, about the infamous Tonya Harding/Nancy Kerrigan knee-thwacking incident of 1994. She and Goodbye Christopher Robin costar Gleeson will team up again, or at least their voices will, in the upcoming animated feature Peter Rabbit, another animal-based children's classic.
Goodbye Christopher Robin opens November 10.
Related: Always Glamorous, Always Daring, Margot Robbie's Best Looks
Margot Robbie Auditions for Marlon Brando's Role in "On the Waterfront":