Margot Robbie Dives In
The Australian actress finds success in the deep end.
---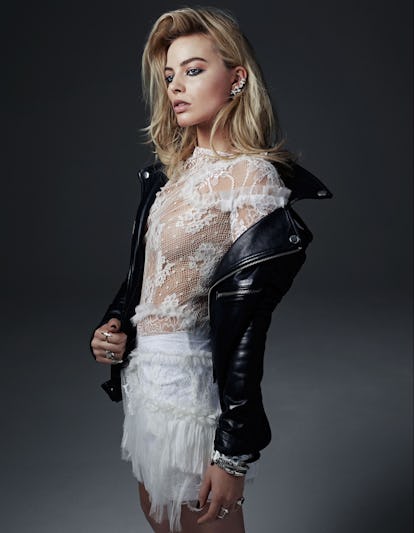 Photography by Steven Pan. Styled by Andreas Kokkino
Three years ago, when the Australian actress Margot Robbie was leaving her role as Donna on the country's hit TV series Neighbours, she had one parting wish. "I wanted to be killed off—a big, violent death. And they said no, so my character ended up going to school in New York," she says. "They wanted to give me an option to come back."
Robbie didn't need it. She hatched her own plan to move to New York, where she nabbed a lead on the short-lived ABC show Pan Am. Soon after, she landed what many actors consider to be the holy grail: a part in a Martin Scorsese film. In The Wolf of Wall Street, out now, Robbie plays Leonardo DiCaprio's mistress–turned–second wife. "It was a sink-or-swim situation," she says of working with the two heavyweights.
"I had to rise to the challenges." One such challenge was a masturbation scene that took 17 hours to shoot. "Your legs go stiff after that long," she observes.
Fortunately, Robbie, 23, is no wilting lily. Growing up on a farm, she chopped firewood and spent her free time surfing, Jet Skiing, and playing beach cricket. She's also wise enough to know that it takes more than talent to make it in Hollywood. "You have to play the game; you have to be business-savvy," says the actress, whose next role is opposite Will Smith in the film Focus. "People ask me, 'How do you remember your lines?' That's nothing. That is the least of my concerns."