Steel Magnolia
Maria Pergay puts the petal to the metal in a new collaboration with Fendi Casa.
---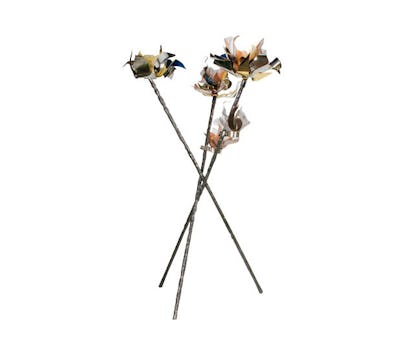 Maria Pergay had spent a decade designing silver tabletop objects for the likes of Hermès and Dior when, in 1968, she decided to make the leap to furniture. Her material of choice, stainless steel, was considered at the time more suited to the kitchen than the drawing room; but the sculptural pieces she created with it, like an undulating daybed that resembled a flying carpet, exemplified a wholly transformative approach that would continue to preoccupy Pergay for the next half-century. Now 84, Pergay, who was inducted into the French Legion of Honor for arts and letters in 2012, is still doing the unexpected. Her new collection of furnishings for Fendi—on view at Design Miami in December as part of a kickoff for the Fendi Casa Icons series—features a surprising mix of materials (fur, straw marquetry, leather) and baroque details (golden lion figurines, Louis XV–style ornamentation) that come together in pieces such as a pair of over-the-top leopard–spotted steel throne chairs. "Maria revolutionized steel, just as Fendi did fur," says Fendi creative director Silvia Venturini Fendi.
Pergay's partnership with Fendi began earlier this year, when Venturini Fendi called on her to design furniture for the Italian fashion house's Avenue Montaigne flagship in Paris. It continued with an installation for French Architectural Digest's "Intérieurs" show in September, which posed the question: What would you put in a Fendi house? Pergay's answer: post-apocalyptic Surrealist frescoes, Roman busts gone awry, and furnishings so expressive they'd be news to anyone familiar with her earlier work, which was staunchly minimalist. "She's more under the influence of nature now," says Venturini Fendi, pointing to two ex-ploding steel flower-petal cabinets that, like the chairs, are available in an edition of 12. "You can't really categorize her," adds Pergay's longtime New York dealer Suzanne Demisch, whose gallery, Demisch Danant, is spotlighting Pergay's work from the '70s during Design Miami. "That's what has always made her so interesting."
Maria Pergay, photographed in Paris with her chaise and console for Fendi Casa. Courtesy of Fendi.
A cabinet from Pergay's collection. Courtesy of Fendi.
A standing lamp from Pergay's collection. Courtesy of Fendi.
A chair from Pergay's collection. Courtesy of Fendi.