Mariah Carey's Reading List Is a 2020 Moment, Dahling
Mariah Carey, Queen of Christmas, has pivoted to becoming the patron saint of books to add to your holiday wish list this year.
---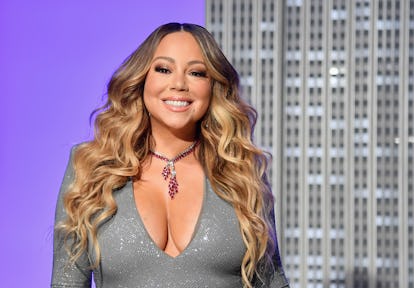 Courtesy of Getty
It's been quite a year for Mariah Carey and her lambily—she released a no holds barred memoir that she plans to turn into a biopic, launched a new meme, and announced she will star in an Apple TV+ Christmas special, with guests from Snoop Dogg to Ariana Grande. And to kick off the month of December, she has released her favorite books of 2020, a reading list compiled of books mostly written by Black authors.
In the aftermath of the murder of George Floyd this summer, there was a big push for shopping at Black-owned bookstores and stocking up on the books mentioned on anti-racist reading lists, like How to Be an Antiracist by Ibram X. Kendi, So You Want to Talk About Race by Ijeoma Oluo, and White Fragility by Robin DiAngelo. But it's not necessary that all of the books on the syllabus suggested for discourse around race and Blackness be so narrow. Contemporary fiction and memoirs count for critical analysis of the culture, too, and Carey's reading list just further underscores that point.
The books on her list are as follows: Born a Crime by Trevor Noah, The Prophets by Robert Jones, Jr., Let Love Rule by Lenny Kravitz, Untamed by Glennon Doyle, Caste by Isabel Wilkerson, Such a Fun Age by Kiley Reid, The Vanishing Half by Brit Bennett, Leave the World Behind by Rumaan Alam, and of course, The Meaning of Mariah Carey by the elusive chanteuse herself.
Some of the authors on the list have seen Carey's announcement and, as one would expect, are ecstatic about their appointment. Bennett said she was "blessed by the queen during her most powerful season." Alam tweeted his shock, adding that being added to Carey's list of essential 2020 reading is "a professional accomplishment that impresses my children." And Reid conjectured that her book's inclusion on the list is nothing short of a miracle.
As a reading list, it's an instant classic. If there's a theme to this curated selection, it's that most of them address race and the nuances of the Black experience in all its forms, addressing concepts from passing to privilege (or lack thereof), across genres—from memoir to fiction to historical scholarship. There is also, of course, the theme of Carey flexing her good taste, as most of these books have become bestsellers since they were released, and for good reason. If Kendall Jenner has become the patron saint of alt lit, then with this list, Carey has become the patron saint of mainstream books to buy your family for the holidays this year.
Related: Comrade Carey: The Meaning Behind Mariah Carey's Newest Meme