Mariah Carey Might Be the Realest Reality TV Star, Ever
Mariah's World, which premiered Sunday night on E!, is the closest thing to the Emancipation of Mimi.
---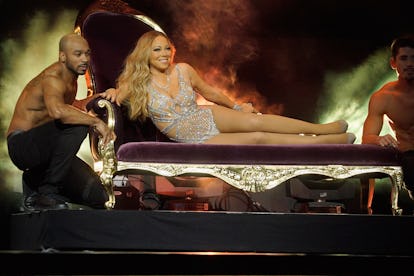 NBCU Photo Bank via Getty Images
Mariah Carey is many things: She's a five-time Grammy winner, a record-breaking chart-topper, a best-selling female artist for two decades. But Mariah Carey is not necessarily a good reality TV star. Yet.
The first episode of her new "docu-series," Mariah's World, which premiered Sunday night on E!, opens not on Carey, but on Bianca Storm, who is identified as Mariah's "alter ego slash arch nemesis." Bianca wears a black wig and speaks with a bad British accent, referring to Mariah as "Maria," as if out of disrespect. She is meant to represent Mariah's dark side — the diva inside, so to speak — but blows her cover quickly.
What does she think of Mariah's World?
"F—king riveting."
For the most part, Bianca's behavior is congruent with Carey's cultivated public persona — one that, until now, has remained heavily controlled. Her manager, Stella Bulochnikov, whom Carey calls "Slash," has held the keys for for the past year or so, and is supposedly the driving force behind her deal with E!. But it is actually characters like Bulochnikov, her harebrained assistant Molly, and a team of backup dancers — all of whom swarm around Carey like the Seven Dwarfs — who reveal that Carey herself might be the biggest chiller in the room.
The first thing that the real Carey tells the camera is: "I have never wanted to do this documentary in my entire life." This is the first clue that she is refusing to be the reality TV star E! wants her to be. She then gives a low-enthusiasm laugh, shrugs, and we cut to her jumping into the waters of Capri wearing a maxi dress and diamonds.
Carey is on the yacht her now ex-fiancé James Packer bought her, which is docked a mile away from his. "It's not easy for us to spend every day together," she explains. "I'm a night person."
Packer only makes a fleeting appearance in the first episode, and the show skirts around the issue of their impending split by setting up a scene in which she "calls" him to say she's decided to postpone the wedding in order to focus on her upcoming world tour. This is only after she tries on her wedding dress, of course.
"I'm dealing with the prenup right now, and it's definitely not the most romantic thing I've ever read," says Bulochnikov in a revealing aside. Carey, meanwhile, nervously sucks a lollipop and sinks back into her chaise lounge.
Save for during these manufactured "high stress" and "high stakes" moments, Carey comes off as charming, hilarious, and entirely self-aware. Like Rihanna, she's always carrying a glass of wine, and makes a point to bring her twins, Moroccan and Monroe, along with her everywhere. In one scene where she's caught with four people at her feet helping her get on sky-high stilettos, she breaks the fourth wall to admit: "Oprah told me don't let anybody think that you don't know how to put your shoes on anymore." But she just can't help herself!
Carey is also the "director" of her own docu-series, pointing her French tips to make sure the cameraman catches the view from her yacht, posing for a "silhouette shot," and demanding that she always be lit with glaring intensity. "I will not be seen in fluorescent lighting without sunglasses," she says while rehearsing at a dance studio one night. "I know it's very '90s, but I don't give a f—ck."
If anything, we learn in the first episode that Carey really does give a f—k. She's a perfectionist and true master of her craft; not just a diamond-loving diva. At the age of 46 and after over two decades in show business, she still takes the time to sit down and make tweaks with her nerdy-looking sound engineer and rehearse with dancers until 4:25 a.m. In this way, Carey might be too talented of a performer to be a good reality TV star. She'll only be edited to let her best self show, which is the antithesis of what reality TV demands.
Another thing we learn on Mariah's World is that Carey cannot fall asleep without Apple TV.
"The Apple TV is the most important thing for Ms. M.C.," says her assistant. "If she can't have the Apple TV playing, she can't sleep. And if she can't sleep, she can't perform. And if she can't perform, there's no tour."
Mariah Carey, just like us.
Having risen to fame in her early twenties, Carey may have had humble beginnings in New York, but she's spent the majority of her life alienated from reality either on stage or hiding from the press in various yachts and mansions. At this point, she's made it for so long that she's forgotten how to fake it. And as her selective cameos on Mariah's World show, the only person Mariah Carey cares to be is Mariah Carey.
"Oh, they want her to be accessible! Oh, they don't want her to be accessible," Carey laments in rehearsal one night. "Oh, they want her to wear glamorous clothes! Oh, they don't want her to wear glamorous clothes. Can people just make up their minds?"