Mariah Carey's Wild Ride
In case you missed them, here are the top style stories of the week.
---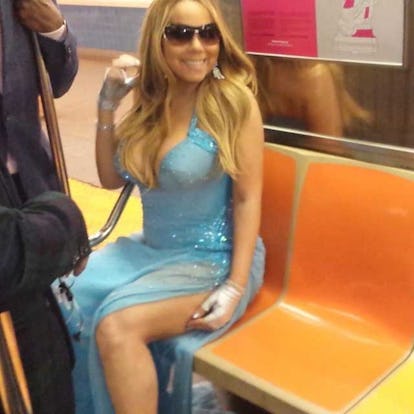 Balenciaga Is afraid consumers might mistake a Steve Madden $90 knockoff for the brand's classic motorcycle bag. Takes the issue to court.
Bundchen, Gisele The Brazilian bombshell is the new face of Chanel No. 5; was the only model on Forbes's World's Most Powerful Women. Smell a pattern?
Carey, Mariah Rode the subway in a bright blue gown and metallic gloves; is unsurprisingly the first person to use the hashtag #subwayincouture.
Comey, Rachel Disappoints Duane Reade and Jamba Juice fans, but delights style lovers by opening up a brick and mortar boutique in Manhattan.
Delevingne, Cecil Fell through the floorboards at Mulberry's headquarters. Survived.
Dietrich, Marlene The German actress's iconic tuxedo is up for auction. On your mark, get set, go!
Ford, Tom Prefers Rihanna's selfies to official fashion reviews. The Instagram police, however, are less amused.
Kardashian, Kim Oh, did you hear? The bride married Kanye West in Givenchy Couture.
Louboutin, Christian Received an honorary degree from F.I.T. Well, that was easy.
Mango The SNL character returns for a cameo in a T by Alexander Wang short film. Yes, you CAN have the Mango. And you will.
Opening Ceremony Announced a collaboration with Brussels florist Thierry Boutemy that will include clothing, accessories, and, of course, fragrance. Sweet.
Perry, Katy Made her way into the National Portrait Gallery, cupcakes included.
Tait, Thomas Won the LVMH Young Fashion Designer prize. Congratulations!
Valli, Giambattista Is set to launch ready to wear label called Giamba. Qt.
Willis, Scout Stages topless Instagram protest. Rihanna approves.