Marielle Heller Sees Acting and Directing as "Parts of the Same Whole"
The filmmaker talks returning to the screen with The Queen's Gambit on Netflix, after about a decade spent behind the scenes.
---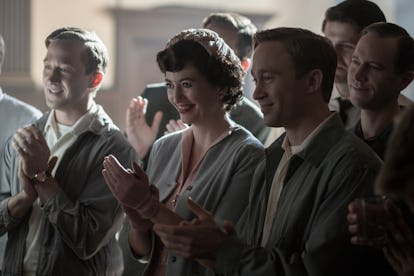 Courtesy of Netflix.
Marielle Heller is best known for her work as a director of three critically acclaimed feature films, which she made back to back to back over the course of about four years. In 2015, there was The Diary of a Teenage Girl, her feature-length directorial debut starring Bel Powley and based on the graphic novel of the same name. Then came Can You Ever Forgive Me?, an adaptation of Lee Israel's memoir starring Melissa McCarthy as the infamous plagiarizer. That was followed by A Beautiful Day in the Neighborhood, in which national treasure Tom Hanks played national treasure Fred Rogers.
After all of the Oscar buzz and accolades for her behind-the-camera work over the past five years, Heller now finds herself taking a turn in front of the camera, as she appears in the Netflix series The Queen's Gambit alongside Anya Taylor-Joy.
But this isn't her first time on screen. Starring in The Queen's Gambit is actually a return to the filmmaker's roots, and in fact, Heller was an actress long before she was ever a writer or director. The series, which stars Taylor-Joy as Beth Harmon, an orphaned chess prodigy struggling with addiction in Cold War America, is based on a Walter Tevis's novel of the same name, and directed by Heller's "director pal" Scott Frank. Heller plays Alma Wheatley, a lonely housewife who adopts the young mastermind, and finds herself wrapped up in the cutthroat world of competitive chess.
Here, Heller opens up about returning to the screen after a decade off-camera and off-stage, and why a prestige drama like The Queen's Gambit presented her with a character unlike any she'd ever played before.
I was very interested to see the casting announcement for The Queen's Gambit because I'm familiar with your work as a filmmaker, but I wasn't so familiar with your acting.
Nobody is! Because I haven't acted in 10 years. Most of my acting was in theater, truthfully.
I wanted to talk to you about that, going back to some of those acting and theater roots for this project. How did you find out about The Queen's Gambit and how did you get cast in the role of Alma, Beth's adoptive mother?
Scott Frank and I are director friends. We met through the Sundance Labs and he's advised me on my first projects—I've visited him on set, we've shared first cuts with each other, and we're more like director pals than anything else. A few years ago, sort of on a lark, I did a one day bit part in his movie A Walk Among the Tombstones, sort of for fun. It got totally cut out of the movie, but when he saw me do it, he went, "Oh you're actually an actor. I didn't know that. I'm going to make you act for me." Since then, he's been threatening me to be in something that he does. Of course, I have a lot of projects of my own that I'm working on and I rarely have time to commit to something. He tried to get me to be in Godless but it would have meant being in New Mexico for six months, and I was making Can You Ever Forgive Me? so there was no way for me to say yes to that. When this came up, it was more of a timing thing. He approached me and I was just finishing A Beautiful Day in the Neighborhood and I had gone back to back between Can You Ever Forgive Me? and A Beautiful Day in the Neighborhood and I was really worn out. He said, "Do you want to come do this crazy thing?" And I said, "Netflix is never going to let you cast me, they can't look to any work, I haven't acted in 10 years." He said, "Oh, they already said yes."
Were you nervous to jump back into acting?
I was kind of scared. I talk about my acting and the fact that that's where I began and that it was my first love and I spent years in the theater, which is all very true, but I hadn't done it in a long time, and I've spent all my time focusing on writing and directing. It was like, "Put your money where your mouth is; if you're really an actor deep down, let's do it." It felt like a risky move but I was like, Why not? It sounds fun. I thought my agents would be really mad because it would take me out of directing for a couple months and probably wasn't the smartest move career-wise, but it just sounded like a fun challenge, and I was in the mood for saying yes to things, so I said yes.
Did it feel like you were taking a break at all, since it wasn't demanding in the same way as directing can be?
Yes. I'm struggling with how to say that without sounding like I'm saying something about acting being easier, because acting is not easy. Being a good actor is incredibly difficult. But the amount of responsibility is so much less on your shoulders than directing. It really felt like a vacation. Some weeks I only had to be on set for two days that week. When you're directing, you look around and you think, everything I see is my responsibility. From the catering being on time to whether the clouds are moving the way I need them to move to whether this actor is giving the performance I want to whether the costumes are what they should be. Deep down, it's all a big collaboration, but the buck stops with me. I have to pay attention to everything happening on this set. As an actor, I had just one job: I had to think about Alma and how she would respond to things. It was a real shift in my mind. I had to let go of thinking about all that other stuff, but it felt great to just focus on one thing.
Did you find yourself fighting a bit to shut down that director's instinct?
Scott would say that I didn't shut that instinct and that I was backseat directing the whole time, but that's not really true. [Laughs.] He would ask for my opinion and I would give it, but I would never give it unsolicited! It's impossible to shut down your brain. Luckily, Scott is such an accomplished, amazing director that he wasn't in any way weirded out by that. We'd look at the monitor together and problem-solve. It made me think, Oh man I want to have a director friend on set all the time so I can talk about things with them. It's a pretty lonesome job, directing. I do have that, I have cast many actors who have been directors. Matthew Rhys directed a number of episodes of The Americans and Brothers & Sisters, and he really understands direction, so he could problem-solve with me on A Beautiful Day in the Neighborhood in ways that were really helpful. Even somebody like Melissa McCarthy, she doesn't direct necessarily, but she's so involved in the filmmaking process, she understands the ins and outs of edit and how it works in a way that really helps her acting. She can say to me, I really see the scene this way but if you want an option I can give you another version if you get into the edit and want something different. That's something you can't do unless you've been involved in the whole process.
I was revisiting your W cover story from a while back, when you shot Bel Powley for the Director's Cut issue. In the interview, you talked about the progress that's been made in the filmmaking industry, and how the patriarchal structures of Hollywood were starting to shift to a larger degree when you made your first film, The Diary of a Teenage Girl, in 2015. You said, "Every set that I'm on, somebody mistakes me for a PA or a second assistant director or something. But it's not an obstacle to my career." Does that still happen to you on set?
Yeah. It does. I don't look like the way we've painted directors in our movies and everything since forever. I don't look like an old white guy in a baseball cap. So, yes, there are always moments when people are surprised that I'm the director. But it helps when you have people like Tom Hanks calling you "boss." Other people see that and go, "Oh, this deserves respect. I can easily get my head around that." It is part of why I talk as openly as I do about what it feels like to be a female director, because I think the more young women and girls and nonbinary people see me doing this job, hopefully it will make it feel not so crazy when they want to do the job. Hopefully the visibility helps to shift the narrative around who can do this job. I think in so many ways my skills as a mother have really helped me as a director. [Laughs.] The ability to multitask and be responsible for everything happening is innate in many ways. I don't know why we have these outdated ideas of who can do this job.
You studied drama and theater and acted on stage for many years, but do you remember the moment you realized you wanted to be behind the camera instead?
For me, it came from the parts I was getting to play in my 20s. Truthfully, I was feeling really discouraged about the world. The women I was playing on stage—the girls, really, I was playing a lot of young parts—were one-dimensional, and I didn't feel in control of my own creativity. I felt like I was waiting for people to cast me in things, and even then, I would think about how I could write that play better or how I would change the script so that it would be more interesting. [Laughs.] Early on, I was in a wonderful play called Continental Divide by David Edgar, and he was rewriting it as we were rehearsing it. I got so interested in his process of writing. There were moments when I was asking questions or saying, "I don't know if this makes sense for this or that," and he started calling me his "snag finder." He let me in on that process and at the end of that play he said, "You know you're going to be a writer, right?" Or something like that. I kept that in my head.
I was more interested in the larger process than just the role of acting. Acting was one part of a bigger machine. And I wanted to be more in control of the bigger machine.
I think this sort of relates, thematically, to what you were saying about sexism in Hollywood in terms of the lack of good roles available to you as an actor and the ways in which you've been treated as a director, but in The Queen's Gambit, it is striking but not surprising to witness the sexism faced by a chess prodigy named Beth Harmon in the 1950s and 1960s. Was that portion of the story also something that attracted you to this project?
Yeah, I think so. Just seeing female characters on screen who felt complex and three-dimensional, and not just there to be agents to the men, was something I immediately appreciated. Part of what I also have always craved in terms of my characters when I'm directing and writing are characters who feel like they're not just one thing. Not just good, not just bad. Especially women, I think, tend to get penned into one idea. I love that Beth was so complex, that she could be this genius and this addict and she's almost like a feral animal who doesn't know how to relate to people but is so much smarter than them. Everything about her was so fascinating to me, and I felt the same about Alma.
The relationship between Alma and Beth is interesting; there's almost a bit of a role reversal there, with Alma behaving as the child at times and Beth as the parent. What do you think is at the center of the alchemy of such a specific type of mother-daughter relationship, especially one we rarely see on TV?
Their relationship is not a traditional mother-daughter relationship, and Alma has no clue how to be an actual mother. She needs someone to care for and she does slowly find so much love for Beth. I don't think either could have accepted each other if they were more traditional or less damaged. Both of them come to the relationship with certain levels of damage, and I think that's why they can relate to each other and let each other in, in a more honest way. They're, in many ways, a lot more like friends than they are like mother and daughter. They accept each other without a lot of judgment, which is so rare.
There's also a sadness, or at least lack of connection within Beth due to the fact that her parents died when she was young, and she fills a hole in Alma that had also been filled with alcohol. It's an interesting exchange, and both of them defy the expectations a viewer might have of them, with Alma becoming something more than just a bored housewife.
Alma has to have skills because she doesn't actually have the means to support herself and Beth. There is a bit of a resilience to her that has to do with necessity. She's never worked and is a victim of that era in many ways. I think there's something that gets awakened in Alma by seeing Beth go after her dreams and do the things Alma was never able to do. She wasn't able to fulfill her dream of being a pianist, she almost didn't see that option for women. There is something so beautiful about her seeing this in Beth, and she thinks, maybe my life isn't over, maybe there's room for me in this world as well. That's the power in seeing change in young people and what they can do for the generations before them.
Speaking of learning from the youth, what did you learn from working with Anya Taylor-Joy?
Anya is like an old soul. She's so young but she is one of those people who has lived a full life by the time she hit 24. She's a pro. She's been doing this for so long and really lets herself be very vulnerable in front of the camera, which is what I always love in an actor. It's a harder skill than most people think.
I didn't feel a major generational difference between us, truthfully. I felt like we had a lot in common and we connected really quickly. In many ways, it was like being at a camp because we were all living in Berlin, doing this fun thing together. Right now, that feels so far away from our pandemic lifestyle. The nostalgia, I can look back to what it was like to be on set, having dinner together, exploring Berlin, getting to work on this beautiful show.
Do you have plans to return to the screen again? Would you want to?
No, no. For me, it's very rare to get as beautifully written a role as Alma offered to you. The director is Scott Frank, so I'm pretty spoiled. And I have a lot of projects that I want to be doing as a director and a writer, so until I have that good of an opportunity again, I don't think I'll be focusing my time on acting. But it was really fun. [Laughs.]
Related: Bel Powley Stars as the Last Woman on Earth, Directed by Marielle Heller