Marilyn Manson, Courtney Love, and Kaia Gerber, Making the Old New Again
Manson and Love join a retro cast of personalities for Marc Jacobs's Fall 2016 campaign, while Cindy Crawford's daughter scores a new gig of her own.
---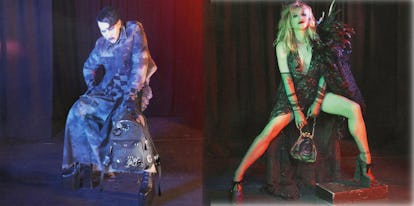 Photos by @themarcjacobs.
Barrett, Jordan The 19-year-old Australian model charming the world — Kate Moss included — one runway show at a time.
Gerber, Kaia Maybe it was her brother's sudden ascent to the spotlight thanks to a few well-placed runway gigs — Moschino, Dolce & Gabbana — but sister Kaia is raising him a new Miu Miu campaign, complete with a dreamy video. Cindy Crawford, your legacy is secure.
Hadid, Bella May have swapped out her dark brown locks for a bleach blonde, ombre pink style — but after her sister Gigi's fake bangs, we're a little skeptical.
Manson, Marilyn The latest star added to Marc Jacobs's Fall 2016 ad campaign roster. He and Courtney Love join Missy Elliott and Cara Delevingne (formerly a Hedi Slimane girl, but any '80s throwback will do).
Park, Soo Joo Just started working out regularly; loves Snickers bars. A model after our own heart.
Prada Hosted a dinner for a few friends — more than 300, to be precise — before its Spring 2017 menswear presentation in Milan.
Van Noten, Dries Just one of the cadre of designers tapped to design costumes for the fall New York City Ballet fall fashion gala. The event has recruited Sarah Burton for Alexander McQueen, Olivier Theyskens, and Thom Browne, because with Sarah Jessica Parker at the helm, fashion takes center stage.
Yelchin, Anton The Star Trek and Charlie Bartlett actor died Sunday at 27. A writer remembers their too-short time together.