Marilyn Monroe's "Happy Birthday, Mr. President" Dress Could Fetch $2.5 Million at Auction
Marilyn Monroe's most famous offscreen gown could yours if you happen to have a few million dollars sitting around.
---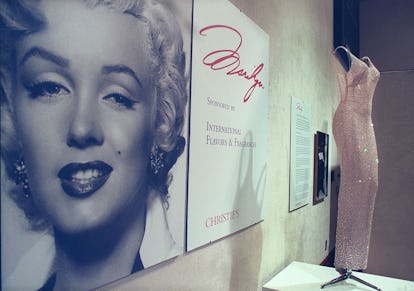 AFP/Getty Images
Among Marilyn Monroe's most iconic dresses there's something of a holy trinity. There's the flirty white number from The Seven Year Itch that was famously blown up past her thighs thanks to the draft from a subway grate. Then there's the shockingly pink gown she wore to sing "Diamonds Are A Girl's Best Friend" in Gentlemen Prefer Blondes.
Perhaps, though, it's the sexed-up, blinged-out number she wore to wish a happy birthday to a certain Mr. President that stands alone. While the others were worn on-screen and in character, this one might be the most famous dress Monroe ever wore in real life and simply as herself.
If you happen to have a few million dollars laying around, now it could be yours. The milestone gown is going up for auction on Thursday at Hollywood's Julien's Auctions, and is expected to fetch at least $2.5 million. That's about double the $1.26 million the gown sold for when it was last at auction in 1999, which was a record for the most expensive piece of clothing ever at the time.
The dress itself is the handiwork of famed Hollywood costume designer Jean Louis, but it was a then unknown Louis underling by the name of Bob Mackie who actually produced the original sketch for the gown.
Though the dress istself – colored so Monroe almost appeared nude, cut so tight that she had to be sewn into it, and bedazzled in crystal – is spectacular, it's the context in which it was worn that makes it iconic.
Monroe chose it for a 1962 New York fundraiser timed to coincide with John F. Kennedy's birthday. Appearing on stage first covered up in a white fur coat, she had actor Peter Lawford help her out if to reveal the full effect. She then sang "Happy Birthday, Mr. President" to Kennedy in a way that sounded just a little too familiar. It was a camp performance that even a drag queen would be proud off, and titillating enough that it set tongues in a frenzy of both lust and gossip. It didn't help the matter that Kennedy showed up to the event with his first lady.
Imagine if today Rihanna wore her Monroe-inspired, nearly-nude crystal gown to the White House instead of the 2014 CFDAs, and changed the lyrics of "Rude Boy" to address President Obama specifically. That's about how scandalous the moment was by '60s standards.
"That rendition has lived on for decades as one of the most remarkable events in her career and certainly one of the most storied tales in popular culture history — a moment in time squarely at the center of the 1960s, Hollywood and Camelot," said Darren Julien, president and chief executive of Julien's Auctions, in a statement.
The event also happened to be one of Monroe's last major public appearances. Less than three months later, she was found dead at the age of 36.
The dress won't be the only piece of Monroe memorabilia up for auction. Other elements from both Monroe's onscreen and personal wardrobe, including a black beaded dress she wore as Sugar Kane in Some Like it Hot, are up for grabs. Other items including documents, personal letters, and even prescription pill bottles will be offered as well.