Marina Abramović: High Performance
For more than three decades, performance artist Marina Abramović has been testing the boundaries between performer and audience and the limits of her own body, occasionally risking her life in the process. on the eve of a retrospective at MoMA, she readies herself for what may be her most challenging performance yet.
---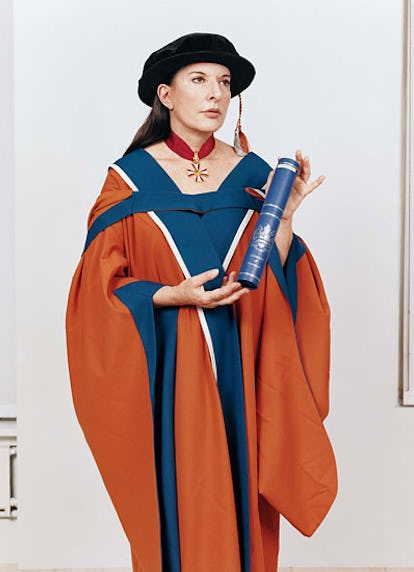 The human form, disrobed and displayed in all its glory, is arguably the most enduring motif in the history of Western art. Museums dedicated to art both ancient and modern are filled with nudes rendered every which way: painted, chiseled, molded, sketched and photographed. They're just usually not living and breathing. But come March 14, New York's Museum of Modern Art will host daily performances of five seminal works by Marina Abramović, three of which feature performers in the altogether. In Imponderabilia (1977), two players stand opposite each other, au naturel, in a narrow doorway. Visitors must brush past them to enter the exhibition—an early, if awkward, example of interactive art.
"This is America!" the Yugoslavian-born Abramović trills jovially in her heavily accented English, on a rainy fall day in New York, as she considers the potentially embarrassing encounter in what will be the first live exhibition of nudes in the museum's history. "Is going to be riots! I have so many meetings with the security of MoMA and how we're going to deal with things."
In all fairness, yes, Americans have a more delicate relationship with nakedness than Europeans, but Abramović acknowledges that when she and her former collaborator and lover, Ulay, performed the piece at a museum in Bologna, Italy, the police showed up six hours into it, asked to see their passports (which they obviously didn't have on them) and promptly shut down the performance. This time around, regulations mandate that MoMA provide a second route into the exhibition—one with a wider opening to allow for wheelchairs—a measure Abramović finds understandable but disappointing. "I hate that alternative because in the original piece there was no alternative—you go here," she says, seated in her midtown office as she points to a photograph of Ulay and herself, face-to-face in the passageway, while a man turned slightly sideways tries to negotiate the cramped space. Even so, Abramović has come up with one small tweak: Though the original conceit paired a man and a woman, she now plans to mix up the couples taking turns performing Imponderabilia so that some are same-sex.
At 64, Abramović is the doyenne of performance art, a true believer who has literally risked her life more than once in fealty to her work. Decades after her peers segued exclusively into other—typically more lucrative—art forms, she is still constructing new performances, though she does dabble in other mediums. For the MoMA retrospective, the 36 hired players will rotate every two and a half hours to allow for breaks, while Abramović herself will perform a new work nonstop during museum hours for the duration of the exhibition. That's seven and a half hours a day, five days a week; 10 hours on Friday. For three months. "The idea is that we are there before the museum opens, and we are there when the museum closes," she says. "The attitude is the same as toward a painting—the performance is always there. It's never been done that way for three months, ever, in history." Her new performance, The Artist Is Present, is technically a solo performance, but it will depend on a multitude of other "players": Museumgoers will be allowed to take turns sitting with Abramović in the atrium, though she will remain silent (and fully clothed). The concept, she says, is a play on the wording of gallery announcements from a bygone era. "You know in the old days you have this invitation for a painting exhibition, [and it says] 'The artist will be present at the opening.'"
For Abramović, the performance is inseparable from the audience. "So many artists say they're not aware of audience. For me is unbelievable," she says, shaking her long mane of thick, glossy, dark hair that, along with an unusual radiance, helps make her look a good 15 years younger. "I remember Martha Graham said, 'Wherever a dancer dance is holy ground.' I say, 'Wherever audience stand is the holy ground.' I always want my audience to be touched on the deepest level possible."
Perhaps more than any other performance artist, Abramović has made her audiences not merely bystanders or even participants but, as Paul Schimmel, chief curator of the Museum of Contemporary Art, Los Angeles, observes, "actually complicitous." Her harrowing Rhythm 0 (1974) was a groundbreaking example. Abramović stood passive for six hours as audience members in Naples, Italy, took turns doing whatever they wanted to her. She had laid out 72 objects, including a gun and a bullet, on a table for their use. She still bears a scar on her chest from a knife's blade—and she shows it off like a battle wound. One man sucked her blood; one pointed the gun at her, though another took it away. "This is the thing," she says, "you see how the public doesn't have limits." Abramović wanted to re-create the work at the Guggenheim Museum in 2005 as part of her "Seven Easy Pieces" show, which reimagined some of her peers' classic works, but the museum refused out of fear for her safety. "Everybody's afraid of the people here," she says.
Her willingness to put her life in jeopardy could logically raise questions about her sanity….
TO READ THE REST OF THIS FEATURE AND SEE ALL THE IMAGES, PICK UP A COPY OF THE JANUARY ISSUE, ON NEWSSTANDS DECEMBER 15.