Model Marine Deleeuw Follows That Classic French Beauty Routine: None Whatsoever
The 22-year-old from the north of France is amazed by New York girls who curl their hair in the morning.
Photographs by Nicholas Ong
---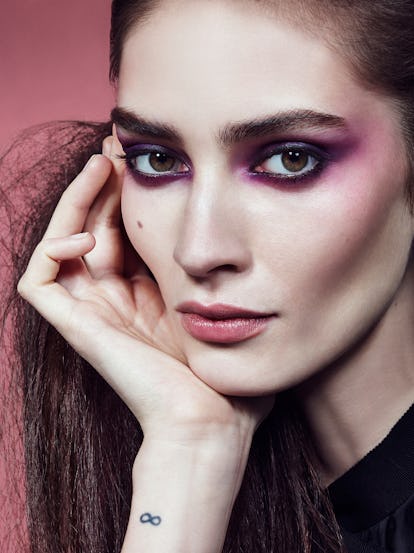 Photo by Nicholas Ong, styled by Caroline Grosso, Produced by Biel Parklee. Hair by Lucas Wilson for Bumble and bumble, makeup by Grace Ahn for MAC cosmetics, manicures by Gina Edwards for Chanel Le Vernis. Casting by Piergiorgio del Moro. Set Design by Hans Mahawaral. Model: Marine Dellew at the Society. Digital Technician: Matthew Thompson. Photography Assistants: Kris Shacchois, Matt Roady. Special thanks to Pier 59 Studios.
Emerging French model Marine Deleeuw is having her best season yet, and Paris Fashion Week is only just starting. The 22-year-old from Lille in the north of France was first discovered on Belgium's version of America's Next Top Model, which she won in 2010 at the age of 16. In 2012, she walked her first runway shows in New York, and moved here permanently three years ago after a steady stream of bookings. This season, she walked Jason Wu, Victoria Beckham, and Altuzarra in New York, Mary Katrantzou in London and Etro, Missoni and Fendi in Milan. Today, she's back in France for Paris Fashion Week, but New York has rubbed off on her a little bit. Prior to moving, she didn't care at all about taking care of her skin or going organic, but she's slowing changing her ways.
How did you first get into modeling? My friends pushed me to do this contest in Belgium called Future Top Model. And I won! That's how I got my modeling agency back in Belgium. Then I got scouted by Elite Paris on the street when I was just walking with my family in Lille doing some shopping.
Were you always into fashion? I always loved clothes and makeup and I wanted to have something to do with that or own a clothing shop, but I didn't really know what I wanted to do; I was too young. I wanted to do a million things!
How would you describe your style? I really like to mix vintage pieces with designers. Sometimes I'm a little boyish, but not too much because I like to wear skirts.
Who are some of your favorite designers? Céline is my favorite.
Do you see a difference between New York style and French style? People here actually care about how they look. In France they care, but they're just thinking about work usually. Here, girls curl their hair in the morning—they amaze me!
What's your personal beauty routine? In the morning, I wash my face with cold water and then I put on this Vinoperfect moisturizer by Caudalie that has sunblock in it to protect my skin. Then I just use concealer to cover up a pimple from time to time. That's it!
What about your brows? I pluck when I see something that shouldn't be there, but I really let them go.
Have you changed your routine since you came to New York? Yeah, before I didn't take care of my skin. I never did masks or any of that. Also a new thing for me is looking at the ingredients in my products to see if they're natural.
Do you do anything special with your hair? Nope! Just shampoo. I also let it dry naturally; I don't use hairdryers.
What was your most memorable fashion week moment? When I walked Chanel for the first time, it was the show with the wind turbines. It was crazy. My heart was beating so fast.
Meet the 10 Breakout Models of New York Fashion Week
Agency: Wilhelmina; from: Florida; Age: 17

Photo Courtesy of Wilhelmina
Age: 18 From: France Agency: The Society

Photo by Biel Parklee
Age: 18 From: Brazil Agency: Ford Paris

Courtesy of Ford Paris
Age:18 From: Ukraine Agency: Elite

Photo by Biel Parklee
Age: 17 From: Wisconsin Agency: Ford Models

Courtesy of Ford Models
Age: 24 From: Vermont Agency: Next Models

Photo by Biel Parklee
Age: 19 From: Russia Agency: The Society

Courtesy of the Society
Age: 21 From: Australia Agency: Women Management

Photo by Biel Parklee
Age: 19 From: New York, US Agency: MC2

Courtesy of MC2
Age: 20 From: South Korea Agency: The Lions

Courtesy of the Lions