Marine Vacth: Screen Provocateur
This actress is one to watch.
---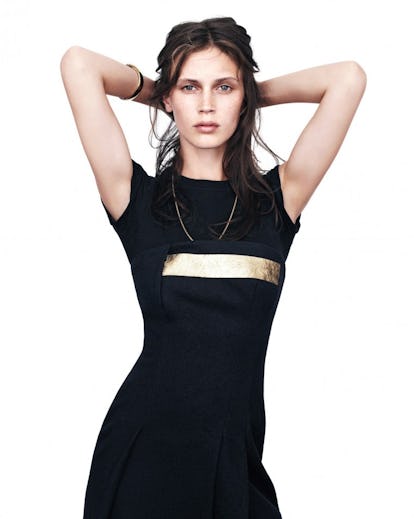 Styled by Elodie David Touboul Photography by Ward Ivan Rafik
Almost 50 years after Catherine Deneuve infused a Parisian brothel with unexpected chic in Belle de Jour, French cinema is offering up a new sex professional to lust after. A 23-year-old model, Marine Vacth made her sensual, startling lead-actress debut in François Ozon's soon to be released drama Young & Beautiful, which premiered in Cannes this year to great commotion. Vacth carries the film as Isabelle, a virginal teen who, in the space of a year, goes from discovering her sexuality to selling it. "In the beginning, she doesn't understand her own body," Vacth says of her character. "But she learns through her experiences with men."
Like Deneuve's bored housewife, Isabelle turns to prostitution out of desire, not desperation—but that's where the similarities end. "In this film, prostitution is not a bourgeois fantasy," Vacth insists. "Rather, Isabelle sees it as a way toward self-empowerment."
As a model, Vacth has long been a favorite of European magazines; in 2011 she replaced Kate Moss as the face of Yves Saint Laurent's Parisienne fragrance. But she is just finding her footing as an actress. Her first role, in 2011, was a cameo in Cédric Klapisch's My Piece of the Pie. (She played a fashion model.) Young & Beautiful, she says, "is confirmation that I should pursue acting as a career." She plans to keep modeling, albeit selectively—runway experience, after all, gives one an advantage on the red carpet. At Cannes, her effortless French elegance won her many admirers. "I never want to feel like I'm in disguise," she says.