Marine Vacth Loves Velvet Trousers, Hates Athletic Socks
The "Young and Beautiful" star shares a page from her style notes.
---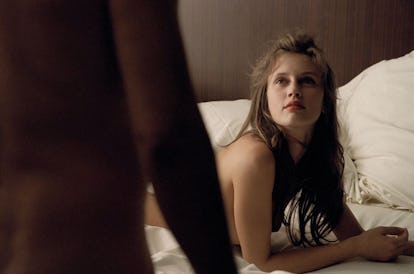 The model-turned-actress paradigm seems to continue in perpetuity (see: Kate Upton in the upcoming "The Other Woman"), to varying degrees of success. But anyone who watches Marine Vacth in Francois Ozon's "Young and Beautiful," opening this Friday, should have little doubt as to the former mannequin's potential for movie stardom. The French 23 year old, who has done campaigns for YSL Parisienne fragrance and See by Chloe, among others, stars as Isabelle, a teenager who fast-forwards from virgin to prostitute en route to embracing her budding sexuality. Here Vacth, a new mother, shares some of her style secrets.
Define your style in three words: Simple, comfortable and fluid.
Daily uniform: Levi's 501 jeans and a nice quality top, whether cotton or cashmere.
Greatest hits: A leather jacket by Rick Owens.
Preferred footwear: I often wear Clark shoes during the day (if I wear trousers) and I wear short black leather boots or pumps by Gianvitto Rossi if I go out.
Finishing touches: I wear very regularly a handbag by a French designer called Tremouliere.
Nighttime look: An outfit in which in I feel at ease, such as velvet trousers with a jacket.
Best recent discoveries: The Final Testament by James Frey, cocottes (French cookies made by the company St Michel).
Favorite stores: La Hune, a bookstore in Paris, and la Chambre Claire, which has beautiful photography books.
Style pet peeve: I don't like to see sport socks under nice trousers.
Style icons: I appreciate the styles of Katharine Hepburn and [French writer] Françoise Sagan.
Last purchase: I recently bought a great stroller called Bugaboo Cameleon3. Also, a pair of Michel Vivien shoes for the spring.
Lusting after: I like to spend a few "retreat" days at La Colombe d'Or in the South of France, which is a beautiful little cozy and quiet hotel.
Favorite haunts: I change depending the neighborhood I'm in. When I'm in New York I very much enjoy Café Fresco.
Spring must-haves: A good sunscreen, and having a destination in mind for the summer holidays.
Photos: Marine Vacth Loves Velvet Trousers, Hates Athletic Socks
Marine Vacth attends the Chanel show at Grand Palais during Paris Fashion Week Womenswear Spring/Summer 2014 on September 30, 2013. Photo by FilmMagic.
Marine Vacth attends the Chanel 'Collection Croisiere Show 2011/12' at Hotel du Cap in Cap d'Antibes, France. Photo by WireImage.
Author Françoise Sagan, 1956. Photo by Lipnitzki/Roger Viollet/GettyImages.
Marine Vacth in "Young and Beautiful"
A must-read: "The Final Testament of the Holy Bible," by James Frey, $40, amazon.com.
Marine Vacth in "Young and Beautiful"