Marion Cotillard Plays a Parody Version of Herself in Trailer for Raunchy French Comedy
The trailer for Rock'n'Roll, which co-stars her real life companion, gives America a peek at a side of Marion Cotillard we're not so familiar with.
---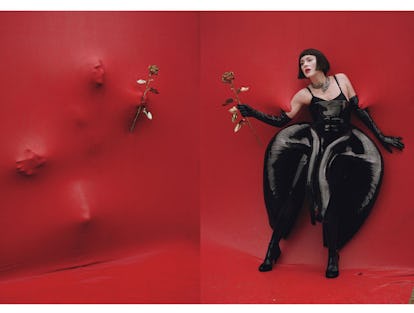 Photography by Tim Walker. Styled by Jacob K.
To Americans, Marion Cotillard is not a comedy actress. Oh, no, no. To us, she is a serious Oscar-winning actress who stars in serious capital C Cinema. To us, she mixes serious dramas like Rust and Bone with cerebral thrillers like Inception. If she does a comedy, it's only of the drama-comedy with prestigious pedigree variety, like Woody Allen's Midnight in Paris. Sure, she had a cameo in Anchorman 2, but that was merely stunt casting, we're sure. We could hardly ever imagine her taking a large part in a broad comedy film that was promoted with a trailer that featured fart jokes and raunchy sex scenes.
But her countrymen in France know better. After all, Cotillard had her breakthrough in France by starring in three films in the Taxi series. It was a broad action-comedy that Hollywood once tried to remake with Jimmy Fallon, Queen Latifah and Giselle Bundchen (it flopped so hard that only Latifah's film career remained intact afterward).
But there's a lot of things most Americans seem not to know about Marion Cotillard. Remember when, briefly, the rumor mill was out of control that the demise of the Brangelina marriage was because Brad Pitt had an affair with Cotillard on the set of their film Allied? Maybe it was easy for Americans to believe because we all forgot that Cotillard actually had a long-term partner of her own. She dismissed the rumors by not only confirming that she was still with her same boyfriend, but that they were also expecting a second child.
That boyfriend is Guillaume Canet, who, himself, is a major star in France. In fact, their combined star power as a couple in France might rival that of, well, the joint star power Brad and Angelina used to have here.
Canet isn't known to most Americans. His biggest role in Hollywood was a co-starring gig alongside Leonard DiCaprio in the 1998 film The Beach (if you remember it, yes, he played the French guy). In France, however, he's huge as not only an A-List leading man but, more recently, as an award-winning director.
Which brings us all back to that raunchy trailer we promised that stars Cotillard playing a parody version of herself.
The film, which stars and was written and directed by Canet, is called Rock'n'Roll, and it's a meta-comedy and spoof of fame in general. Canet, too, plays a fictionalized version of himself, a washed-up heartthrob who realizes that while his wife's career has reached international levels of fame, his own career may be past its sell-by date. The fears are hammered home when a younger actress (played by model and past W "It Girl" Camille Rowe) tells him he's no longer "rock'n'roll" enough to even successfully carry a film at the box office. He's also informed that he's been replaced on the list of actors French girls fantasize about by the likes of Gaspard Ulliel.
He then descends into full-on midlife crisis mode and tries to prove that he's still cool, if not to himself, then at least to the French public. This apparently involves a lot of leather jackets.
Meanwhile, Cotillard is forced to endure all of this, and she's portrayed shockingly normally. We see her cooking dinner, wearing a face mask in bed, briskly denying Canet's advances, and, finally, bemusedly asking him, "But, why are you doing all of this?"
Unfortunately, the trailer doesn't come with English subtitles, so hopefully, you've recently brushed up on your high school French. While the film is set for release in France in February, there are no details on any eventually stateside release (comedies tend to not travel well in translation). Still, the trailer alone stands as an interesting peek into a side of both Cotillard's wider career and personal life that Americans might not be quite familiar with.
Given Hollywood's problems with age, it's also interesting to see a film where a male actor in his early 40s goes through a midlife crisis brought on by being told he's not longer sexy while his wife, also in her early 40s, is portrayed as confident, down to earth, and at the top of her game.
Though it seems like Rowe appears more in the trailer, it's Cotillard who gets co-starring credit on the poster. That's her with the boobs doodled on. We told you it was a raunchy comedy.
Watch Marion Cotillard explain why Justin Bieber's documentary made her cry: