Marion Cotillard Welcomes a Very French Baby Girl
The French actress welcomes her second child with partner Guillaume Canet.
---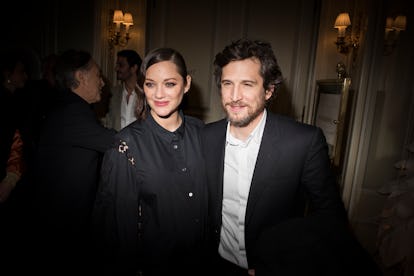 Francois Durand/Getty Images
France's most famous couple has welcomed a girl to their family. Marion Cotillard gave birth to her second child, a daughter, with her longtime partner, French actor and director Guillaume Canet, People reports.
Cotillard and Canet are also parents to a 5-year-old son, Marcel.
The couple, both cinema powerhouses in their country, first worked together on the 2003 film Love Me If You Dare, though they reportedly did not become romantically involved until 2007. Most recently, the new parents collaborated on the raunchy French comedy Rock 'n' Roll, which Canet wrote and directed, and in which both star as parodied versions of themselves.
Cotillard revealed that she was pregnant in September via an Instagram post in the wake of the shockwave-triggering announcement of her Allied co-star Brad Pitt's divorce from Angelina Jolie.
Cotillard put rumors of an affair with Pitt to rest while at the same time seizing headlines by announcing that she was expecting with her long-term partner.
"Firstly, many years ago, I met the man of my life, father of our son and of the baby we are expecting. He is my love, my best friend, the only one that I need," she wrote. "Secondly to those who have indicated that I am devastated, I am very well, thank you. This crafted conversation isn't distressing."
Butterflies of Paris: How Street Style Stars Do Paris Fashion Week
Butterflies of Paris: How Street Style Stars Do Paris Fashion Week
A Brief History of Marion Cotillard's Red Carpet Triumphs
At the 2004 Cannes Film Festival, Marion Cotillard posed on the red carpet in a strapless black dress. Clearly not yet the style icon she would soon become.

WireImage
Looking downright glamorous at the 6th Marrakech International Film Festival, the star wore a strapless grey ruffled silk gown with a matching hair accessory.

Gamma-Rapho via Getty Images
In a black off-the-shoulder cocktail dress with a gold sequin lightning bolt going down the middle, Cotillard was striking at the 11th Annual Hollywood Awards.

WireImage
At the 2008 British Academy Film Awards, the actress wore a ivory sequin couture Chanel dress with a dramatic flair.

Getty Images
Marion Cotillard took home the award for Best Actress at the 80th Annual Academy Awards dressed like a modern day mermaid in this intricately-detailed, ivory-colored custom Jean Paul Gaultier gown.

WireImage
Cotillard wore a black and blue Dior Couture ball gown with a sequined bodice, black leather belt and a tulle and acrylic skirt to the 81st Academy Awards. Her chignon undo and maroon lip kept the look demure instead of goth.

WireImage
At the 2009 Met Gala, Cotillard stunned in this strapless blush Dior gown. The mermaid-style cut of the gown accentuated her phenomenal shape effortlessly.

FilmMagic
The actress glowed in a pastel-colored dress with a silk bustier bodice and georgette embroidered column skirt by Dior gown at the15th Annual Critics Choice Movie Awards.

FilmMagic
At the 2010 Met Gala Marion pulled out all the stops wearing this show stopping Dior gown. The dress fit her like a glove and sparkled with every step she took.

Getty Images
The actress made another fashion-worthy appearance at the 2012 Met Gala wearing year other jaw-dropper by Christian Dior. Her strapless two-tone gown featured a black sequin palette embroidered design and a violet sheer skirt that showed of her toned legs.

WireImage
On the red carpet of the 66th Annual Cannes Film Festival, Marion Cotillard dazzled in a chic color-blocked Dior gown. Her strapless asymmetrical dress was paired with aa simple up-do that made her look elegant and flawless.

WireImage
Cotillard wore a fiery blood-orange double-tiered strapless Dior Couture gown to the Academy of Motion Picture Arts and Sciences' Governors Awards. The brunette beauty kept the focus on her stunning gown with her hair pulled back and minimal jewelry.

FilmMagic
At the 87th Annual Academy Awards, Marion Cotillard looked gorgeous in a white Dior Couture gown. The beautiful but unusual shape of the dress featured a perforated texture and a head turning back that made her best dressed on everyone's lists that evening.

WireImage
Cotillard look elegant at the 2015 Moet British Independent Film Awards in a long-sleeved sparkly black Dior Couture gown with shoulder cutouts.

WireImage
Shining bright on the red carpet of the 69th Annual Cannes Film Festival, Cotillard donned another Dior couture stunner. The gold silk lame column dress was the perfect look for the French actress.

Getty Images