Fake It Till You Make It
A new documentary captures Mark A. Landis's forgeries.
---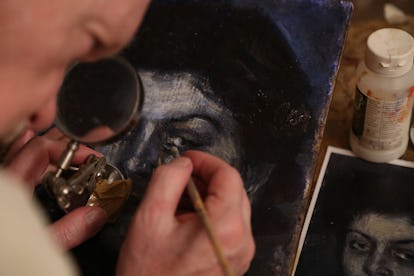 Mark A. Landis has spent the past two decades forging artworks—from Disney cells to blue-period Picassos—only to donate them (posing as, say, a priest) to dozens of museums. He's never been to prison, as it's not a crime to donate forged art, but Landis, who suffers from schizophrenia, nonetheless has lived mostly in isolation. "This was a way he came up with to be social," says Jennifer Grausman, who with codirector Sam Cullman captured him in Art and Craft, a riveting documentary (at right, a still of Landis). The film's delicious twist comes thanks to Landis's foil, former Oklahoma City Museum of Art (OKCMOA) registrar Matthew Leininger, who after discovering that a work Landis has given to his museum is a fake, sets out to expose him. But, Grausman says, Leininger's persistence only elevated Landis's stature: His forgeries are now featured in "Intent to Deceive," a traveling group show that will reach OKCMOA in 2015.