How the Artist Mark Bradford Will Bring His America to the Venice Biennale
From his hometown of Los Angeles to the 2017 Venice Biennale, Mark Bradford, who is representing the U.S. pavilion, takes his art to the people.
---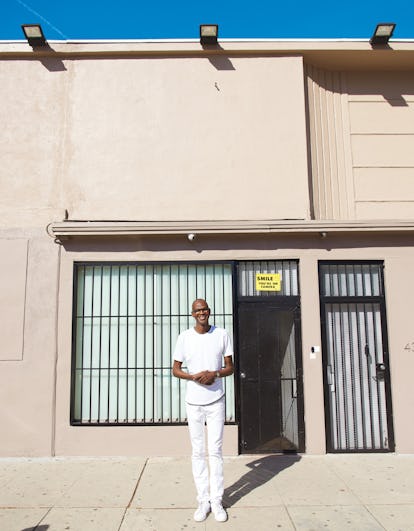 Photographs by Jason Schmidt; Digital technician: Gal Harpaz
On a warm weekday morning in February, a stretch of low storefronts in the Leimert Park section of South Los Angeles is coming alive. A man with a saxophone is standing outside the California Jazz and Blues Museum; Eso Won Books, a neighborhood institution specializing in titles about the black experience, has just opened for business; and people are meeting up in the park at the end of the block, across from a glorious Art Deco theater that was built in 1931. Chatting on a corner outside a shuttered building that's soon to reopen as a café, the artist Mark Bradford is impossible to miss—a six-foot-eight-inch-tall black man, rail thin, wearing his habitual uniform of a white T-shirt, white pants, and white tennis shoes.
In a few days, Bradford will be off to Venice, where he will represent the United States at the 57th edition of the ­Venice Biennale, which opens May 13, but today he is visiting Art + Practice, the sui generis nonprofit he cofounded in 2014 with his partner, Allan DiCastro, a community activist, and the collector Eileen Harris Norton. Art + Practice runs a gallery, organizes art programs, and hosts services for foster kids. It now occupies about 20,000 square feet across a number of buildings, including the artist's former studio, where an outpost of First Place for Youth, an organization that helps young adults in foster care make the transition to adulthood, is located.
Bradford walks me into A+P's soaring exhibition space, which opened last year in a former beauty-supply store after extensive renovations, and upstairs to a conference room. There we encounter a smoldering abstraction in which large black holes seem to be engulfing a sky blue surface, one of the beguilingly intricate pieces that Bradford makes by building up layers and layers of paper and then rubbing them down with a sander. Bradford's works can look like maps of cities or amorphous thoughts, often harboring clandestine ­allusions to politics, race, or the AIDS crisis. A photo of the artist's mother, Janice, who ran several local hair salons over the years, also hangs on the wall. "She could draw anything, sew anything," Bradford says. "The creative impulse was all around the house, all around the hair salon. It was just there."
Bradford worked beside her in the salon for years, even after attending California Institute of the Arts, to pay off some of his student loans. Building up and burning the papers used for perms resulted in his first successful series, in 2001, the year he turned 40. (He is 55 now but looks substantially younger.) His ascent since then has been meteoric, with some of his large paintings commanding seven figures. Bradford has channeled that newfound power and wealth into social causes. While constructing a remarkable ark sculpture in New Orleans, which was unveiled in 2008, he helped launch L9 Center for the Arts, an organization in the Katrina-battered Lower Ninth Ward, and through A+P he is attempting to meet the needs of his longtime home neighborhood. He facilitates access to below-market rents for the foster groups, as well as to ­influential movers and shakers­—A+P's board includes agent Ari Emanuel, who's on the Museum of Contemporary Art Los Angeles's board, and the San Francisco–based collector Pamela Joyner.
The Biennale project is similarly ambitious. "When you think of Venice, you think of splendor and romance," Bradford says, and so, on a visit there, "I just flippantly said to someone, 'Well, God, do you have a prison here?' " Eventually, he was put in touch with a co-op that works with inmates to grow produce and refashion old banners into bags. "We are here to change the impressions of what it means to be in the penal system in Italy," he recalls them telling him. Taken with their work, ­Bradford entered into a six-year partnership, helping the group to open a storefront that will sell its wares and provide computer stations and other services for former prisoners. Meanwhile, his U.S. pavilion exhibition, titled "Tomorrow Is Another Day" (after the closing line from Gone With the Wind), touches on "all the problematics of that history, and Hollywood and imagery and race," he says.
Bradford makes it clear that his art and his commitment to social causes are separate endeavors, though, in some ways, they are inextricably linked. "They go together because I decide they go together," he says, smiling. "So much of the material I use comes from this place of urgency and the social, so if I start there it gives me a kind of confidence. I worked in an all-black hair salon and I lived in all-white Santa Monica. It's all me."
Watch W's most popular videos here: