Poetry on Wheels
Phil Aarons and Emma Reeves revive the zines of artist and skate legend Mark Gonzales in a new book.
---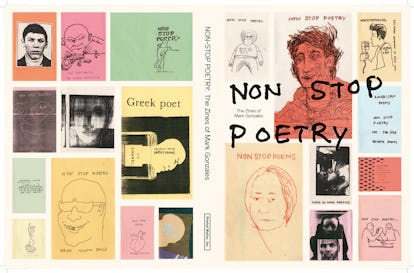 When skateboard legend, poet, and illustrator Mark Gonzales first started publishing his zines in the 1980s, he had no idea the life that they would take on after he let them loose into the world. "Sometimes you create monsters and they come back to get you. Or you do something that you think no one will know about and then they come find you," Gonzales explains. The latter came true when Printed Matter's Phil Aarons approached him about collecting all of his work into a singular volume, after hunting rare, scattered copies of Gonzales's zines for years. "It's going to be really weird, because these zines were made, but never with the intention of them coming together in one solid book," Gonzales says. "I thought it was something that only nerds did, but I was hanging out with Raymond Pettibon at the time, who was working on his Tripping Corpse. So it seemed like the thing to do." Far from a monster, Non-Stop Poetry: The Zines of Mark Gonzalesis the glorious result of the toiling of Aarons and his co-editor, Emma Reeves. The glossy tome celebrates the artist's off-the-cuff aesthetic by adding personal essays, informal interviews, and selected doodles. With a grid-style layout, the book feels more like a reverential inventory that captures Gonzales's breadth and frenetic energy than one of his original, scrappy creations. But, it would be difficult to compare them. "I don't even have any of my old zines," he says.
Non-Stop Poetry: The Zines of Mark Gonzales is available at printedmatter.org.