Marland Backus Is a Rising Star
The industrial designer-turned-model opens up about walking at a men's wear show, her boyish style, and what's next.
---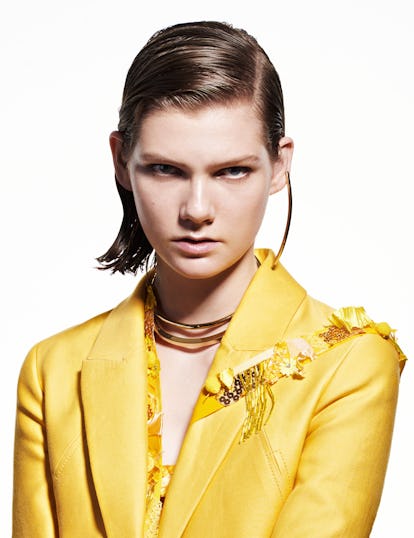 At 5'10'' with brown hair, blue eyes, and a self-possession of someone much older than 22, Marland Backus gives the impression that she's been modeling her entire life. But in reality, the Park Slope, Brooklyn, native spent years immersed in her studies in the Industrial Design program at Pratt Institute, rejecting offers from model scouts along the way. "I kept saying no because I wanted to focus on school and I knew it would be too hard to do both," explains Backus, who graduated in May. "I was right," she adds with a laugh.
Of course, the fashion world eventually got ahold of her. Last summer, while on vacation in London, Backus was dragged into an agency by her male model Airbnb host, signed with New York Models soon after that, and the rest, as they say, is history. Her first runway show was the Gucci Men's Fall 2015 collection, creative director Alessandro Michele's unofficial first, which she still counts as one of her most memorable. "There was all this excitement about them having done the collection in such a short time," she recalls. "And it was just cool to be in a men's show and be a part of that movement, you know?" The men's wear aesthetic suits Backus, who brings an art school sensibility to her coveted off-duty style (think ceramic beaded necklaces paired with tight t-shirts and trousers). "I definitely dress a bit boyish, I love mixing masculine and feminine pieces. I also love repurposing clothes and objects and finding new ways to wear them," she says, citing friends and fellow Pratt graduates Claire McKinney and Sophie Andes Gascon as her favorite fashion designers. "A lot of my favorite designers are students because they really get to push the limit and experiment in entirely new ways."
Though her informed style and almost-too-cool personality seem right at home in the fashion world, Backus has no plans to put her design career on hold. "I never want to stop making things, but I also plan to keep modeling and hopefully use that as a way to fund my own projects," she explains. "Five years ago, I would have never thought I'd be here. Right now I love not knowing what's next."
How to Wear Bold Colors, Starring Marland Backus
Hair by Holly Mills for R+Co, makeup by Yuki Hayashi. Model: Marland Backus at New York Model Management. Photography Assistant: David Shechter. Fashion Assistant: Morgan Jordan. Special thanks to Fast Ashleys Studios.