Stand out from the Herd
W's digital director is lusting after this Marni shearling coat.
---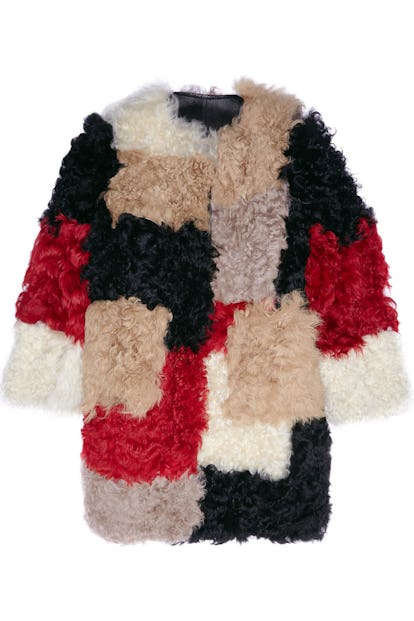 Clicking through W's Milan Fashion Week Spring 2016 street style galleries has had me itching for a few statement pieces for fall—and an online shopping spree. And wouldn't you know it, Net-a-Porter is releasing a capsule collection of Marni shearling coats and jackets today. This multi-colored, patchwork number is just what I need to catch the eye of those wolfish paparazzi.
Milan Fashion Week Spring 2016 Street Style, Day 2
Milan Fashion Week Spring 2016 Street Style, Day 2
Milan Fashion Week Spring 2016 Street Style, Day 2
Milan Fashion Week Spring 2016 Street Style, Day 2
Milan Fashion Week Spring 2016 Street Style, Day 2
Milan Fashion Week Spring 2016 Street Style, Day 2
Milan Fashion Week Spring 2016 Street Style, Day 2
Milan Fashion Week Spring 2016 Street Style, Day 2
Milan Fashion Week Spring 2016 Street Style, Day 2
Milan Fashion Week Spring 2016 Street Style, Day 2
Milan Fashion Week Spring 2016 Street Style, Day 2
Milan Fashion Week Spring 2016 Street Style, Day 2
Milan Fashion Week Spring 2016 Street Style, Day 2
Milan Fashion Week Spring 2016 Street Style, Day 2
Milan Fashion Week Spring 2016 Street Style, Day 2
Milan Fashion Week Spring 2016 Street Style, Day 2
Milan Fashion Week Spring 2016 Street Style, Day 2
Milan Fashion Week Spring 2016 Street Style, Day 2
Milan Fashion Week Spring 2016 Street Style, Day 2
Milan Fashion Week Spring 2016 Street Style, Day 2
Milan Fashion Week Spring 2016 Street Style, Day 2
Milan Fashion Week Spring 2016 Street Style, Day 2
Milan Fashion Week Spring 2016 Street Style, Day 2
Milan Fashion Week Spring 2016 Street Style, Day 2
Milan Fashion Week Spring 2016 Street Style, Day 2
Milan Fashion Week Spring 2016 Street Style, Day 2
Milan Fashion Week Spring 2016 Street Style, Day 2