Martha Plimpton Is Obsessed With "Westworld," Winston Churchill
The actress and "The Real O'Neals" star shares her culture diet.
---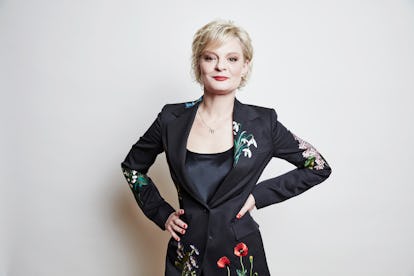 Maarten de Boer/Getty Images Portraits
The actress Martha Plimpton has showed up on everything from "Younger" to "The Good Wife" to "Grey's Anatomy" over the last 15 years, but recently, she's been spending most of her time in Chicago as Eileen, a Catholic mom on ABC's "The Real O'Neals." Find up what else she's been up to with her culture diet, here.
First thing you read in the morning: The traffic report.
Books on your bedside table right now: Stasiland: Stories from Behind the Berlin Wall by Anna Funder; The Return of The Soldier and The Meaning of Treason by Rebecca West; The Gathering Storm by Winston Churchill; The Art of Cruelty by Maggie Nelson; and Hero of The Empire: The Boer War, a Daring Escape, and the Making of Winston Churchill by Candice Millard. (I read too many things at once. It's either a bad habit or a good one. Can't tell.)
The TV show keeping you up at night: "Westworld."
Last movie you saw in theaters: I honestly cannot remember. I think it's been over a year since I saw a movie in the theater.
Last thing you saw at the theater: Skinner's Box by Improbable Theatre in Leeds.
Last piece of art you bought, or ogled: I bought an oil painting of a rooster in an insanely elaborate frame from my friend, the actress Meredith Salenger. I love it. And I wished I could afford anything by Florine Stettheimer.
Last museum exhibition that you loved: I recently revisited the Huntington Library's incredible collection [in San Marino, California]. Mind-blowing. Do try to see it.
Releases you're most eagerly anticipating: Moonlight, based on the play by Tarell McCraney; Difficult Women by Roxane Gay; and "The Heart Watches While The Brain Burns" by Mike Doughty.
Last song you had on repeat: "Tilted" by Christine and the Queens and "The Hammond Song" by the Roches.
Last concert you saw live: Father John Misty in Leeds, and Shellac et al at FYF Fest in L.A.
Best recent discovery: Reusable K-Cups.
How you get your news: Mostly online, but also reading the New York Times on paper, BBC World News, and NPR.
Favorite social media accounts to follow: Patton Oswalt and his brother Matt, Charles Pierce, Jamelle Bouie, Jamil Smith, Ashley Nicole Black, Amanda Duarte, Lindy West, Kirsten West Savali, Gina Loukareas, Jen Deaderick, Katha Pollitt, Jill Filipovic, and Laura Hillenbrand on any platform.
Last thing you do before you go to bed: Cuddle with my dog and politely order Alexa to set an alarm and play BBC Four for an hour.