There's Something About This Martha Stewart Selfie
The 78-year-old channeled Slim Aarons in an unassuming poolside thirst trap.
---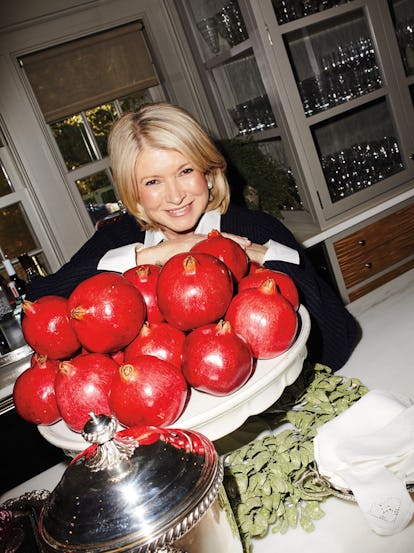 Maciek Kobielski
The world is still in the throes of an unprecedented pandemic. And the world—the United States in particular—is still in the midst of an historic racial reckoning centuries in the making. But on social media, it's increasingly a different story. Each new day of July marks an incremental step towards a return to "normalcy." Slowly but surely, Instagram users are shifting what used to be ordinary content—selfies, thirst traps, and photos of friends and food—from the "Close Friends" section of Instagram Stories back to their main feeds.
At times, the shift in content has felt tone-deaf. (Particularly when it comes to celebrities.) But somehow, that wasn't the case when 78-year-old Martha Stewart joined the thirst trap fray on Tuesday, naturally via her beloved burner account, @marthastewart48. Personal photos and videos of herself are a staple of Stewart's feed, just like unappetizing meal close-ups and blurry snapshots of life on the farm. Still, the dispatch she posted from her pool in East Hampton, where she was taking refuge from the 89-degree heat, stood apart.
The caption is classic Stewart, with in-depth details about her various home improvement projects. "When I built the pool thirty years ago it was designed to be as chlorine free as possible, with a natural concrete finish-no paint- and it fit in a long narrow space between the house and the property line," Stewart wrote. "I made it extra deep for diving and with no protruding steps so we could really race the length without worrying about obstacles." As usual, she concluded with a bevy of exclamation points: "After all these years, It is a fun place to swim!!!"
What is it, then, about this Instagram in particular? Stewart looks, well, great! She's deftly working her angles, tilting her chin up just so. She's showcasing a few envy-inducing details—like the fact that she's isolating in what, after months of quarantine, looks like Eden, and that her blonde hair is miraculously devoid of roots. No wonder that, less than 24 hours later, the post has been liked more than 140,000 times.
But apart from all that, there's a certain je ne sais quoi to Stewart's poolside thirst trap. While often simply the backdrop to carefully posed, homogenous pool float Instagrams, swimming pool photography is a captivating genre in and unto itself. Stewart managed to fall into the latter category. Her self-portrait even calls to mind the opulent, influential oeuvre of the society photographer Slim Aarons, whose self-described preoccupation was with "attractive people doing attractive things in attractive places." How, exactly, did Stewart do it? Are we witnessing the birth of a new artistic period?
Perhaps not. Whatever it is, Stewart seems to have already moved on. Within minutes, she was back to posting close-ups of that evening's meal. The response to her selfie had clearly registered, but Stewart only paid it the most modest of acknowledgments—by acting as if it was her East Hampton property that had piqued her followers' interests, rather than her fascinating, enigmatic self.
Related: Is This the End of Instagram as We Know It?
A Visual History of Martha Stewart Having a Ball
Martha Stewart in her backyard with her pet Persian cat perched on her shoulder, March 1980. Photo courtesy of Getty Images.

Getty Images
Martha Stewart attends Bette Midler's New York Restoration Project Annual Hulaween at The Waldorf Astoria Hotel in New York City, October 2009. Photo courtesy of Getty Images.

Getty Images
Martha Stewart attends Martha Stewart's American Made Program at Grand Central Station in New York City, October 2012. Photo courtesy of Getty Images.

Getty Images
Martha Stewart poses for a portrait, 1990. Photo courtesy of Getty Images.

Getty Images
Martha Stewart posing on a large motorbike, circa 1990. Photo courtesy of Getty Images.

Getty Images
Martha Stewart and Sophia Loren attend the Russian National Orchestra's 15th Anniversary at St. Regis Hotel in New York City, Photo courtesy of Getty Images.

Getty Images
Martha Stewart plays with a camel at Baikonur Cosmodrome, April 2007. Photo courtesy of Getty Images.

Getty Images
Martha Stewart during Bette Midler's 2nd Annual Halloween Ball for New York Restoration Project at Waldorf Astoria in New York City, circa 1990. Photo courtesy of Getty Images.

Getty Images
Martha Stewart sating her thirst at an AOL Build Speaker Series with Geoffrey Zakarian in New York City, July 2016. Photo courtesy of Getty Images.

Getty Images
Martha Stewart at the Comedy Central Roast of Justin Bieber in Los Angeles, California, March 2015. Photo courtesy of Getty Images.

Getty Images
Martha Stewart attends Bette Midler's 12th Annual NYRP "Hulaween" Ball on October 31, 2007 in New York City. Photo courtesy of Getty Images.

Getty Images
Martha Stewart and Conan O'Brien, February 18, 2009. Photo courtesy of Getty Images.

Getty Images
Martha Stewart, 1990. Photo courtesy of Getty Images.

Getty Images
Martha Stewart drilling a hole into a pumpkin, under the supervision of Ann Curry, on NBC News's Today Show, October 2011. Photo courtesy of Getty Images.

Getty Images
Martha Stewart and Ellen Degeneres on "Salad Days," November 15, 1995. Photo courtesy of Getty Images.

Getty Images
Martha Stewart attends FIU Teaching Restaurant Inaugural Dinner during the Food Network South Beach Wine & Food Festival in Miami, Florida, February 2014. Photo courtesy of Getty Images.

Getty Images
Nick Voulgaris III, Martha Stewart and Douglas Friedman attend the release of "The Seaside House: Living On The Water" in Saks Fifth Avenue in New York City, March 2017. Photo courtesy of Getty Images.

Getty Images
Snoop Dogg and Martha Stewart pose in the press room during the 2017 MTV Movie And TV Awards at The Shrine Auditorium in Los Angeles, California, May 2017. Photo courtesy of Getty Images.

Getty Images
Martha Stewart holds a chicken during an interview with host Jay Leno on May 9, 1997. Photo courtesy of Getty Images.

Getty Images
Oprah Winfrey and Martha Stewart attend the O, The Oprah Magazine Launch Party at The Metropolitan Pavilion in New York City. Photo courtesy of Getty Images.

Getty Images
Martha Stewart carries a net as she herds geese on the grounds of her home, Westport, Connecticut, August 1976. Photo courtesy of Getty Images.

Getty Images
Martha Stewart attends the FIT Couture Council's Annual Luncheon at Avery Fisher Hall at Lincoln Center for the Performing Arts in New York City, September 2010. Photo courtesy of Getty Images.

Getty Images
Martha Stewart is the guest on "The View" on Tuesday, May 15, 2018. Photo courtesy of Getty Images.

Getty Images
Martha Stewart attends the Ralph Rucci show during Spring 2014 Mercedes-Benz Fashion Week at The Theatre at Lincoln Center in New York City, September 2013. Photo courtesy of Getty Images.

Getty Images
Martha Stewart pours wine for Jean-Georges Vongerichten during an interview for Sirius Satellite Radio at Sirius Satellite Radio in New York City, May 2007. Photo courtesy of Getty Images.

Getty Images
Martha Stewart holds a guitar signed by Justin Bieber for her silent auction during The Martha Stewart Center for Living 2015 Gala at Starrett-Lehigh Building in New York City, April 2015. Photo courtesy of Getty Images.

Getty Images
Martha Stewart and Justin Bieber attend the Comedy Central Roast of Justin Bieber at Sony Pictures Studios in Los Angeles, California, March 2015. Courtesy of Getty Images.

Getty Images