Brit Grit
Thanks to a new designer, Belstaff is once again in the fashion spotlight.
---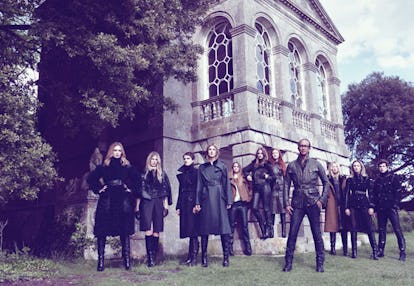 Under a blue sky, in the heart of a 12,000-acre ​private estate in the West Sussex countryside, a small army of bright and beautiful young things looks positively fierce.
"The party's here," says Martin Cooper, chief creative officer of Belstaff, as we arrive at Carné's Seat, a classical pavilion near the top of the Goodwood "hill climb," the main attraction of the ­annual Festival of Speed, one of Great Britain's best-loved motor-sport events. Goodwood House, nestling below, dates back to the reign of James I.
Its rich British heritage makes Goodwood the perfect location for showcasing Cooper's collection for Belstaff. "We've formed an amazing partnership with Lord March," explains Cooper, who worked at ­Burberry for 16 years. He's referring to Charles Henry Gordon Lennox, Earl of March and Kinrara, who lives at Goodwood House. ­Lennox's grandfather Freddie was a race car driver, and Gordon has proven a worthy successor where that passion is concerned.
Belstaff boasts an equally rich history in motoring. After its founding in 1924, it quickly became the world's leading purveyor of weatherproof sportswear for well-heeled racing enthusiasts. A few decades later, Steve McQueen favored a Belstaff Trialmaster jacket when biking; more recently, George Clooney designed a small line of outerwear for the brand.
Last year, the Swiss conglomerate Labelux—­together with Tommy Hilfiger and entrepreneur Harry Slatkin—took over the label and will soon open stores in New York and London. They're also launching new high-end collections of women's wear, men's wear, and accessories.
"As soon as I was hired, I wanted to take ownership of certain icons," says Cooper. And so, the ­Despatch Rider coat, originally crafted from rubber, is now cut in forest green PVC bonded to ­neoprene. And the four-pocket Trialmaster, meanwhile, will be available in luxurious skins like crocodile and python. "I think of our garments, and their history, as quite sensuous," Cooper says. "When one puts on a Belstaff, it's transformative—it's about freedom."
All clothing and accessories by Belstaff.