Martin Scorsese's Next Film is Heading to Netflix Because Hollywood as We Knew It is Over
Martin Scorsese, the icon of New Hollywood, has inked a deal with Netflix, proving that streaming is, well, the new New Hollywood.
---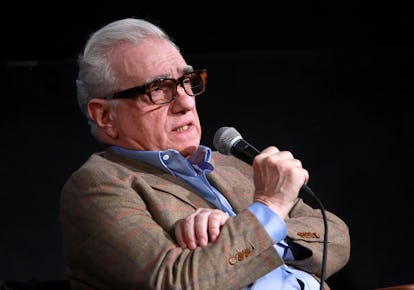 Jonathan Leibson
Martin Scorsese exemplifies what Hollywood wishes it was at its finest. A stalwart of the New Hollywood movement of the late '60s and '70s, Scorsese is an auteur who makes critically-acclaimed, awards-bait movies with A-list movie stars that also happen to sell a lot of tickets at the box office.
Though, that particular version of Hollywood is increasingly disappearing under the wreckage from so many superhero battles. And now, Scorsese is headed to—where else?—Netflix.
The streaming service has made one of its most high-profile acquisitions to date by agreeing to distribute the director's next film, The Irishman. Based on the life story of Frank "The Irishman" Sheeran, a Mafia-connected hitman who claimed, on his deathbed, to have killed Jimmy Hoffa, the project marks Scorsese's first foray back into the mob genre since 2006's The Departed. It will also see him re-unite with longtime muse Robert De Niro for the first time since 2005's Casino. The project also comes with a not insignificant budget of $100 million (a portion of which will go to special effects to make De Niro appear younger in certain scenes), and, reportedly, Oscar ambitions.
The film will also see Scorsese re-team with Joe Pesci as well. Al Pacino has signed, too—amazingly, this will be the actor's first collaboration with Scorsese.
The only way this could be bigger would be if Scorsese's latest muse, Leonardo DiCaprio, was along for the ride, too. (Though, Brad Pitt and Will Smith both have movies hitting Netflix later this year as well, so maybe it's not out of the question in the future.)
The film was previously set up at Paramount, but Netflix jumped on the project after Paramount's CEO Brad Grey stepped down. The fact that Scorsese's latest film, the well-reviewed by awkwardly-marketed passion project Silence, brought in a dismal take at the box office and not a single Oscar nomination, only worked to Netflix's benefit.
As far as prestige goes, it's certainly a bigger coup than Netflix's first overt swipe at traditional Hollywood—signing a four-picture deal with Adam Sandler.
Not coincidentally, it will bring attention to the streaming service from older demographics who might be especially intrigued by the prospect of a De Niro-Scorsese reunion for a mob flick. Those over 50 subscribe to Netflix at a far lesser rate than younger generations.
The deal should also put Netflix's Oscar potential to the test, especially after many thought the service mismanaged the awards campaign of indie film Beasts of the Southern Wild in 2015.
After Netflix fell short with Beasts, Amazon became the first streaming studio to snag a Best Picture nomination this year with Manchester By the Sea. Amazon, however, has handled that movie's rollout rather traditionally. It received a normal theater release and won't be available to stream on Prime until this Spring. Netflix, meanwhile, prefers to dump its prestige films in theaters for awards contention on the same day the films become available on its streaming service, and according to IndieWire, it won't change that plan for The Irishman. With the exception of Silence, five of Scorsese's last six narrative films all received nominations for Best Picture, and most picked up nominations and some wins for its cast as well.
So if Netflix's Scorsese bet pays off in full—that is, if it garners good reviews, drives up subscriptions, and ends in a tour of the awards shows—this could very well signal the next wave of a sea change already well under way. If Scorsese finds success with Netflix, then what's stopping the likes of Tarantino, the Coen brothers, or Christopher Nolan from testing the streaming waters?
In just a few short years, Netflix has already become a power player in scripted TV. It's a force in prerecorded but event-worthy specials (it will be the home for the next standup specials of Amy Schumer, Jerry Seinfeld, Chris Rock, Sarah Silverman, Dave Chapelle and, as just announced today, Louis CK). It dominated acquisitions at Sundance this year with a shopping bag that included fourteen different titles. Now it's going for prestige Hollywood fare as well.
Meanwhile, the traditional Hollywood model is almost exclusively betting its bottom line of big tentpole franchises like family-friendly animated movies, superhero epics, and big screen adaptation of toys and board games.
At the rate things are going, one has to wonder how long it is until a streaming service takes aims at those genres as well.
Jodie Foster Branded on the American consciousness as the child prostitute in 1976's Taxi Driver, Foster is recast as a mother trying to achieve normalcy after the death of her child.

Giorgio Armani dress; Chopard necklace, bracelet, and ring; stylist's own veil. Hair by Enzo Angileri at Cloutier Remix; makeup by Rachel Goodwin for Chanel at the Wall Group.

Photographer: Steven Klein Stylist: Panos Yiapanis
Winona Ryder Subtle and fascinating in 1993's The Age of Innocence, Ryder risks vulnerability by removing her mask.

Marc Jacobs dress; Danyi Zhu mask. Hair by Didier Malige; makeup by Diane Kendal for Marc Jacobs Beauty.

Photographer: Steven Klein Stylist: Panos Yiapanis
Sharon Stone Nominated for an Oscar for her performance as Ginger, a doomed hustler in 1995's Casino, Stone clashes here with her more masculine half.

Saint Laurent by Hedi Slimane trousers; stylist's own scarf, ring, and Dior Homme jacket and shirt. Donna Karan New York dress; de Grisogono ring; the Model Traitor cuffs. Hair by Andy Lecompte for Wella Professionals; makeup by Sammy Mourabit for MAC at Streeter.

Photographer: Steven Klein Stylist: Panos Yiapanis
Juliette Lewis The actress, whose career took off when she played a provocative teenager in 1991's Cape Fear, ponders her fate as she peers into a medicine cabinet.

Balmain dress; Lee Angel necklace. Hair by Andy Lecompte for Wella Professionals; makeup by Sammy Mourabit for MAC at Streeters.

Photographer: Steven Klein Stylist: Panos Yiapanis
Jessica Lange The betrayed wife in Cape Fear struggles here under the glare of the spotlight.

Michael Kors dress; Céline sunglasses; Falke tights; stylist's own sequin dress and gloves. Hair by Didier Malige; makeup by Diane Kendal for Marc Jacobs Beauty. Manicures for all actresses by Bernadette Thompson. Set design by Andrea Stanley.

Photographer: Steven Klein Stylist: Panos Yiapanis
Andrew Garfield Prayed For a Full Year to Prep for Martin Scorsese's Silence: