SNL Remixes The Marvelous Mrs. Maisel With Leslie Jones
The Saturday Night Live spin-off we deserve.
---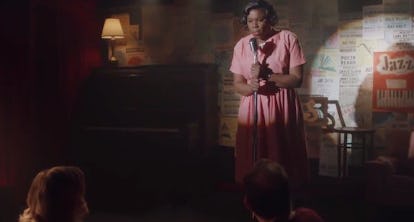 Courtesy of Saturday Night Live.
With Rachel Brosnahan, who plays the titular Mrs. Maisel in Amy Sherman-Palladino's Amazon show, hosting the first episode of 2019, it's only natural that Saturday Night Live would take the opportunity to spotlight one of its stars who is an actual stand-up comic: Leslie Jones. And just like Jones herself, her '50s alter ego, Miss Rita, is blunt, crass, and having the absolute most fun onstage. In "The Raunchiest Miss Rita," Midge Maisel encourages Gaslight Café cleaning lady Rita to sign up for open mic night and say "whatever is on her mind," like Midge does. More than an hour later, Miss Rita is still at the mic, calling out audience members for their, um, shortcomings and using fouler language than Midge has ever heard. Not that Midge isn't adept at finding the humor in the every day, and obviously women, then and now, have plenty to get off their chest, but a character like Rita—older, working-class, African-American—actually has life experience that would make for killer stand-up.
The sketch also parodies Midge and her manager Susie's (Aidy Bryant) back-and-forth patter and Susie's style choices: "What's with the hat? Are you a newsie?" And it promises An Even More Exasperated Tony Shalhoub (Kyle Mooney) (Would not mind a spin-off about The Many Aggravations of Tony Shalhoub). After Rita exits the stage, the host for the evening (Mikey Day) quickly introduces clean-cut comic William Cosby (Kenan Thompson), reminding us that the world of Mrs. Maisel is not exactly the real 1950s, despite Lenny Bruce popping up every few episodes, and that a comedian's onstage persona often has nothing to do with their actual character. Take the shy and mild-mannered Miss Rita Mae Johnson, for example:
Related: Rachel Brosnahan Shares Mrs. Maisel's Guide to Hosting the Ultimate Holiday Party
The 6 Rising Style Stars to Watch in 2019
After suiting up as the Pink Ranger in last year's live-action Power Rangers adaptation, Naomi Scott is here to play into your feelings of nostalgia once again. This spring, the 25-year-old actress will take on the role of Princess Jasmine in Disney's new Aladdin, and later in the year, will be one of the titular Angels in Elizabeth Banks's Charlie's Angels reboot. Expect lots of dreamy princess gowns and sleek suits on those respective promo tours.

Todd Williamson
While her big sister Katherine got her own big break two years ago with 13 Reasons Why, 2019 will be Josephine Langford's year. This April, the actress (who previously appeared on the television series Wolf Creek) will star in After, a dark romance film. If she's taking style cues from her big sister, we can look forward to some bold premiere looks, not to mention plenty of Prada.

Joe Scarnici
Chances are you just just saw Rosa Salazar in Bird Box, and next year, you'll be seeing even more of her. In February, she'll star as the titular character in Robert Rodriguez and James Cameron's Alita: Battle Angel, a major film that's sure to come with some major premiere looks to go with her character's futuristic battle gear.

Desiree Navarro
The daughter of Ethan Hawke and Uma Thurman, 20-year-old Maya Hawke is no stranger to the red carpet (this year, she even attended the Met Gala with Diane von Furstenberg). But the young actress will get an even bigger audience come next summer, when she'll join the cast of Stranger Things for its third season.

Frazer Harrison
Australian actress Eliza Scanlen already creeped you out as Amy Adams's wild sister in Sharp Objects, but will trade in her rollerblades and jean shorts for plenty of high fashion dresses come awards season this year. You'll see even more of her next winter, as she co-stars in Greta Gerwig's Little Women alongside Saoirse Ronan, Emma Watson, and Florence Pugh.

ANGELA WEISS
Hand-picked by mentor Pharrell Williams while still a student at NYU, Maggie Rogers has already nabbed a coveted musical guest slot on Saturday Night Live, even before her debut album dropped. As she heads on tour this spring, we can look forward to another indie fashion star in the making, a la Haim and St. Vincent.

Mike Coppola