Mary J. Blige Is Starring in a Netflix Show Created By the Guy From My Chemical Romance
It's like a 2000's 'TRL' fever dream.
---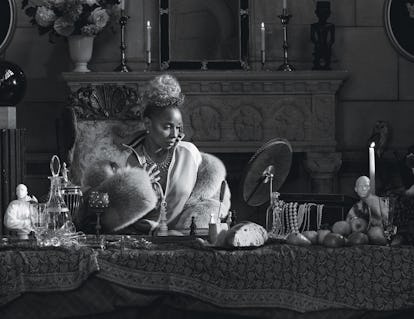 Photographs by Carrie Mae Weems; Styled by Styled by Paul Cavaco. Hair by Kim Kimble for Kimble Hair Care Systems at 
SixK.LA; makeup by D'Andre Michael for U.G.L.Y. Girl 
Cosmetics. Set design by Kadu Lennox at Frank Reps. Produced by Carly Day at Rosco Production; Production Coordinator: Marie Robinson at Rosco Production; retouching by silhouette studio; Lighting Director: Rob Kassabian at Honey Artists; Photography Assistants: James Wang, Pamela Vander Zwan, Adger Cowans; Lighting Assistant: David Schinman; Gaffer: Armando Reyes; Fashion Assistants: EJ Briones, nicholas eftaxias; Tailor: Christy Rilling; Set Design Coordinator: Joanna Seitz; Production Assistants: Will Foster, Alejandro Armas, Carl Miller; Special thanks to Dienst + Dotter Antikviteter, Skylight Studios, Pier59 Locations.
If you would have tuned into MTV's Total Request Live in 2005, you might have seen Mary J. Blige's "Be Without You" battling it out for position on the countdown against My Chemical Romance's "Helena," with two very different sets of tweens in the audience rooting them on. It would have been hard then to predict that hip-hop soul singer Blige would ever collaborate in any way with a member of the moodiest of mall goth bands. Then again, it would have also been hard to predict that Blige would one day be an Oscar-nominated actress and that MCR's lead singer Gerard Way would be an award-winning comic book creator. Yet, it's those second careers that are finally bringing those former TRL mainstays together.
Blige has just signed on to co-star in Umbrella Academy, an upcoming Netflix show based on the heralded comic series that Way created.
The series, set in an alternate history version of '70s, is about a dysfunctional family of superheroes who were all adopted and raised by one man but gradually drift apart until their father is murdered and they reunite to find the culprit. It sort of sounds like The Royale Tenanbaums meets X-Men, but directed by Tim Burton. Ellen Page, a former Oscar nominee as well, has also signed to play one of the siblings. She'll by joined by Game of Thrones actor Tom Hopper, Hamilton alum Emmy Raver-Lampman, and Misfits star Robert Sheehan.
Blige will not be playing a member of the family, but rather a villain by the name of Cha-Cha. TV Line describes the character as a "ruthless and unorthodox hitwoman who travels through time to kill assigned targets." Though, her character might be even more intriguing than that, because, well, here's how Cha-Cha appears in the original comic books (the one with the blue head):
In the comics, Cha-Cha is a psychotic killer who is always joined by partner Hazel. They only care about each other, and candy. Somewhat notably, the character is also male in the comics. So, there will definitely be a few changes made from the source material.
Though, it does seem like they will cast a Hazel as well. But who could compliment Blige? Perhaps they might want to look at other mid-00s TRL favs for inspiration. What's Jessica Simpson up to? Is Samantha Mumba still around? Wait, actually, would it be possible to cast Christina Aguilera? Please, take a moment to savor the mental image Blige and Aguilera as a team of time-traveling psychotic hit women out to torment Ellen Page and then don't get too disappointed when they end up casting Avril Lavigne instead. The show still seems potentially epic either way.
Related: Mary J. Blige and Carrie Mae Weems in Conversation: On Race, Women, Music and the Future
TRL Is Back! Revisit Some of the Show's Most Iconic, Early 2000s Fashion Moments
Rihanna poses for a photo backstage during MTV's Total Request Live at the MTV Times Square Studios on May 8, 2007 in New York City.

Getty
Britney Spears backstage at a taping of MTV's "TRL" in Times Square.

Getty
Kanye West during MTV's "TRL" announcing the nominations for the 2007 MTV Video Music Awards at MTV Studios in Times Square on August 7, 2007 in New York City.

Getty
Shakira and Carson Daly during MTV's Spankin' New Music Week on TRL at the MTV studios in New York City.

Getty
Christina Aguilera during "Spankin' New Music Week" on TRL at the MTV studios in New York City.

Getty
Jessica Simpson and Damien Fahey during a taping of MTV's "TRL" in Times Square.

Getty
Gwyneth Paltrow poses for a photo backstage during MTV's Total Request Live at the MTV Times Square Studios September 16, 2004 in New York City.

Getty
Daniel Radcliffe and Emma Watson appear on stage during MTV's Total Request Live at the MTV Times Square Studios May 24, 2004 in New York City.

Getty
NEAlicia Keys poses for a photo backstage during MTV's Total Request Live at the MTV Times Square Studios December 21, 2005 in New York City.

Getty
Beyonce Knowles makes an appearance on MTV's Total Request Live on February 28, 2007 in New York City.

Getty
Paris Hilton at the MTV Studios Times Square in New York City, New York.

Getty
Charlize Theron attends a taping of MTV's "TRL" in Times Square.

Getty
Avril Lavigne attends a taping of MTV's "TRL" in Times Square.

Getty
Amy Adams appears onstage during MTV's Total Request Live at the MTV Times Square Studios November 19, 2007 in New York City.

Getty
Solange Knowles visits MTV's "TRL" at the MTV studios in Times Square August 26, 2008 in New York City.

Getty
Taylor Swift poses for a photo backstage during MTV's Total Request Live on June 16, 2008 at the MTV Times Square Studios in New York City.

Getty
Jennifer Lopez and Carson Daly at a taping of MTV's "TRL" in Times Square.

Getty
Kris Jenner and Kim Kardashian arrive at the "TRL" taping at the MTV Studios in Manhattan on August 25, 2008 in New York City.

Getty
Ashley Olsen and Mary Kate Olsen during visit MTV's "TRL" – May 5, 2004 at MTV Studios, Time Square in New York City, New York, United States.

Getty
Keira Knightley during Keira Knightley Visits MTV's "TRL" – June 28, 2004 at MTV Studios in New York City, New York, United States.

Getty
Gwen Stefani with the Harajuku Girls during "TRL" – March 22, 2005 at MTV Studios, Times Square in New York City, New York, United States.

Getty
Lauren Conrad visits MTV's "TRL" – September 14, 2005 at MTV Studios in New York City, New York, United States.

Getty
Michelle Williams, Kelly Rowland and Beyonce Knowles of Destiny's Child visit MTV's "TRL" in Times Square.

Getty
Lindsay Lohan visits MTV's "TRL" – December 7, 2004 at MTV Studios in New York City, NY, United States.

Getty
Anne Hathaway visits MTV "TRL" – June 29, 2006 at MTV Studios in New York City, New York, United States.

Getty
Ashlee Simpson visits MTV's "TRL" – September 20, 2004 at MTV Studios – Times Square in New York City, New York, United States.

Getty
Miley Cyrus appears on MTV's "TRL" at the MTV studios in Times Square on July 18, 2008 in New York City.

Getty
Rachel Bilson visits MTV's "TRL" – February 23, 2005 at MTV Studios in New York City, NY, United States.

Getty
Cameron Diaz, Lucy Liu and Drew Barrymore visit MTV's "TRL" – June 26, 2003 at MTV Studios Times Square in New York City, New York, United States.

Getty
Carson Daly and Angelina Jolie during a taping of MTV's "TRL" at MTV Studios- Times Square in New York City, New York, United States.

Getty