Only in Brooklyn: A Shrine to Mary-Kate and Ashley Olsen
Comedy duo Matt Harkins and Viviana Rosales Olen explain their Kickstarter for "Olsens Hiding From the Paparazzi," an exhibition of the twins, well, hiding from the paparazzi.
---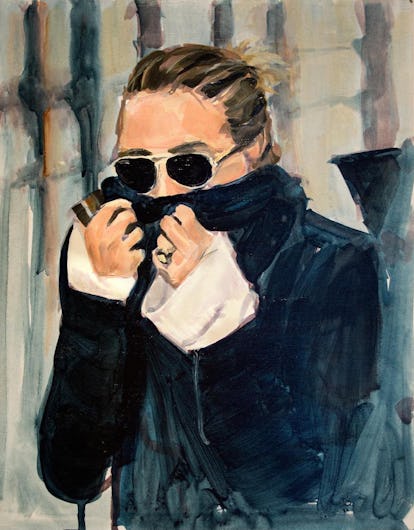 "Using a patented system of approximately 700 pounds of beautiful clothes, strategically high collars, face-sized bags, andtiny house-sized sunglasses, the Olsens are able to hide themselves from unwanted photographers. In fact, you can never be sure a photo of an Olsen is actually an Olsen. It could just be a showroom rack of unattainable clothes rolling down the sidewalk."
That's how comedy duo and roommates Matt Harkins, 28, and Viviana Rosales Olen, 29, describe their Kickstarter campaign for "Olsens Hiding From the Paparazzi," an exhibition featuring Chicago-based artist Laura Collins's series of 20 paintings of Mary-Kate and Ashley Olsen shielding themselves from photographers. The roommates want to raise $9,500 to fund what would be their second art show — well, if you count their last Kickstarter project: "The Tonya Harding and Nancy Kerrigan 1994 Museum," a salon-style shrine still located in the hallway of their Williamsburg apartment.
"Every time [the Olsen twins] hide behind something, it just looks so oversize," Harkins said from their apartment recently. Though not a fan of Full House growing up, his obsession with the twins began when he read that they were smoking in the bathroom at the Costume Institute Gala, and that Mary-Kate had bowls of cigarettes at her super-secret wedding with Olivier Sarkozy. "Everyone was like, 'You can't do that!'" he said.
Olen, on the other hand, has been a fan forever. "I like them because they don't pander to us," she said. "They're not like, 'Oh wow I'm so relatable.' It's like, 'No, you're not, and that's great.' Thank you. That's true to me.' The Olsens do not want to be near us. They are not bullshitting. They just want to drape and then go into work and drape. I'm so just happy for them that they live in a tower now."
"They're always so elusive, which makes them more attractive," added Collins on the phone from Chicago. She watched Full House every day after school. "We want to know more because they shy away so often. Also, anytime there's two of something, a duplicate, it's pretty fascinating in a visual way." She still hasn't figured out how to tell the twins apart, though.
Harkins and Olen met Collins through their shared obsession with Tonya Harding — Collins's portrait of the figure skater currently hangs in their home "museum," alongside dozens of other donations acquired through that Kickstarter campaign, including a glitter-painted epigram: "If you can't handle me at my Tonya, you don't deserve me at my Nancy."
After the Tonya Harding exhibition, Harkins and Olen continued to follow Collins on Instagram, which features series of works like models falling, Lisa Vanderpump with her pet swan, and a portrait of Kylie Jenner mid-wink. When they finally saw her Olsens series in November, they thought it was, "like, mind-blowing."
"Above all, we are attracted to camp," explained Viviana. "Collins' paintings are just fun! She loves these people. There's heart in it. She's not making fun of anybody. If we're making fun of anybody, it's ourselves."
While Harkins and Olen joke about almost everything — they met at an Upright Citizens Brigade party two years ago — they're serious about this project. (Seriously.) "We don't know a lot about the art world, and we're not going to pretend that we do," said Olen. "But we do take this very seriously. Obviously, like, this is our lives." As she gestured to the "museum with a lower-case 'm'," which has taken up a third of their small apartment for the past year, it was hard not to believe her.
Despite having to open their door to figure-skating obsessed strangers, they've only had two awkward run-ins: once, when Harkins' Grindr date showed up, and another time involving two middle-aged, straight, male real estate agents. "First of all, when a straight guy comes here we're like, 'Are you sure?'" said Olen. "If you've dated enough in New York though, you know how to get people out of your house."
Asked if they ever patronize galleries or museums, Olen replied: "We'll see a gallery show listed, and we see a bunch of words, and we're like, 'We know those words independently … but we don't know what that sentence means!' One time we passed a gallery where there were fried eggs all over the wall, and like a plant and a video camera taping the plant, and we were like, 'Okay, I don't think we get art.' It's not accessible, and this is built to be accessible. That's more fun for us."
They want "Olsens Hiding From the Paparazzi" to be an interactive art gallery experience, though this time somewhere other than their apartment so as to not annoy their landlord. Visitors would pose with giant replicas of a Starbucks cup, a Birkin bag, and a Blackberry, in addition to access to a working landline in the room. "When you're in the exhibit, there may be a phone call," said Olen. "If you answer it, it's the executives offering you Fuller House, and then you turn it down, or say what the Olsens said: 'What is that?'" There would also be LaCroix sparkling water and a strobe light.
With 11 days to go, Olen and Harkins have already raised half their campaign goal. Yes, they do have plans to invite the Olsens, they write on Kickstarter. "But it feels off-brand for them to come."
Photos: Only in Brooklyn: A Shrine to Mary-Kate and Ashley Olsen
"An Olsen Twin Hiding Behind a Scarf," by Laura Collins, 2015.
Matt and Viviana, who started the Kickstarter.
"An Olsen Twin Hiding Behind a Blackberry," by Laura Collins, 2015.
"An Olsen Twin Hiding Behind a Hermes," by Laura Collins, 2015.
"An Olsen Twin Hiding Behind a Notebook," by Laura Collins, 2015.
"An Olsen Twin Hiding Behind a Fendi Tote," by Laura Collins, 2015.
"An Olsen Twin Hiding Behind Her Arm," by Laura Collins, 2015.
"An Olsen Twin Hiding Behind Her Hand," by Laura Collins, 2015.