Mary Katrantzou Fall 2014
For the Mary Katrantzou Fall 2014 collection, the designer moved beyond digital prints and into the world of symbols. See our favorite look here.
---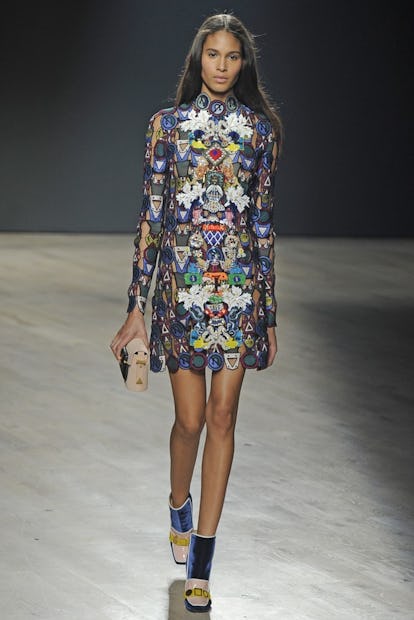 Mary Katrantzou has finally moved beyond digital prints into the world of symbols—boy-scout patches, coat of arms, road signs, and military appliques, all mashed together into intricate, intriguing looks that have become characteristic of the brand.
London Fashion Week Fall 2014
Tom Ford Fall 2014
"For those who rock Tom Ford, and still pop mollies, the master of louche luxury sent out this orange sequin football jersey dress—a nod to the shirt worn by Jay Z while on tour." – Karin Nelson
Jonathan Saunders Fall 2014
"Jonathan Saunders likes a little oddity in his collections, but once you remove the flesh-colored tights and sparkly pumps (styling tricks courtesy of Katie Grand), there were some cool looks in the lot." – Karin Nelson
Pringle Fall 2014
"Massimo Nicosia isn't reinventing the wheel with his structured sweater looks, but he's certainly designing clothes that women want to wear, such as this ribbed pencil-skirt and top." – Karin Nelson
Preen Fall 2014
"It's hard to say who did Star Wars imagery better—Preen or Rodarte—but clearly it's time to raid the child in your life's wardrobe." – Karin Nelson
Mary Katrantzou Fall 2014
"Mary Katrantzou has finally moved beyond digital prints into the world of symbols—boy-scout patches, coat of arms, road signs, and military appliques, all mashed together into intricate, intriguing looks that have become characteristic of the brand." – Karin Nelson
Peter Pilotto Fall 2014
"More was more at Peter Pilotto where the best looks were those swaddled in the duo's signature maximalist prints." – Karin Nelson
Simone Rocha Fall 2014
"Simone Rocha combined classic punk rock references with an Elizabethan flare for a quirky, cool vibe." – Sam Milner
Erdem Fall 2014
"For Fall 2014, Erdem Moralioglu went back to what he does best: moody florals on a flattering silhouette." – Sam Milner
J.W. Anderson Fall 2014
"In a collection full of exaggerated architectural shapes, this dress shows off Anderson's softer, sexier side." – Sam Milner
Christopher Kane Fall 2014
"Christopher Kane used organza—and lots of it—to make his modern mille-feuille dresses." – Sam Milner
Burberry Fall 2014
"Layered patterns and textures plus hand-painted floral accents equals effortlessly romantic and cozy." – Sam Milner