Dressing Rooms
Mary Katrantzou's clever spring collection blurs the line between fashion and interior design.
---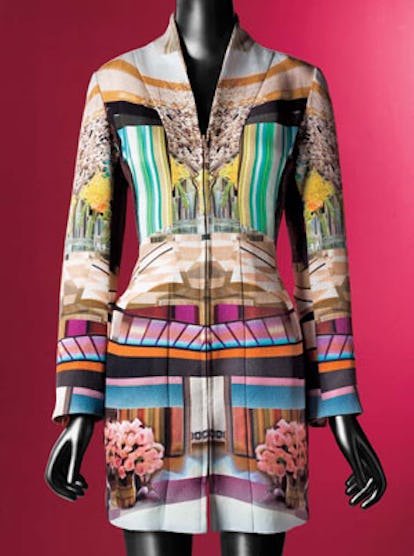 "I didn't start in fashion," says 28-year-old Mary Katrantzou from her studio in East London's Hackney neighborhood. "I'm always looking at beauty through other kinds of design." This orientation has never been clearer than in Katrantzou's spring 2011 collection, Ceci N'est Pas une Chambre, a grouping of skirts, dresses, and jumpsuits printed with hyper-real images of interiors and landscapes. Katrantzou, an Athens-born Central Saint Martins graduate who trained in architecture before getting into the fashion game, was inspired by the photographs of Guy Bourdin and Helmut Newton. "A woman would be a part of the aesthetic of an entire room," she says of their work. At first Katrantzou attempted to incorporate images of the female form into her own prints but found the results to be "too arty and ethereal." Instead, she decided to let women inhabit rooms in the most immediate way possible: by wearing them.
Katrantzou, who founded her label two years ago, is on a professional roll—she debuted her third capsule collection for Topshop this season, won the Swiss Textiles Award last year, and recently put out a perfume with the indie company Six Scents. Still, taking this collection in such a high-concept direction terrified her. "I didn't want to go too far, and I thought it could be difficult saleswise," she says. She needn't have worried: Singers Katy Perry and Nicki Minaj as well as stylist–cum–fashion icon Anna Dello Russo have already come calling. And next season Katrantzou is building on her decor-inspired theme: Her fall 2011 line takes its cue from Meissen porcelain, Fabergé eggs, and other design objets.