Margot Robbie and Saoirse Ronan Duke It Out in Mary, Queen of Scots Posters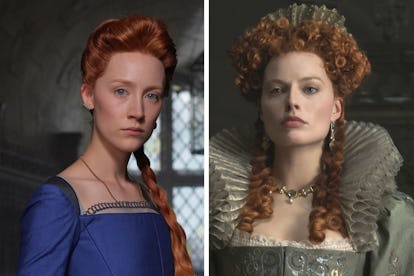 Composite. Focus Features
Bow down, curtsy, do whatever you need to do to show respect to your monarchical ancestors. Because things are about to get wild in the 16th-century-anglophile community.
Margot Robbie and Saoirse Ronan have come out to play — well, have come out to fight, if we're being loyal to historical accuracy — in the first posters for their upcoming period drama, Mary, Queen of Scots. Ronan plays the reigning Scottish queen, with Robbie tackling Queen Elizabeth I, who was Mary's cousin and Queen of England and Ireland. Their family history is very twisted . . . to say the least. Without rattling off for hours with British royal family knowledge, the film will focus on Mary, Queen of Scots's attempt to overthrow and execute her cousin and take the most prominent throne of them all. (We guess she wasn't happy with solely reigning over Scotland.) Elizabeth finds out about this attempt, though, and condemns her to imprisonment and an eventual execution. What ensues are never-ending power grabs, mind games, and some of the finest wigs we've seen in recent memory. See the posters for yourself, below.
Teases of the film have been coming out for a few months, and Margot has found a particular creative fulfillment in playing the monarch, noting that the young women — who were in their early 20s when the drama began to transpire — have a much more complex relationship than people realize. "Everyone manipulated their relationship," she previously told EW. "It's complicated, it's tragic, and it's bizarre. The only other person in the world who could understand the position they were in was each other."
The first Mary, Queen of Scots trailer will debut Thursday, and the film will debut in December. All hail!
Related: Margot Robbie, Number-One Love Island Fan, Doesn't Think She Looks Like One of Its Stars