The Myth of Mary Reid Kelley
The second installment of the artist's trilogy of the Minotaur and Pasiphae opens in London.
---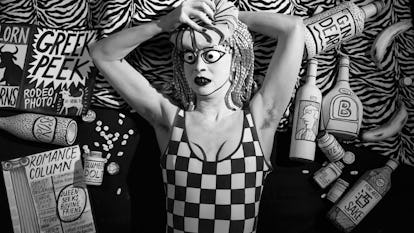 Mary Reid Kelley's films are deliciously clever and as strong-flavored as liquorish. In the black and white of a cartoonist's pen and paper, the artist ignites the subjects of history painting and myth with feminist sparks and comic-strip humour. Her characters have bug eyes like the Simpsons and spout rhyming couplets pungent with word play, while set design (brought to life on a computer by her husband Patrick) and costumes crack visual gags. To date they have included a Parisian prostitute waxing lyrical on the French revolution and dead-end decadence, and macho classical heroes cast as jock-like basketball players for the church team.
At Pilar Corrias gallery in London, the second installment in a trilogy exploring the myth of the Minotaur and its bull-loving mom Pasiphae (after Priapus Agonistes, which debuted at last year's solo at the ICA, Boston) confirms Reid Kelley as one of the most distinctive younger artists (actress, writer, costume designer etc.) to break-out in recent years.
In place of her own piquant dialogue, here she's adapted Pasiphae, a recently discovered secret racy play by the Victorian poet Algernon Charles Swinburne, in which the artist Daedalus creates a wooden cow costume for the bewitched queen so she might seduce a bull—consequences be damned.
"The basic narrative attempts to answer the question 'how does evil get into the world?'" reflects Reid Kelley. "And like Adam and Eve—which this myth predates considerably—the answer is, because a woman couldn't control herself. In the Old Testament, she just has to eat a apple and in this myth, she just has to fuck a bull."
In the artist's 21st century interpretation Pasiphae is a black-toothed bathing beauty, flicking through bovine beefcake magazines and easing her cursed desire with booze and pills. "I think of her very much as a Pamela Anderson-style '90s California beach goddess," says the artist. "The shape of her eyes comes from Minoan frescoes. The hairdressing supply store that I purchased her wig from described it as 'perfect for Bo Derek or Cleopatra' —just right for a century-spanning femme fatale."
The Minotaur meanwhile, whose goofily innocent face stares from a rip in a paper bag, is reimagined as Ariadne's ugly sister. "I wanted to use the Minotaur like Picasso, as a very personal, autobiographical symbol," she says. "I think the essential point is its abandonment: cast out from its family, deluded, knowing nothing but destruction. And I do think women can be as destructive as men—that's part of my feminism, and why I wanted to be the monster myself."
Mary Reid Kelley: Swinburne's Pasiphae, to 4 Oct, at Pilar Corrias, London.
Photos: The Myth of Mary Reid Kelley
Tabloid 1: Crete Meat. © Mary Reid Kelley. Courtesy Pilar Corrias, London
Tabloid 2: Cock and Bull Story. © Mary Reid Kelley. Courtesy Pilar Corrias, London
Tabloid 3: Interspecies Astrology. © Mary Reid Kelley. Courtesy Pilar Corrias, London
Tabloid 4: Greek Peek. © Mary Reid Kelley. Courtesy Pilar Corrias, London
Tabloid 5: Europa Tells All. © Mary Reid Kelley. Courtesy Pilar Corrias, London
Tabloid 6: Romance Column. © Mary Reid Kelley. Courtesy Pilar Corrias, London
Still from Swinburne's Pasiphae (2014, HD video) by Mary Reid Kelley with Patrick Kelley. © The artist. Courtesy Pilar Corrias, London
Still from Swinburne's Pasiphae (2014, HD video) by Mary Reid Kelley with Patrick Kelley. © The artist. Courtesy Pilar Corrias, London
Still from Swinburne's Pasiphae (2014, HD video) by Mary Reid Kelley with Patrick Kelley. © The artist. Courtesy Pilar Corrias, London
Still from Swinburne's Pasiphae (2014, HD video) by Mary Reid Kelley with Patrick Kelley. © The artist. Courtesy Pilar Corrias, London
Still from Swinburne's Pasiphae (2014, HD video) by Mary Reid Kelley with Patrick Kelley. © The artist. Courtesy Pilar Corrias, London
Still from Swinburne's Pasiphae (2014, HD video) by Mary Reid Kelley with Patrick Kelley. © The artist. Courtesy Pilar Corrias, London
Still from Swinburne's Pasiphae (2014, HD video) by Mary Reid Kelley with Patrick Kelley. © The artist. Courtesy Pilar Corrias, London
Still from Swinburne's Pasiphae (2014, HD video) by Mary Reid Kelley with Patrick Kelley. © The artist. Courtesy Pilar Corrias, London
Swinburne after Rossetti, 2014. Pigment ink print. 51.5 x 43.5 (cm) Mary Reid Kelley with Patrick Kelley. © The artist. Courtesy Pilar Corrias, London
Still from Swinburne's Pasiphae (2014, HD video) by Mary Reid Kelley with Patrick Kelley. © The artist. Courtesy Pilar Corrias, London
Still from Swinburne's Pasiphae (2014, HD video) by Mary Reid Kelley with Patrick Kelley. © The artist. Courtesy Pilar Corrias, London
Still from Swinburne's Pasiphae (2014, HD video) by Mary Reid Kelley with Patrick Kelley. © The artist. Courtesy Pilar Corrias, London
Still from Swinburne's Pasiphae (2014, HD video) by Mary Reid Kelley with Patrick Kelley. © The artist. Courtesy Pilar Corrias, London