Mary Tyler Moore and Mary Richards Paved the Way for Carrie Bradshaw, Liz Lemon and All of TV's Single Working Girls
Mary Tyler Moore's iconic role as Mary Richards set the stage for everyone from Murphy Brown and Carrie Bradshaw to Liz Lemon and Hannah Horveth.
---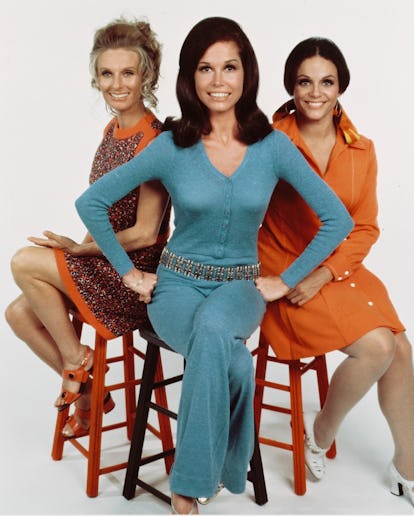 CBS Photo Archive
30 Rock's Cheesy Blasters-munching Liz Lemon and Sex and the City's cosmopolitan-sipping Carrie Bradshaw might not have much in common, but they do share Mary Tyler Moore's Mary Richards character as a common television ancestor.
The Mary Tyler Moore Show slipped quietly onto CBS's primetime lineup in 1970. Moore, then best known for her housewife character Laura Petrie on The Dick Van Dyke Show, was worried that television audiences might confuse her former character with her new one, so Mary Richards was envisioned as the exact opposite of a stay-at-home-mom. Of course, the exact opposite of a stay-at-home-mom was near-revolutionary for television at the time, especially for a lead female character. The show experienced solid but not sensational ratings in its first season (it finished as the 22nd most watched show of the season), but became a Top Ten hit on its way to eventually becoming the enduring classic we know today.
Moore's character was a woman who was defined by her own career ambitions as much as if not more so than her marital status. Instead of the show's cast being rounded out by children, a husband and perhaps a similarly married friend or two, Moore's world was inhabited by her quirky co-workers at a lowly-rated television news station in Minneapolis and her equally headstrong single friends. While not aiming to be controversial for controversy's sake, the show was also noted for its more mature tone. This wasn't a show that aimed to entertain the entire family but rather resonate with real adults.
Fittingly, behind the scenes, Moore herself served as a producer, and the show was particularly proud of nurturing female writing and producing talent. In particularly, Treva Silverman was one of the first women to ever garner an executive title on an American sitcom.
"It doesn't shake the establishment by the roots or carry a banner for the New Morality. But what an impact it has had," read a 1973 Associated Press article. "The Mary Tyler Moore Show took 20 years of pointless, insipid television situation comedy and spun it on its heels."
Television situation comedies haven't quite stopped spinning yet.
The Mary Richards character set a simple template that keeps getting revisited again and again. She was a single woman. She was surrounded by friends and coworkers rather than family. She worked in media. She had an apartment in a city. She dated openly and often, but that never quite seemed the point.
It's a basic description that had never applied to a popular television main character before but has applied to so many times since.
It sums up both Liz Lemon and Carrie Bradshaw. Same for Girls' Hannah Horveth, the titular Murphy Brown and Ugly Betty's main character. Dig below the current and the classics, and you'll find Just Shoot Me's Maya Gallo, the city-dwelling Caroline from Caroline in the City, Brooke Shields' character in Suddenly Susan, and Tea Leoni's in The Naked Truth. Maybe even Cookie from Empire if you think about it, and that's just on television. Listing all the rom-com main characters who fit into the basic trope might take up half of the article. Take out one-or-two mandates (say the part about working in media), and, well you've probably got a scholarly article-length piece you could call "A to Z: From Ally McBeal to Zooey Deschanel."
What a lot of those characters also have in common is that they often shattered television boundaries and dealt with taboo subjects, just like The Mary Tyler Moore Show did in its time. The show also didn't shy away from controversial (at the time anyway) subject matters. Richards was on birth control. A gay character came out matter-of-factly. Mary, at one point, befriended a sex worker. Racism, premarital sex, adultery, death (poor Chuckles) and divorce were all dealt with at time not that far removed from the one where married couples on television slept in separate beds.
Perhaps most revolutionary about the entire run of the show and what still makes it stand out today is that Mary never found a man. The series finale is viewed as an all-time classic, and it doesn't even involve Mary's wedding. Some of the show's spiritual successors found it necessary to find a man by the time it all wrapped up, but Mary Tyler Moore didn't. In fact, a television movie sequel produced in 2000 revealed that Mary Richards did indeed eventually wed and have a child, but her husband had died and left her with nothing. Once again she has to rely on her friends and her own career to carry her through. She moves to New York City, reconnects with Rhoda, and lands a job at ABC News.
Of course, Mary Richards would eventually get hitched, but appropriately that entire chapter was left offscreen. It was revolutionary that she started off as a complicated, single woman to begin with and even more so that she remained one through the characters entire time on screen. In the process, she gave permission for so many TV characters to navigate their own path to their eventual happy ending, whatever that may be.
Oh, and for the record, Carrie is a Mary, Miranda is a Rhoda, Charlotte is a Georgette, and Samantha is a Sue Ann Nivens. Liz Lemon is still the woman who watches at home, but, because she was watching Mary Tyler Moore, is better because of it.
Mary Tyler Moore Always Made a Splash in the Glitziest Dresses and Matching Accessories
Mary Tyler Moore with Jerry Van Dyke and Jimmy Durante at the 17th annual Primetime Emmy Awards in Los Angeles, California, September 1965.

Getty Images
Mary Tyler Moore and husband Robert Levine at the New York City Ballet Spring Gala in New York, New York, May 1990.

Getty Images
Mary Tyler Moore at the 45th annual Emmy Awards in Pasadena, California, September 1993.

Getty Images
Mary Tyler Moore at an NBC party in Los Angeles, California, January 1988.

Getty Images
Mary Tyler Moore and husband Robert Levine at a benefit for David Dinkins's mayoral candidacy in New York, New York, October 1989.

Getty Images
Mary Tyler Moore at the Museum of Television and Radio Honors in New York, New York, April 1992.

Getty Images
Mary Tyler Moore at the Juvenile Diabetes Research Foundation Promise Ball in New York, New York, November 1992.

Getty Images
Mary Tyler Moore at the Winner's Circle Awards in New York, New York, February 1993.

Getty Images
Mary Tyler Moore receives a star on the Hollywood Walk of Fame in Hollywood, California, September 1992.

Getty Images
Mary Tyler Moore at the ASPCA 'Auction for the Animals' benefit in New York, New York, March 1993.

Getty Images
Mary Tyler Moore at the Juvenile Diabetes Research Foundation Promise Ball in New York, New York, November 1993.

Getty Images
Mary Tyler Moore at the Alvin Ailey American Dance Theater gala in New York, New York, December 1993.

Getty Images
Mary Tyler Moore at the Literacy Volunteers of New York gala in New York, New York, May 1994.

Getty Images
Mary Tyler Moore on The Tonight Show with Jay Leno, December 1995.

Getty Images
Mary Tyler Moore at the Juvenile Diabetes Research Foundation Promise Ball in New York, New York, November 1995.

Getty Images
Mary Tyler Moore at the Juvenile Diabetes Research Foundation Honors in New York, New York, May 1997.

Getty Images
Mary Tyler Moore at Time Magazine's 75th anniversary party in New York, New York, March 1998.

Getty Images
Mary Tyler Moore at the 50th annual Primetime Emmy Awards in Los Angeles, California, September 1998.

Getty Images
Mary Tyler Moore at the Television Academy Hall of Fame Induction Ceremony in North Hollywood, California, November 1997.

Getty Images
Mary Tyler Moore at the Hollywood Women's Press Club awards in Beverly Hills, California, December 1997.

Getty Images
Mary Tyler Moore at the Screen Actors Guild awards (where she won the Lifetime Achievement Award) in Los Angeles, California, January 2012.

Getty Images
Mary Tyler Moore at Paramount's 90th anniversary celebration in Los Angeles, California.

Getty Images
Watch Allison Williams explain why she loves Mary Tyler Moore: