Maryam Nassir Zadeh Loves Mixing Metals, Loathes Wrinkled Clothes
The designer and mother shares the philosophy behind her coveted personal style.
---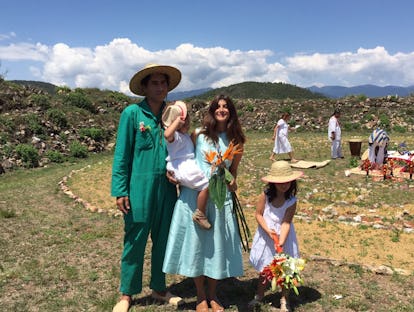 Maryam Nassir Zadeh is known for her elegant take on laid-back dressing. Her neo-minimalist designs are must-haves amongst the New York style set and her eponymous Lower East Side store is a cult favorite. With Mother's Day just around the corner, we asked the taste-making designer and mother for her favorite pieces, best recent discoveries, and maternity style secrets.
Define your style in three words: Color, Feminine, Clean.
Daily uniform: Vetements jeans, Lemaire white cotton shirt, and Vetements chocolate brown mules.
Greatest hits: Prada dress from Spring 2000, Sophie Buhai silver chain link bracelet, Cartier Trinity Ring, Celine box bag in natural, Ter et Bantine chartreuse coat, Ventements Jeans, Ventements chocolate brown Mules, MNZ trench in blue/brown hounds tooth, Moroccan pj's in navy.
Preferred footwear: Celine espadrilles, Chanel ballerina flats, MNZ Sophie Slides in caramel patent.
Finishing touches: Gold Rolex handed down by my Mom, pale pink Snob lipstick by M.A.C. is a favorite. Rust and Magma by Make are beautiful unusual orange lipsticks that are so great for summer. Brown eyeliner. Sophie Buhai silver jewelry layered—I've been mixing lots of silver and with my old gold lately. Although classic, it feels like a new combination.
Nighttime look: MNZ Pia knit body suit, circle skirt or wide leg pants, MNZ Roberta ballerina heels, hair back, eyeliner.
How has your style changed since becoming a mother? My style is pretty dressed up usually, since becoming a mother it is becoming more and more casual. My jeans and tennis shoe collection has increased and I now wear more cottons and easier fabrics to care for. I like to wear non-precious things and pieces that I can easily hand wash. I have to be careful because my youngest, Lune, is a tornado and everything she gets near is normally all over her hands, face, and clothes and somehow I can't escape her mess!
Best recent discoveries: Oaxacan pottery, View, Kyoto by Jacqueline Hassink, Tauba Auerbach's current Art show in Rome, "Reciprocal Score."
Favorite children's stores: Tricot field + Bonpoint, Vintage kids clothes from Melet Mercantile.
Maternity style secret: Overalls and jumpsuits.
Style pet peeve: Wrinkled clothes.
Style icon: Camille Bidault-Waddington.
Last purchase: J.W. Anderston bucket bag in orange, cotton handwoven sheets in camel and pale blue.
Lusting after: Celine small hobo handbag in black Palmelato calf skin and Richelieu Brogues in black stamped crocodile. Celine Summer 2015 is my dream wardrobe.
Spring must-haves: Barbara Casasola pleated tanks and skirts, Lemaire Cotton dresses, MNZ Carnelia dress in paper blue and saffron, floral dresses, leather sandals. Sicilian pottery, Cristaseya men's shirts over bathing suits.
What's always in your bag: Black Hermès wallet, iPhone, lipstick, keys, and the Row sunglasses.
Photos: Maryam Nassir Zadeh Loves Mixing Metals, Loathes Wrinkled Clothes
Maryam Nassir Zadeh with her husband, Uday Kak, and their two children in Oaxaca, Mexico. Courtesy of the designer.
Maryam Nassir Zadeh. Courtesy of the designer.
Maryam's husband's collection, Vayartas in the MNZ store. Courtesy of @Maryam_Nassir_Zadeh on Instagram.
Maryam Nassir Zadeh photographed by Uday Kak. Courtesy of the designer.
Family selfie in Oaxaca, Mexico. Courtesy of the designer.
Maryam Nassir Zadeh Spring 2015 showroom in Chinatown. Courtesy of @Maryam_Nassir_Zadeh on Instagram.