Turning Japanese
A pair of Tokyo designers are bringing design back to the traditional basics.
---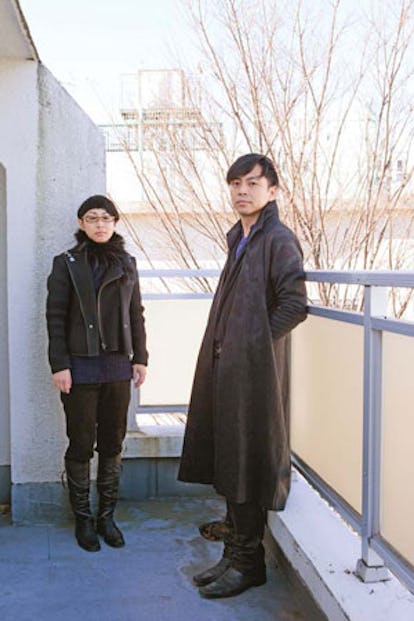 Snorkeling, graphology, numismatics—anything goes in the world of hobbies. Still, the one that inspired Hiroyuki Horihata and Makiko Sekiguchi's Matohu line is surprising: kimono wearing. In 2001 Sekiguchi, a fan of the traditional Japanese garb, bought a blue wool style for her husband, Horihata (she boasts about 50 kimonos herself). The couple began wearing them together on weekends, and to this day they slip into the robes—further punctuating them with zori thong sandals—every Saturday and Sunday, whether inside their home or outside, in the urban whirl of Tokyo.
"For me, it was an inner revelation," Horihata says, "because when I walked in the street, I felt like a foreigner in Japan. Nobody wears kimonos now." He adds that when he puts one on, his stance shifts slightly, and his behavior changes, too. "Makiko and I, we began talking about the essence of the kimono and thinking deeply about the Japanese sensibility."
A look from spring 2010.
They translated those musings into a collection, Matohu (pronounced MA-TO-U). Since launching it in 2005, Horihata and Sekiguchi have subtly mined the motifs of traditional Japanese culture, recasting them as gracefully molded coats, delicate textured tops and wrap dresses (think Memoirs of a Geisha, not Diane von Furstenberg). The spring lineup, for instance, takes inspiration from the country's centuries-old Oribe style of pottery. "Playful," says Horihata, is a key word for the season's fragile yet upbeat fashions: crinkled, paper-thin jackets and skirts splashed with colorful prints.
The story of Matohu, though, goes beyond its creators' weekend kimono strolls. Starting in 1998 Horihata and Sekiguchi, each now 39, put in five-year stints at major houses: he at Rei Kawakubo's Comme des Garçons and she at Yohji Yamamoto, positions neither is comfortable discussing. "We try to avoid [talking about] it in Japan," Horihata says. "They are too influential, and we don't want people to think about them before looking at our collection."
Certainly, the clothes do not appear obviously derivative. "They are both modernists," Horihata says. "We are inspired by origins. But the creative method and technical background are the same, because we learned from them." Nevertheless, Yamamoto's and Kawakubo's shadows loom large; each of them, after all, ultimately directed the couple to their careers.
A native of Sakai, a port city of Japan, Horihata was on track to become a philosopher. He was working on his master's degree at Kyoto's Doshisha University, with a focus on Immanuel Kant. (This explains why he turns to German when at a loss for a speedy Japanese-to-English translation.) Then, in 1994, he attended a fashion exhibit at the Kyoto Costume Institute. It proved his defining moment. "I saw the collections of Issey Miyake, Comme des Garçons and Yohji Yamamoto—my first time knowing them—and was very impressed," Horihata recalls, gesturing to his forearms and grazing his fingers along them. "I felt, how do you say…." He's looking for the phrase "goose bumps." The exhibit also included a screening of Wim Wenders's provocative documentary on Yamamoto, Notebook on Cities and Clothes. Horihata was hooked.
Looks from Matohu's spring 2010 runway show.
The Tokyo-born Sekiguchi, meanwhile, was studying constitutional law at Kyorin University and had her sights set on becoming a human-rights legal scholar. She also had started dabbling in design, with how-to books as her sole instructional aid, because she couldn't find garments she wanted to wear. "My grandmother advised me, 'If you want to do it more, why don't you learn it in fashion college?'" she notes, her grasp of English more tenuous than her husband's. "I thought that I would be able to study law by myself. But fashion I had to learn during the day." She eventually became enamored of Kawakubo's designs because "I was interested in human rights and social problems. Rei," she argues, "was the only designer who could say something beyond fashion, using fashion design."
In 1996 Sekiguchi and Horihata each enrolled in Tokyo's renowned Bunka Fashion College­— which counts Yamamoto and his daughter, Limi, as well as Kenzo Takada and Undercover's Jun Takahashi, as graduates—and met on the first day of class; they became a couple shortly after. Upon graduation two years later, they, ironically, landed patternmaking gigs at each other's dream house: Sekiguchi at Yamamoto and Horihata at Comme des Garçons.
"I was disappointed about not being accepted at Comme, but I was never jealous of Hiroyuki," remarks Sekiguchi. "Not at all, not at all," responds Horihata, when lobbed the same question, though he chuckles as he reminisces about those early days. "Sometimes, when I showed my [muslin patterns] to Rei, she would say, 'Oh, it looks like a Yohji,'" Horihata says. The couple, who married in 2000, quickly made a pact not to discuss their work at home—at least not specific design points.
As for their experiences at their respective companies (Sekiguchi worked in Yamamoto's men's division), they couldn't have been more different. The house of Yamamoto was the more typical fashion atelier. "Yohji would show Makiko pictures, explain details," says Horihata, with what sounds like a tinge of envy. "He would talk about patterns and draw [sketches] himself." Chez Kawakubo, things were far more nebulous. Horihata says the designer would offer one cryptic word or phrase to describe the collection's thematic arc—"simplistic," or "I want to make sweet things"—and the designers were expected to conjure up a season's worth of clothes. It was a taxing exercise, Horihata notes, but profuse in the creative returns. "The patternmakers learn to think for themselves," he says. "It's very good training."
Horihata is unwavering in his admiration of Kawakubo, yet admits that his experience there was "exhausting" and "very, very stressful." "We had to make clothes again and again—make and destroy, make and destroy," he recalls. "We needed to make, for example, one skirt 10 times." He even likens her studio—with its long hours, utter silence ("No chatting, just sound of paper or sewing machine") and spare black decor ("Even the toilet is black")—to a monastery.
Sekiguchi says that Yamamoto, in contrast, would occasionally break the quiet at his atelier by strumming a tune on the guitar. But the one sound you'd never hear there? The sharp click-clack of a pair of towering It shoes. "He doesn't like the sound of high heels on the office wood floor," explains Sekiguchi. In fact, Yamamoto famously loathes heels; he has made no secret of the many "scary" stiletto-shod prostitutes who occupied his childhood environs. Contrary to Stateside fashion norms, Yamamoto employees who wore heels to work had to change into flats once they hit the studio grounds.
In 2003 Horihata and Sekiguchi decided to give up their jobs and launch a new collection, but not before Kawakubo offered them their own label under the Comme des Garçons umbrella, à la Junya Watanabe or Tao Kurihara. However, when Horihata presented Kawakubo with his idea for a line rooted in Japanese culture, she said he should start his own collection. "She wanted to be free from history or nationality or things like that," Horihata says. "[Rei] wanted to make clothes that nobody has ever seen. She wanted extreme beauty, not so normal." Horihata, on the other hand, had already grafted on to his new concept. "Why do we need something we've never seen?" he reasons. "I'm looking for something new too, but not avant-garde new."
From Tokyo the pair briefly relocated to London, to beef up their tailoring skills with Turkish designer Bora Aksu. "He is [still] a best friend for us," Sekiguchi says. Adds Horihata, "He's always smiling, even the day before the show. I thought designers were always temperamental."
Today the couple has been quietly garnering praise for Matohu, whose retail venues include Maryam Nassir Zadeh in New York and Takashimaya in Tokyo. "The collection is very intelligent," says Maryam Nassirzadeh. "You can see the sensitivity and thought behind the clothes." While the two would love to up their visibility with a Paris presentation, they're not exactly champing at the bit. After all, the literal translation of Matohu is "to wear lightly," but in Japanese it also means "Let's wait."
Models: Courtesy of Matohu