Matt Damon Played Brett Kavanaugh on SNL
Featuring Kate McKinnon as Lindsey Graham and a cardboard cutout of Alyssa Milano.
---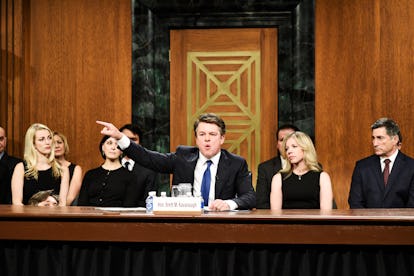 Photo by: Will Heath/NBC/NBCU Photo Bank via Getty Images
Saturday Night Live opened its 44th season with a satire of the Judge Kavanaugh–Dr. Blasey Ford hearings, featuring Matt Damon as the Honorable Brett Kavanaugh.
Wisely, the 13-minute cold open picks up after Dr. Ford's testimony, and sticks closely to two main points, neither of which mock the pain of assault victims: Kavanaugh is LOUD AND ANGRY, and he LIKES BEER. In the sketch, Kavanaugh says things like, "I was the proudest, drunkest virgin you've ever seen."
Taking questions from senators Chuck Grassley (Alex Moffat), Diane Feinstein (Cecily Strong), Thom Tillis (Mikey Day), Cory Booker (Chris Redd), John Kennedy (Kyle Mooney), Sheldon Whitehouse (Pete Davidson), and Lindsey Graham (Kate McKinnon), Damon-as-Kavanaugh is aggressive and petulant. He starts at an 11, takes it up to a 15, chugs water, yells, and complains that he has to answer questions in front of women like his wife and "Alyssa Friggin' Milano" (played by a cardboard cutout). The other woman in the room, prosecutor Rachel Mitchell (Aidy Bryant), keeps getting interrupted.
Also making a guest appearance in the sketch is the former SNL cast member Rachel Dratch, as Senator Amy Klobuchar, who dared ask the would-be Supreme Court justice if he'd ever blacked out from drinking. "You mean, was I cool?" Damon spits back. The overlap of binge drinking and bad behavior is something the show touched on again later in the episode, in the "'80s Party" short.
Klobuchar, for the record, loved Dratch's impression of her:
Damon wasn't this week's host—that'd be Adam Driver—he was just popping by to lend the season premiere a little star quality. Plus, unless Kavanaugh is confirmed, there's no need to designate a cast member to play him permanently.
It's worth remembering, though, that Damon has not been the best ally of the #MeToo movement. He made a number of misguided comments that were refuted by Alyssa Milano, among others, before issuing an apology and saying, "I should get in the backseat and close my mouth for a while." Well, guess he's back.
Watch the full sketch below:
Related: Alyssa Milano on Being Inside the Kavanaugh Hearing: "It Was Nauseating"