Boston's Matt Damon Might Buy Brooklyn's Most Expensive Home Ever
A penthouse that Superman once called home.
---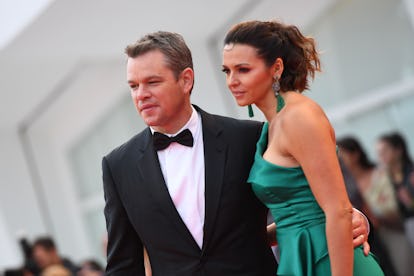 TIZIANA FABI
Matt Damon might be a Boston boy, but he's about to set a New York City record. Well, a Brooklyn record at least. According to no less than the Wall Street Journal, Damon is in contract to buy a Brooklyn Heights penthouse unit for a whopping $16.645 million. WSJ cites "people with knowledge of the deal," and if true that would make it the most expensive residential sale in Brooklyn history (the record was previously set way back in 2015 when a Cobble Hill townhouse went for $15.5 million).
So what would one get for the most expensive condo in all of Brooklyn? Well, it's apparently a combination of several units, and boasts a total of six bedrooms, a 3,366-square-foot terrace, white Austrian oak flooring. The building also has a gym, 24-hour concierge, kid's playroom, and unobstructed views of Manhattan. The 12-story Beaux-Arts building the unit sits atop also has quite the history. For years it was known as the Standish Arms Hotel and was owned by the Jehovah's Witnesses until they sold it into 2007. It was subsequently turned into residences.
The building also has an impressive fictional history. As The New York Times once pointed out, none other than Superman himself (or, well, Clark Kent) once lived in the building according to comic books. The hotel also inspired the name of the hotel where Willy Loman has an affair in Death of a Salesman.
Brooklyn would be at least the third place the Downsizing star's brood has called home. He lived for a while in a Miami Beach mansion. He had met his wife Luciana Barroso in the city while filming Stuck on You. She was working behind a bar Damon visited—it was love at first site. Damon then moved his family out to Los Angeles, where he had lived close to best friend Ben Affleck, but that home was sold in 2015. The Damon have also spent time in London while the actor was filming the Bourne movies.
Incidentally, Damon has had real estate troubles in New York City before that were well documented by the tabloids. In 2012, Damon reportedly made a bid for an Upper West Side apartment but was allegedly outbid on the unite. Just last year, rumors flew that Damon was interested in buying all six units in a former Brooklyn mansion and turning it back into a single home again. The Page Six whispers go that he cooled on the idea when he found out that a nearby private school, the illustrious St. Ann's (Lena Dunham and Zac Posen are alums), was already fully booked and thus his kids could not enroll for the year. The price tag for that endeavor would have been something around $40 million. Hopefully, his third time trying to buy a NYC home base is a charm. Though, its good to know that apartment hunting in New York can even be a long and painful affair even for the rich and famous.
Related: Inside Keira Knightley's Former Apartment, Which Just Sold for $6 Million
Fall Fashion Advice from a Very Young Stylist: