Maurizio Cattelan on Retirement, Instagram, and That Documentary
An interview with the Italian provocateur on the opening day of his latest project, at the Untitled art fair in Miami Beach.
---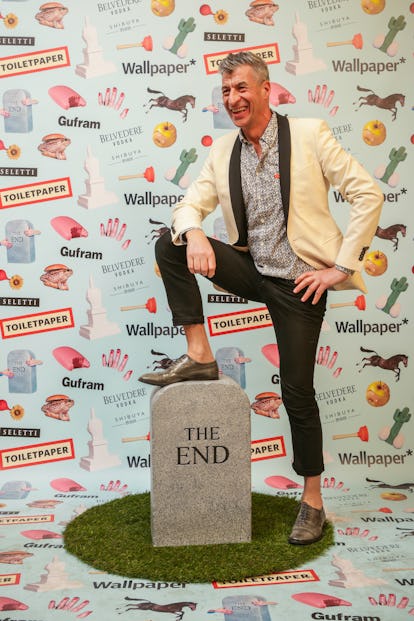 Maurizio Cattelan may have called it quits as an artist after his retrospective at the Guggenheim Museum in 2011, but his death in the art world has been greatly exaggerated. The Italian provocateur continues to be a source of fascination for curators and gallerists, who have been staging exhibitions of his work consistently since the so-called "retirement." And he is still a raffish presence on the art-world circuit, including at this year's Art Basel Miami Beach. In the guise of Toiletpaper, the magazine-cum-visual brand he operates with Pierpaolo Ferrari, Cattelan helped create a lounge at the satellite fair Untitled – opening today – outfitted with carpets Toiletpaper designed in collaboration with Seletti and seating via a joint venture with Gufram. Ever peripatetic, though, the polymath finds retirement isn't as relaxing as it's cracked up to be.
You and Pierpaolo have been working on Toiletpaper since the first issue in 2010. Now Toiletpaper publishes books, art directs other publications, and designs furniture, clothing, and accessories—and, with the Seletti and Gufram collaborations, textiles and furniture, respectively. Was the goal always to become a brand? Where else could Toiletpaper go? Toiletpaper has always had no purpose. It simply has happened. Like an avalanche, it started little and slow and has quickly gone out of our control. It may sound a bit solipsistic, but we ourselves have always been the end users of TP; we just wanted to spread our little obsessions, common but unmentionable, across the world. We'll for sure end up like that embarrassing piece of sticky toilet paper under your feet that you're not aware of while partying hard.
Before you were an artist, you made chairs and other home wares. Have you always had an urge to return to making functional objects? Does that engage a different part of your person than art? Some do design in order to try to solve others' problems, while others make art in order to give others his problems. Like a pendulum, I move between these two, back and forth: I collect problems while making design, I get rid of them while making art, and I feel now it's time for a new swing…in my beginning is my end and in my end is my beginning.
How is retirement from being an artist going? Definitely too stressed and busy! This is something I discovered recently, after being retired for a while: No matter what I decide to do or don't do, I'm stressed. In the end, it's not about the art world—the problem is me, so I might as well start to do something more spiritually fulfilling, like those porn stars who suddenly convert and decide to marry God.
What do you call yourself now that you are retired? What would you consider your role in the art world—or simply in the world—to be? In the past four years it has been like a Shakespearean play or a Poe novel. I pretended to be dead, but I could still see and hear what was happening around me. My works were there, available for curators to build their exhibitions, to test the works' strength, to exploit their potential, and until now I didn't want to interfere with these experiments. I guess it's like being a father of grown-up kids: you start losing authority on them and it's certain you'll never be in total control again. But you still wish to keep in touch. This is where I find myself now.
What is it like being the custodian and curator of your past work now? Do you find new things in them? It has been interesting to see how the works continued to live independently of me. I think everyone should try that feeling of impotence at least once in a lifetime. As in any evolutionary process, some works have lost power and disappeared, some have strived and walked on their own long legs. I had already stopped working as an artist for two years while working at the Berlin Biennale [Cattelan was a co-curator of the 4th Berlin Biennale, in 2006]; it was an experience that changed my way of working for the better. I'm confident that this time might be as surprising as it was that time, and I had often find myself thinking that it's something that would happen sooner or later.
While your work as an artist didn't necessarily deal directly with current events as they happened in real time, you often processed your reactions to the events of the day through your work. Do you find yourself thinking how you'd respond to the rise of ISIS and the terrorist attacks in Paris as an artist? The era we live in makes everyone very informed and, as a consequence, everyone very emotionally moved by what happens, whether it's about acts of evilness or something positive. Art is about forgetting all these feelings, good and bad, and trying to understand what acts will last longer, which symbols will remain in history. It's a question of perspective: The further you get from the past, the more concrete and plausible it seems. But as you approach the present in which you're involved, it inevitably seems more and more incredible.
When are we going to get to see Maurizio Cattelan: The Movie [the long-awaited documentary by Maura Axelrod]? What's one thing that people will be surprised by in the documentary? I myself will be surprised by the result, as I have no idea of what it will be! I guess it will feel like staring at my face in the coffin: It's an act of violence, but at the same time very necessary and therapeutic. A movie about yourself might be a great way to get rid of the analyst and save some money.
Why aren't you on Instagram? You have always promoted the idea that images exist to be shared. I find Instagram interesting to the extent that new royal families are born and die there, such as The Kardashians of L.A. But the awful truth is that I still have an old Motorola without a camera! Every time I'm up to buy a smartphone it comes back to me what my newsagent always says—that one of the few good things about modern times is that if you die horribly on the web, you'll not have died in vain; you'll have entertained the audience worldwide. Sincerely speaking, I feel I'm not good at playing this game.
Photos: Maurizio Cattelan on Retirement, Instagram, and That Documentary
Maurizio Cattelan. Photo by Leonardo Scotti.
Seletti Wears TOILETPAPER rugs composition.
Seletti Wears TOILETPAPER, "Parrot," Maurizio Cattelan and Pierpaolo Ferrari. Photo by Studio Badini.
Seletti Wears TOILETPAPER, "Legs," Maurizio Cattelan and Pierpaolo Ferrari. Photo by Studio Badini.
Seletti Wears TOILETPAPER, "Fingers," Maurizio Cattelan and Pierpaolo Ferrari. Photo by Studio Badini.
Seletti Wears TOILETPAPER, "BMW," Maurizio Cattelan and Pierpaolo Ferrari. Photo by Studio Badini.
Gufram, "The End 1516" by Toiletpaper (Maurizio Cattelan and Pierpaolo Ferrari. Photo by Alberto Zanetti.