McDonalds vs. Moschino
In case you missed it, here are the top style stories of the week.
---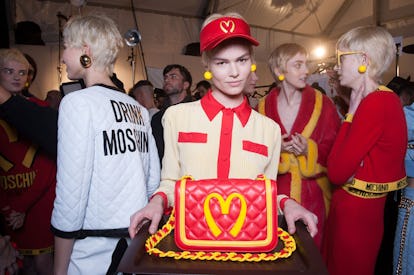 Blanchett, Cate Celebrated her Oscars win with a new tattoo, one we can only hope is also an inside joke with Julia Roberts.
Bosworth, Kate Dyed her hair red for an upcoming film—no, not Blue Crush 3.
Bruni, Carla Found the biggest downside of being the First Lady to be that she couldn't sign cosmetics contracts—that, and having to wear flats.
Chanel Created a misleadingly shoppable set for the brand's Fall 2014 show, but forbade guests from taking Chanel-branded doormats, shopping carts, and chocolate bars with them.
Clueless Continues to inspire. Watch Iggy Azalea and Charli XCX's video for proof.
Delevingne, Cara Plans to make her TV debut in Tim Frith's drama Timeless. Our fingers are crossed her next role will be a cameo on Downton Abbey.
Holmes, Katie Quit her label Holmes and Yang. RIP.
Kerr, Miranda The former Victoria's Secret model is the new face of Wonderbra. Now we know Miranda's real secret.
Kloss, Karlie Went on the cutest West Coast trip with her musical doppelganger Taylor Swift. Instagrammed like crazy, naturally.
Leto, Jared Celebrated his Oscar for Best Supporting Actor with a standard Terry Richardson photoshoot. It's not quite a tattoo, but we'll take it.
Monocle The single lens (not the publication) is making a majeur comeback. Again.
Olsen, Mary Kate Is now wearing a vintage Cartier engagement ring worth more than $80,000. Not too bad, considering she was a teenage billionaire.
Richie, Nicole Dyed her hair purple; upstages Kate Bosworth by a long shot.
Scott, Jeremy Received criticism from McDonalds employees for his fast food-inspired Moschino debut; will not be designing uniforms for the chain any time soon.
Simons, Raf Dior's designer—and his first couture collection—is the subject of a new documentary. John Galliano not included.
Teller, Juergen Shot the Louis Vuitton spring advertising campaigns. Now that he's no longer shooting Marc Jacobs perhaps he has some time to fill?
van Lamsweerde, Inez and Vinoodh Matadin Plan to add clothing to their ever-expanding lifestyle brand. No word on who will be shooting the campaign.
Westwood, Vivienne Shaved her head to make a point about climate change. And because the Dame can certainly get away with it.
Williams, Pharrell Collaborating with Uniqlo on a collection of T-shirts and hats—yes, hopefully like that hat.