Measuring Up
Unless you're an actress, debutante or member of royalty, as an average girl, you probably won't experience the process of having a garment fitted perfectly to your body until your wedding day arrives—and that first...
---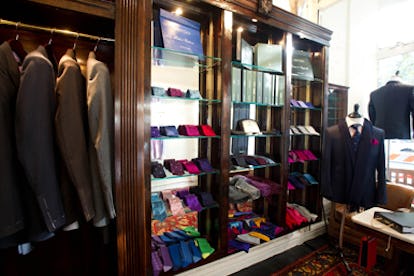 Unless you're an actress, debutante or member of royalty, as an average girl, you probably won't experience the process of having a garment fitted perfectly to your body until your wedding day arrives—and that first brush with customization is likely to be your last. Nuptials are a long ways off for me, so I was excited to discover the one-year-old West Village boutique Doyle Mueser, which caters in bespoke suits, shirts, ties and beyond for ladies and gents, all of which are made and hand-sewn in New York City. Owners Amber Doyle and Jake Mueser first met four years ago through friends when they were both studying fashion design at FIT. They opened the store Against Nature two years ago (along with two other partners), where they offer ready-to-wear and bespoke services in the front, with a studio in the back. As their custom business spread through word of mouth, they decided to set up shop in Doyle Mueser on Christopher Street, just a few doors down from Albertine.
The space has an old-school gentleman's club feel to it, with dark wood interiors, racks of impeccably sharp, colorful jackets and a bar proffering a range of Balvenie single malts. I'm the type who avoids all scales except in doctors' offices and probably last encountered a measuring tape when I got my first training bra, so I appreciated the beverage selection, but didn't partake—it was, after all, two o'clock in the afternoon. And Jake was so warm and non-judgmental he put me immediately at ease. Doyle Mueser recently launched a shirt subscription service called the Seasoned Sartorialist and I was getting to test-drive the initial process. I immediately settled on the idea of a men's style tuxedo shirt that I could wear with anything from jeans to a blazer and heels. The first step was deciding on the fabrics, which involved flipping through a dizzying array of swatches (Doyle Mueser uses textiles from high-end mills like Dormeuil and Scabal). Jake and I decided on a non-traditional grey and white color palette and with his help I narrowed down the choices to a base of charcoal end on end broadcloth with a stiff, stand up collar; extra-long cuffs (four buttons instead of the usual three), and a front placket all done in beautiful white imported cotton basketweave.
Measurements were next, less excruciating than I anticipated because many of the numbers meant absolutely nothing to me—do you really know or care about how many inches pass between your collarbone and hips? Or what your over arm comes to? Those few stats I understood—waist and hips—did leave me with a sharp intake of breath.
"It's probably much smaller than that," Jake assured me as he jotted down my waist. "I have to leave room for you to breathe." Whatever he says.
But his attention to detail was impressive: he added an extra half-inch to my left wrist to accommodate the watch I never take off. And he eyed my stance, looking for any postural idiosyncrasies he needed to adjust for in the shirt's lines.
"That's something Jake and I really try to observe," Amber explained to me on my second fitting, a few weeks later, when I received the final product. "It's something more than a tape measure can tell you. We always try to design something with form and function."
The results certainly spoke to this. At 5'4, I have never had a shirt whose sleeves were exactly the right length and have basically adopted an overly long, hand-covering aesthetic as a result. These cuffs hit just right (and the extra space for the watch was brilliant). The stiff collar made me stand up straighter, there was no pulling in the back and the tightness factor means I can wear it tucked in to high-waisted skirts and pants or undo a bottom button or two for a more casual feel over jeans.
Women currently account for about ten percent of Doyle Mueser's bespoke business—and are particularly adventurous in their choices, with clients having commissioned everything from a Norfolk-inspired men's jacket with leather inserts to a floor-length, hooded, inky black cloak lined in raspberry silk. But based on my shirt, they really should make up more. Especially considering, as Amber pointed out, the trickiness of the female form.
"For men, I feel there's a bit of a formula when it comes to their bodies," she said, citing the shoulders as the most important element to nail down. "With women, it's throw all the rules out the door."