Meet Anna Sheffield, the Designer Behind Jewels as Rare as the Supermoon
The designer's latest collection could not be more astrologically appropriate. Called Celestine, it was inspired by the stars and features big halos and orbits.
---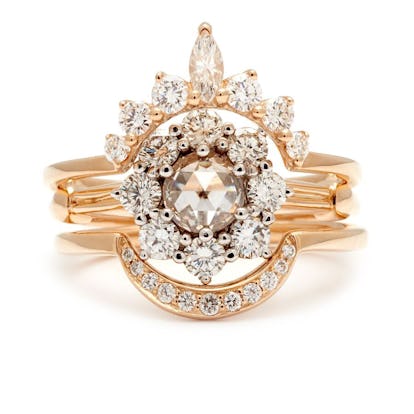 Anna Sheffield is jeweler to Brooklyn brides-to-be, bohemian babes, and fun-hearted jewelry lovers. While she runs a namesake jewelry label, she's best known for Bing Bang Jewelry, the company she started in 2002. A sculpture student when she was younger, Sheffield distinguishes the two lines by putting a premium on irreverence and playfulness in her first label and timelessness and classic design in her fine jewelry business. Her background growing up in a Navajo Indian Reservation also means she is a believer in spirituality and an advocate for artisanal culture. To that end, she named her most recent collection Celestine because it was inspired by the stars and celestial bodies. Good thing then that it launched in October just before the Super Moon.
What were the first pieces you created? My pieces were kind of wrought and fabricated in the beginning; they are pieces that I still have and wear and are still in the collection. And it's interesting because that DNA is still so much a part of who I am and how my creative process evolved. I started making these egg-shaped pieces that rest on your hand and a bar ring that goes over two fingers and, later, I did them with gemstones and diamonds and they are now in the fine jewelry collection.
How do you manage the identity behind your two brands? Bing Bang is a fun, young brand with these tones of irreverence and this sweet and sassy, lovely, punk and adorable storyline no matter where we have sold it or where it has been or in which materials we manufactured it in, whether brass or crystal. We have a beautiful and authentic customer who knows what she wants to wear. When I developed the fine jewelry line, it was in my heart and soul that I wanted to produce something that was more creative, I wanted to work with more enduring materials and I wanted to work in a 'designer' way and sit down and render something. I knew what I wanted to do with the brand even before I opened the store. The aesthetic of this fine line is something that I hold dear, not like fashion where they might just come and go.
When did you feel the brand was on track? When I started the ceremonial collection and then saw how many people were in line and waiting for it. In this collection I am able to work with such incredible stones.
What's the story behind your Future Heritage collection? I grew up in New Mexico. The first placed I ever lived was a Navajo Indian Reservation with my family. That environment and being so witness to the general happenings in the Southwest and indigenous people in this country has always been something I wanted to contribute to. It has taken me a long time and I landed on the New Mexico Community Foundation and with them I started a fund. I wanted to help promote the skill and beauty in the jewelry that is made by native artisans and have started by taking pieces that might be outdated, like clip-on earrings or missing pieces of turquoise and then I add diamonds to them, or make them more modern. The funds from these sales I give back to the foundation to support cultural and habitat preservation.
You most recently launched the Celestine Collection this October. What does it mean to you? I wanted to design more jewelry that took what we did with the rings and expand it into other categories – earrings, ear jackets, and different types of stacking rings that are bridal and non-bridal. The fact that I was calling it Celestine from the beginning is because I was inspired by stardust. The pieces themselves mimic stars; some of the rings have big halos, and I used a lot of pear stones in the collection which remind me of orbits and to and fro ellipses.
Because jewelry is different than fashion and works on a different calendar, how many times a year do you put out pieces? All the time. I haven't had the luxury to put out a collection all at once. I do make new pieces all the time, I add new colored stones, and sizes, and I am always releasing new renditions. I am now putting the one-of-a-kind pieces in a grouping called the Atelier Series.
Do you have any sustainable aspects about your brand? Recycled gold. It is such an easy commitment to make. I think it should be fundamentally used across the industry because it is so much easier to reuse than it is to get new gold out of the earth. I think it is the same with diamonds so now I am trying to do the same with reclaimed diamonds.
What is your favorite era of jewelry? Stylistically, I look most to the Victorian, Edwardian and Etruscan eras. I love that they are very decorative while still very restrained in terms of the design sensibility. I also love the Wiener Werkstätte era, which was a lot about art forms and nature and yet it was distilled in a where you take all of the fluff out and you see the bones in it.
Unfussy Silver Jewelry Has Never Looked Cooler
Banks Prepares for a Magical Guggenheim Gala, with Dior's Maria Grazia Chiuri as Her Fairy Godmother