Meet Artist Ayana V. Jackson in Johannesburg
Attention artists fleeing Trump's America: Consider South Africa. The chameleonic self-portraitist Ayana V. Jackson, expat star of the local scene, makes the case for Joburg as a new art capital.
---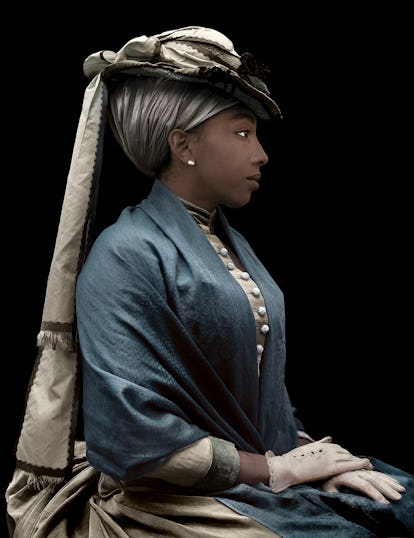 The day Donald Trump became president-elect, the American artist Ayana V. Jackson went to her studio in Johannesburg and attempted to rewrite history. When she had woken up South Africa time, the election had still not been called, so she put down her phone and decided to work. Jackson's photographic practice focuses on African American and African diaspora experiences, particularly of black women, and she often inserts herself into archetypal roles: the Virgin Mary reimagined as a black woman caring for a white child in her Nannies and Wet Nurses series, or her Leapfrog series, in which multiple identities of black women, all played by Jackson, appear in one frame.
"Looking back, I'm happy that's what I was doing," she told me after the horror of a Trump presidency had become an impending reality. "He's taken us so far back. I'm so glad I wasn't in the U.S."
A week after the election, Jackson's downtown studio-cum-residence was the site of a lavish five-course dinner party thrown by Art Noir and Gallery MOMO, Jackson's Johannesburg gallery, on the occasion of the annual Black Portraitures conference, held this year on the African continent for the first time. The week's events also included the opening of "Africans in America," curated by the artist Hank Willis Thomas and Goodman Gallery's Liza Essers, featuring Jackson's work. Though South Africa has already established itself as a center for 21st century photography, particularly for celebrated work by black female photographers such as Tracey Rose, Zanele Muholi, and Mary Sibande, as well the likes of Mikhael Subotzky, Pieter Hugo, and Jo Ractcliffe, the week's flurry of activity was a clear affirmation of Johannesburg's place on the global art map — and a destination for young creatives looking elsewhere.
Jackson, 39, may seem an unlikely expat: a descendent of one of the founding families of New Jersey's first Black Settlement, she studied sociology and photography at Spelman, then took a high-paying job in finance. After a matter of months, however, she decided to devote herself to documentary photography and travel the world. In Ghana, she worked on a survey of hip hop, while later in Mexico she photographed communities of African descent. After a breakup from her boyfriend and creative partner, she wanted to move somewhere she hadn't already lived. She decided to try Johannesburg, where she had first visited in 2001, and returned in 2007 while working for an NGO. Quickly, she assimilated into the world of artists working downtown and in the Maboneng neighborhood, where she now works and lives in her vast studio overlooking the precinct.
"If I had stayed in New York, my career wouldn't have been anywhere near where it is," Jackson said, who has exhibited at the Bamako African Photography Biennial and the Studio Museum in Harlem. "I had no idea how critical South Africa is as a destination for fine art. Everyone comes through here eventually."
It was her relationship with artists in Johannesburg and her gallerist, Monna Mokoena of Gallery MOMO, that pushed her into fine art. "I perform what I wanted to see," she said of her work's move to self-portraiture, which she says as a way "to shift something in the past to get right with the present in order to have a better future."
Johannesburg is having a big year: along with the arrival of the Portraitures conference, a newer wave of arts expansion in the 2010s has created a sea change. Maboneng, developed extensively in the early 2010's, has become a haven of artist studios, cafes, and boutiques. The newly opened lifestyle complex the Cosmopolitan, opened in a former prospectors' hotel, was bought and developed by artist Jonathan Freemantle and entrepreneur Daniel Liebmann just a few months ago. As of now, the building boasts Freemantle's studio and his Hazard Gallery, a coffee shop, designer stores, and a restaurant. In the suburb of Rosebank, where most galleries are located, there's also the newly opened Keys Art Mall, with young galleries like Cape Town–based WhatIfTheWorld.
"Not too many people were ready for [1994, the end of apartheid in South Africa]," said Mokoena, who grew up in Soweto under apartheid, before starting Gallery MOMO, the only major black-owned gallery in South Africa, in the early aughts. Of Johannesburg's contemporary moment, he posed a trenchant question: "How do you redefine yourself when it's not all about protest art?"
But perhaps the recent events in America will reach so far as the artists of Johannesburg. The relationship between the American and South African art scenes became particularly pronounced with the 2013 appointment of ambassador Patrick Gaspard, former chair of the DNC, who helped to foster the Portraitures conference. During the events last week, the U.S. Embassy in Pretoria threw a swanky party to celebrate the arrival of hundreds of scholars, artists, and curators in the city — among whom the topic rarely veered away from Trump. In the Johannesburg set, figureheads like Essers were wary of a Trump presidency's effect on a culture already lacking in funding for the arts. "Economically, it would be devastating," she said, also citing the fallout if the U.S. dropped out of the African Growth and Opportunity Act (AGOA), one of the less oft-cited trade agreements.
"Dare I say this might be the last time I'll be invited here," Hank Willis Thomas quipped in his remarks at the embassy. Later, Tracey Rose noted, "Now you all know what it's like to live in an African country."
But as Jackson had said to me earlier at the Art Noir dinner, as she surveyed the energetic crowd: "South Africa is exciting. Why not check out of America and check into this?"