Meet Ashton Sanders, the Breakout Star of "Moonlight"
The 20-year-old actor on sharing scenes with Janelle Monáe and Naomie Harris, acting as a form of therapy, and finding the troubled character within himself.
---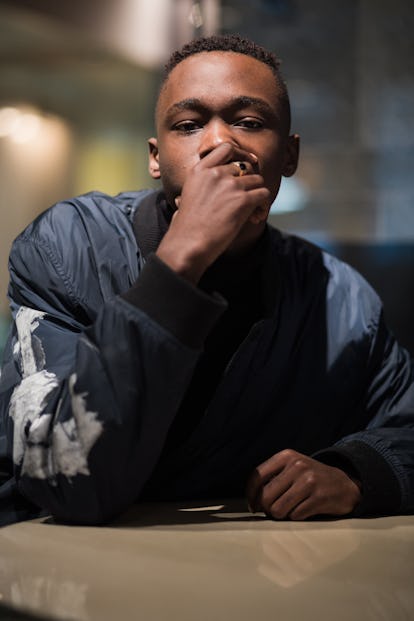 Jon Prosper
Fresh off a part in Straight Outta Compton, the actor Ashton Sanders was at DePaul University's prestigious theater program in Chicago when he received the script for Moonlight in August 2015. It was in a scene study class where Sanders cultivated a love for the playwright Tarell Alvin McCraney — an alum of the same program on whose play, In Moonlight Black Boys Look Blue, director Barry Jenkins based his critically acclaimed new film.
"I immediately knew that I was going to fall in love with this project just because Tarell Alvin McCraney's name's on the front page of the script," Sanders recalled. He auditioned several times for casting director Yesi Ramirez before meeting with Jenkins, who was already familiar with Sanders's previous work, both in Compton and earlier, in 2013's The Retrieval. In Moonlight, Sanders plays Chiron, a young black man coming to terms with his sexuality in Miami in the '80s. Moonlight tracks Chiron throughout three distinct phases of his life, divided into chapters: In the first, "Little," Alex Hibbert plays a quiet, elementary-school Chiron who finds sanctuary from a troubled home — his mother (played by Naomie Harris) is addicted to crack cocaine — in the care of the local drug dealer Juan (Mahershala Ali) and his girlfriend Teresa (Janelle Monáe). In the second chapter, "Chiron," 20-year-old Sanders plays Chiron at 16, when he begins to question, and then explore, his latent attraction to men. And in the third, "Black," Trevante Rhodes plays a beefed-up, nearly unrecognizable Chiron, a minor corner boss in Atlanta who reconnects with Kevin, a childhood classmate whose friendship — and subsequent betrayal — has had an indelible impact.
The first time Sanders actually met Rhodes and Hibbert was when their film premiered at the Toronto International Film Festival. Though the three men play the same character at different phases of his life in Moonlight, director Barry Jenkins sequestered each of the actors, who filmed their storylines in separate two-week runs. When they finally met, it was like a homecoming: "We all gave our souls to this project and loved this project so much that it was immediately like we were a family," Sanders recalled. On set, he particularly bonded with scene partners Monáe and Harris — "I was star-struck at first," he said of working with Monáe, whose Teresa radiated a maternal warmth. His admiration soon turned to friendship: "She's so rad," he said.
The film was shot in Miami's Liberty Square — a project known locally as the Pork 'n Beans, where both McCraney and Jenkins grew up. And while Moonlight is in many ways the writer and director's story, Sanders found common ground with his character: He too grew up an outsider, living with his grandfather while his father, a fashion designer, traveled for work, his drug-addict mother floating in and out of his life. Like Chiron, he wasn't athletic. Like Chiron, he was bullied.
"Chiron is an other," Sanders said. "I was that."
"I wasn't the epitome of masculinity," he continued. A prevailing theme in Moonlight is how the community it depicts defines masculinity, and how it can manifest outside social norms. As Sanders explained, the trajectory of the film is in many ways specific to the predominantly black, low-income neighborhoods like those in which he, Jenkins and McCraney grew up. Chiron is alienated from his classmates because he's skinny, doesn't chase girls, doesn't engage in the playful aggression of his peers, which seen through his eyes only looks menacing. "If he was anything other than what the social mask of black masculinity was — if he was anything other than that, then he was immediately labeled weird," Sanders said.
"There's so many strict ideas and rules," he added, "whether it's from religion or it's just generations and generations."
Sanders grew up a member of all-black Baptist church in L.A., where certain social norms — from the dress code to the proper comportment of men and women — were deeply ingrained, and he brought this personal context to bear on his performance. Some of his most powerful and most communicative moments are wordless; dialogue is sparse in Moonlight and with Chiron most of all. And in spite of its themes, the film isn't overwrought; its most defining moments are those quiet ones. As the New Yorker's Hilton Als wrote in his review of the film, "Sanders has a conjurer's gifts, and an intuitive understanding of how the camera works — how it can push into an actor's face and consciousness, and how the actor can push back against the intrusion by inhabiting the reality of the moment."
"I bury things in the back of my mind I don't really want to deal with," Sanders said. Playing Chiron, he explained, "forced me to go in that closet and take out and wear those feelings again." Toughest of all were the scenes with Harris, who plays Chiron's crack-addicted mother: "Working with her was some of the most emotionally challenging work, the most vulnerable acting I've ever had to do."
He added, with a laugh, "Seven years of therapy wouldn't have done the job that this movie did."