Meet Denée Benton, Broadway's Newest Leading Lady
The latest Natasha in War and Peace is, in her words, "a dark skinned-black woman with natural hair."
---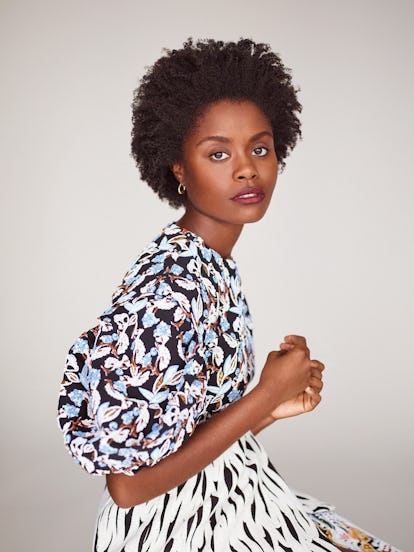 Photographs by Thomas Whiteside, Styled by Akari Endo-Gaut; Hair by Joey George for Oribe at The Wall Group; Makeup by Yumi Mori for Chanel at The Wall Group; digital technician: Caitlin Frackelton; photography assistants: Jose Alvarado JR., Marty Brown, Martina Travia; fashion assistant: Sara Van Pee; makeup assistant: Debie Kim.
A couple of years ago, when Denée Benton was in New York rehearsing for her role as Nabulungi in a national tour of The Book of Mormon, she tried to see the off-Broadway musical Natasha, Pierre & the Great Comet of 1812 but couldn't get tickets. That is clearly no longer a problem for the 24-year-old actress, who is making her Broadway debut playing the female lead in the current production of that very same show.
Based on Leo Tolstoy's sweeping novel War and Peace, the immersive electro-pop-operatic extravaganza follows Natasha as she navigates the highs and lows of young love, Russian society, and familial responsibility (Pierre, her potential savior, is played by Josh Groban).
Here, Benton, a graduate of Carnegie Mellon University and native of Central Florida, chats corsets, Tolstoy and the pressure and excitement of Broadway.
You played Natasha in the Boston production of the musical in 2015. How did that come about? I just auditioned and went through the callback process. When I first got the breakdown of, like, "Okay she's a Russian aristocrat, [I was like], 'Are they really looking for me?'"
You mean because you're not white? Yeah. Just because a lot of period dramas tend to stick with traditional casting. But then I heard the song and I listened to it and I was like, "Oh my gosh, I really connect with her and I really got her." And then I just sort of bucked up and was like, "Okay, well we're just gonna go do our best." And [the director] Rachel [Chavkin] and [writer of the book, music, lyrics, orchestrations] Dave [Malloy] are so aware and just progressive and down with everything that needs to be happening in the world right now. So once I walked in, I was like, "They're really just looking for the essence of this person."
Down with what's going on in the world meaning theater should be more multi-cultural? Oh, one hundred percent: theater, media, movies, television, they are hopefully getting on the right side of history creating some representation. Because people have stories to tell. And I think audiences, we've seen time and time again, respond to diverse stories and diverse representation. There's money to be made, capitalism, let's do it!
The play is based on a section of War and Peace. Had you read War and Peace prior to auditioning? I had not. They did a really good job of summarizing the portion, because it's really only 70 pages… seriously, I was like, SparkNotes? What is this? And then once we got to Boston we had a dramaturge who marked out our characters every time they showed up throughout the book, because she's incredible. So I've read all of Natasha's portions and I've read our sections and as of now, I've started it from the beginning and I'm like 300 pages in.
So you're reading the novel properly now? Yes. Which, like, 300 pages in with this book may as well be half a paragraph. So I have a long way to go. It's just so detailed. It's not that it's not interesting; it's so rich. Like, this coffee cup is gonna get half a paragraph. And then you'll never see the coffee cup ever again.
You have the music and book for the musical and the parts of the novel that apply to her. How did you go about immersing yourself in Natasha? What was your entry into the character? Our director is really amazing. Because the show itself is really offbeat. The way you imagine it is not the way a Leo Tolstoy novel would come to life. It's really rich and vibrant and loud and irreverent and awesome, but she was really good about once we got into a scene, and it's all sung, too, she was really good about the essence of each moment and what the characters are really going through. And so I think that helped me really relate. Natasha and I are very similar — a hopeless romantic dramatic teenager is exactly what I was.
So you're a hopeless romantic? One hundred percent. The way she responds to the moon and life and expects all these incredible, grand things out of the universe — I was like, "I totally get her." Once I heard her first song, a big aria called "No One Else," it's so beautiful… she's naïve, but she's confident and arrogant in how much she expects out of life. And I think that's really beautiful. I think that really connected me to her and took me on her journey of the decisions she has made that might seem dumb, and then how devastated she is when she realizes that she might have gotten away from getting to really capture what she really wants out of life.
Were you always going to act? And how did your family react to that? My family was so incredibly supportive, I was so lucky. And I think they saw things in me that I didn't necessarily have the courage to see in myself, which is always beautiful. But they definitely had high expectations and wanted the best out of me. And I think when you're in college and you find yourself with fears of disappointing or letting them down… I want to explore this but what if it ruins my whole life! That pressure and anxiety, I feel like I'm sort of coming out on the other side of it now, but there was definitely high school college age where at least for me, there's a lot of that conflict.
How did you get into acting? I grew up in chorus and school plays and stuff. And I loved to sing; I was in the church choir. And as I got older, my mom entered me in scholarship competitions for singing and acting. And the NAACP has an amazing thing called ACT-SO for high school students from the arts and sciences. It's almost like an Olympics of the mind where you can go and compete and win scholarship money. So I did things like that. But I was terrified for a long time. I loved it but I didn't necessarily see room for myself in the industry. I felt like my voice didn't fit the stereotypical sound that I would need to be successful.
What specifically about your voice did you feel was different? I grew up listening to and singing gospel music, which I love. And that's big church lady sound, that's what we get cast to do. And my voice just… I've learned to love my voice. But I think I've always felt like that's not how I sound, that's not what I can do so there's not going to be room for me. Because the sounds that I did have, I didn't necessarily see actors that looked like me in Into the Woods or in Wicked or in these shows. So I felt a lot of conflict there where I was trying to decide whether or not I was going to do it. I was like, "Well, I need to be able to get jobs. And if I don't have that type that's cast-able…"
Meaning racially speaking? Yeah, definitely. I think those fears held me back a little bit. But my parents were so supportive, so I feel like my high school theater teachers provided a lot of opportunities for me to explore myself and shows and the love of the craft. I think I got the confidence from there. I was at a really academic high school and I thought I was going to go to school for political science to become a lawyer and fix the world or something. And then the summer before my senior year we did a production of Aida. And I was terrified the entire time. And I just figured out how to rise to the occasion. I felt a confidence, a "I really love this." So then I scrapped my college list and was like, "I'm going to school for theater, guys!" And so my parents were great. I made a little Powerpoint presentation.
What was in the Powerpoint presentation? It was like the cost and benefits, what I thought, why I loved it, why I felt like I wanted to make this decision, why I wanted to change what we had planned… with my dad everything is more of an exercise than it is…
While you were at Carnegie Mellon, you were cast in a national tour of Book of Mormon. And now you're coming off the Boston production of The Great Comet. Did you have to audition again to play Natasha on Broadway? I didn't need to re-audition. I think they just decided to move me along with the cast, which I was really thankful for. Out of towns are kind of like pilot episodes. You never know if you're going to be recast or what the situation is going to be. So going into it, I don't think that that was really on my mind. Because they kept it really hush-hush. I knew that there were so many original cast members involved that I was like, "Okay, I might be here as a place holder. I might be here just to have this experience." Which I was thankful for because then I wasn't spending the whole time on pins and needles, every time I made a mistake like, "Oh my god, they're not going to take me to Broadway now!" And then a week before we closed for the first time I was like, "Oh I wonder if I'm actually being considered for this?" And then we got the call. Me and my mom cried. It was great.
Once you fell in love with musical theater, was Broadway always the goal for you? Oh yes. It's always been my dream to do Broadway, to do film, to do TV, to do it all. And especially to get to star in the original production of a show, that's the dream. I came to New York for the first time in seventh grade; we saw Wicked and I cried the entire time. I was like, "I have to do this! I love it so much!" So I think it's always had my heart. It's a show also that I really believe in and a show where as a dark skinned-black woman with natural hair I'm going to be playing a Russian aristocrat in a corset being chased by all these beautiful men. It was something that most little girls who want to be actresses dream of. So it's really humbling.
Have you met your co-star Josh Groban? Yeah, we've done a lot of press things together. He actually came to Boston when we announced that we we were moving. And he's so nice and down to earth. You talk to him for three seconds and you forget that he's a multi-platinum recording artist who probably has people chasing him down the street. And it's cool to see someone with so much success take this so seriously. Which is probably how he got so much success.
How is singing in the corset? The trick is you take the biggest breath possible when they're fitting you. I had to figure that out. The first tech week, my director kept giving me notes about holding notes longer and I was like, "Well I can't actually breathe." And they were like, "Loosen the corset, people!"
You mentioned earlier on that when you were performing Natasha you kept your natural hair. Was there ever any talk because it's a period piece that you would be in a wig? I think that we're still playing with the idea of a wig versus my hair simply because of doing something for eight shows a week your hair can get damaged. In Boston, it was my hair. But I think the main goal is to keep the texture and keep the idea that I don't need to pretend that I'm not a black woman in a blond wig. They were incredible — they had all these period pictures of 18th century black women in France which influenced a lot of Russian culture at the time due to the war that was going on. And my hairstyles, I felt so included and seen and I didn't feel like I needed to pretend to be something I'm not — because I literally cannot be. So I thought they did a really incredible job with that because that's not something you feel all the time in different shows and different people you work with who might not be aware or educated in different hair textures and skin tones and all of these things. Rachel, our director, she's a class act.