Meet Kelsey Lu, the Folk Artist Making the Cello Cool
The rising star, who's already opened for Blood Orange and Florence Welch, sits down with us ahead of her performance at this weekend's Afropunk Festival in Brooklyn.
---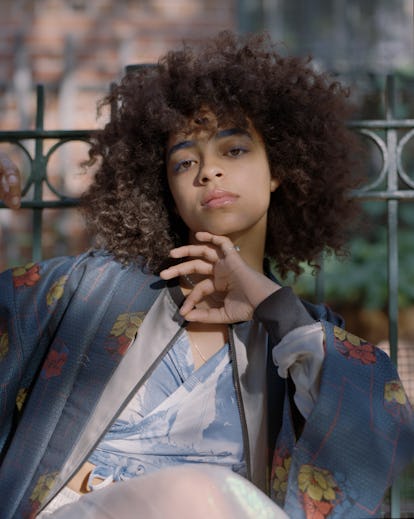 Photograph by Davey Adesida
You might not have heard of Kelsey Lu yet, but she already played her first stadium show this summer. "It was my first time experiencing in-ear [monitoring] and it totally changed my life," she says of the gig, opening up for Florence and the Machine. "It cuts all the noise out, so I got to just completely zone out. The only time I could really hear anyone was when they were screaming, so that was good."
Cheers seem to have steadily risen for the 27-year old North Carolina native since she arrived on the New York music scene and found herself performing with artists — and fans — like Kelela, Blood Orange, and Sampha, her profile growing by old-fashioned word of mouth due to her haunting live performances with an upright cello. Her debut EP, "Church," which came out earlier this summer, is a clarion introduction to a folk sound as unsettling as it is beautiful. "When I was doing music for designer Grace Wales Bonner, she talked about wanting a metallic sort of song," Lu explains. "I love manipulating the cello to sound like something outside what it is. Bending the notes and bending the pitches, it tickles your ear. It makes you slightly uneasy, and nothing's perfect. It's a representation of what life is… just full of mistakes, but those mistakes are beautiful too." In advance of her performance at this weekend's Afropunk Festival in Brooklyn, Kelsey sat down with W to discuss her debut EP and her expanding, instantly recognizable sound.
You've played in churches and small concert venues but never stadiums until now, with Florence. What was it like? The first night was a blur. It was like, I can't believe it all happened. It was a dream come true. I do a pretty good job of getting into my own world. From what I heard, from people who were there, I made [the experience] very much my own.
There is a real sense of space on your debut EP, "Church." How did this body of work take shape? We recorded at the Holy Family Roman Catholic Church — I always mix around the words! — in Greenpoint. I was already playing there for a couple months through an interactive theater performance that went on. I really loved the space and I felt that after spending so much time there I really connected with it. I always wanted to record in a church because, growing up, the only time I got to step foot inside of a church was at funerals. I always thought of a church as this heavy, emotional place because every time I would step in, I would hear these people mourning. I wanted that same intensity.
What was your relationship to music growing up in North Carolina? Music was pretty prevalent in my house. My mom played the piano and my dad played percussion. Music was always around. As soon as I was old enough, I started taking violin because my older sister was doing it. One day I saw a cello propped up against the wall and I couldn't stop staring at it. She was like, "Do you want to take a lesson?" And I fell in love. I wanted to play every instrument and jump around, but my parents were like, "We are not rich! You have to figure it out." [Laughs.] Now I play the guitar, but I taught myself how to play by ear.
Your embrace of the cello has generated a lot of excitement, but your voice also hooks listeners in. Have you always been a singer? Secretly, yes. I didn't "come out" until I was in my junior year of high school. I started writing my own songs during my first year of college, kind of turning poetry into songs. When making songs with my cello, I like to sit and put it on its side, or put it in my lap, and really experiment with things outside of the way you would normally be taught.
Your live show is so engaging because you really do seem to lose yourself in the music as you play it. Where does your mind wander when you're performing? When I'm performing songs I think about why I like them and then I tap into that. I think about what else the song could mean. Sometimes it can be really hard to get to, because it's too painful or I'm feeling sad that day. Sometimes I'm just like… I just gotta get through this song! [Laughs.]
Do any of the songs on Church stand out as being particularly personal to you? They're all meaningful. It kind of changes. Sometimes, I'm like, "Dreams" is my special baby. But then, "Liar," the last track, I wrote that two days before I recorded it. I was going through a lot with a few different things, and there are a lot of highs and lows to that song. At that time, I was in a little bit of a hard spot. I wrote that song immediately in response to something that happened. But I love it, because it can move so many things, too. [It's about] my own happiness and the status of the world and pretending I'm okay, too. When someone's like, "Hey, how's it going?" And you're like, "I'm good! Things are great!" But it's okay not to be! It's important not to lose that side of yourself, and to stop. It's easy to feel like you're going to go out there and get lost. It's important not to get lost. I think "Liar" is my favorite. But that could change tomorrow.