Meet Kodie Shane, the Spitfire Female Rapper In Lil Yachty's Sailing Team
The 18-year-old rapper loves The Notebook and watched the Victoria's Secret Fashion Show in full, but refuses to wear dresses, skirts, and definitely not thongs. "Music is all I know," she said. "I can't get a job."
Photography by Sebastian Sabal-Bruce
---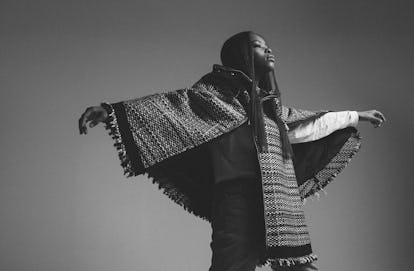 Styled by Caroline Grosso. Hair by Bert Ketizerow for Kadus Professional at Artlist New York, Makeup by Morgane Martini for Chanel at The Wall Group. Produced by Biel Parklee. Photography Assistant: John Daniel Powers.
Kodie Shane eats spaghetti the way most children (and some adults) wish they could. After sending her first bowl of seafood Taglierini back because it had cherry tomatoes in it, the 18-year-old female rapper picked up each saucy strand one-by-one with her fingers, tilted her head back like she was catching snowflakes, and then slurped them into her mouth. This technique took her about 45 minutes to finish, but in-between bites, we got to talking about her favorite subject: being young and doing whatever you want.
"I feel like most kids right now just want friendship," said Shane on a this particular snowy afternoon at an Italian restaurant in Tribeca. She wore two sweatshirts on top of each other (it was really cold) and took her gold mouthpiece out to chew her food. "But like, a cool one," she continued. "Like the A$AP Mob. Kids want a crew because they are scared to truly be themselves, but then again, this is the generation that's doing anything they want. Generation F!"
Shane herself is a member of Lil Yachty's "Sailing Team," a crew of young Atlanta-born rappers, producers, and creatives including TheGoodPerry (formerly Burberry Perry), Byou, Kay the Yacht, BigBruthaChubba, $oop, Jban$2Turnt, and K$upreme. Shane happens to be the only female.
With Yachty as their captain—the "king of the youth"—they've cruised into the mainstream this year, much to the surprise and chagrin of hip-hop connoisseurs. But their buoyant energy, combined with a certain innocence that could only be of this moment in time, has made their music impossible to ignore.
Take "Sad," for example, a single that Kodie Shane wrote when she was 14 and dropped with Lil Yachty at the end of 2016. In so many words, it incapsulates the kind of inexplicable melancholy you feel only when you're a teenager; when you have nothing really to be sad about, but you just are. "I just wanna be saaaaaaaad!" Yachty wallows in a poignant yet lighthearted auto-tune. If millennial ennui had a sound, it would be that. And for anyone under the age of 25 listening, the response was simply: "#Mood."
In the music video for "Sad," Yachty simultaneously plays "Dr. Boat," Shane's therapist, and an 19-year-old boy just trying (and failing) to get Shane's attention. Outside of the studio though, Yachty and Shane are close friends. One might even call her his lil sister. They've toured America together. ("He only eats Domino's pizza," said Shane. "I've had Domino's in every city.") And he surprised her with her first gold grill for her 18th birthday this October.
In the beginning, Shane had to deal with kids trying to chase her down to get to Yachty, but now she's got a following of her own. On Instagram, she's up to over 260,000, and her "Drip In My Walk" music video garnered over 2 million views on YouTube. In August, when she made her New York debut with Venus X at GHE20G0TH1K, her fans were outside waiting two hours prior. "Three kids showed up outside of the venue with all my favorite snacks and I started crying my eyes out," Shane said. "I'm talking favorite Snapple (fruit punch), favorite chips (barbecue Pringles), favorite candy (pretzel M&M's), all in a bag." So, now you know the keys to a girl's heart.
Born in Atlanta, Georgia and raised in Chicago, Illinois, Shane comes from a family of musicians; her mother is currently her manager. "Music is all I know," she told me. "I can't get a job." She was also named after a cowboy, which feels appropriate given her spaghetti slinging and tomboyish style. But despite appearances, you might be surprised to learn that her favorite movies of all time are The Notebook ("It's the s–t!") and Dirty Dancing; she thinks Coldplay is "fire" and a recent Chainsmokers concert changed her life. ("They wasn't even doing nothing but people were going crazy!") Her favorite books are the Twilight series, and she watched the most recent Victoria's Secret fashion show from start to finish.
"I like that stuff because it's just so not real," said Shane of her proclivity for romance. "And that's why it's kinda real. You know?"
Along with singles like "I Want To" and "Can You Handle It" from her first EP, Zero Gravity, Shane's new mixtape, Big Trouble In Little Jupiter, which dropped Tuesday afternoon on SoundCloud also features softer, lighter, more R&B singles that explore her feminine side. Plus, upbeat songs about not caring what people think, of course. Like with Yachty, the joy of Shane's music ultimately translates through her own apparent satisfaction with herself, whether she's happy or sad.
"For me, experience is everything when it comes to writing," she said. "So now, I feel like I've been through enough that I can actually go deeper. I've grown as a person and become more comfortable with myself and who I am and what I want to be."
As for the distant future, Shane is not one to plan ahead. But she does love dressing up and being in front of a camera, (no skirts or dresses though), and says that in her twenties she might ditch rapping for modeling. Her unfaltering grin makes it hard to tell if she's serious, but the photos don't lie. Victoria's Secret, however, is not in the cards for Shane: "I do not wear thongs, man."
Before we parted ways and after the last piece of spaghetti was slurped, some good news arrived for Shane that was sweeter than dessert: her "Sad" music video had just crossed a million views on Vevo. For the first time all afternoon, she was finally at a loss for words, and instead buried her head in her elbow in a swan-like dab.
Get Kodie Shane's Tomboy Look with a '90s-Inspired Jacket
Photo by Sebastian Sabal-Bruce, styled by Caroline Grosso. Hair by Bert Ketizerow for Kadus Professional at Artlist New York, Makeup by Morgane Martini for Chanel at The Wall Group. Produced by Biel Parklee. Photography Assistant: John Daniel Powers.
Watch Lil Yachty take Manhattan with the Sailing Team, below.