Meet Muna, Retro Pop Stars Making a Statement in the Internet Age
The youthful Los Angeles-based female trio is arriving on the big stage with a clear message.
---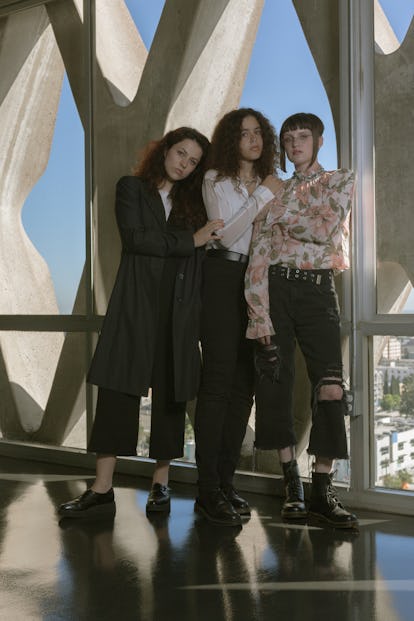 Photo by Ron Ben. Produced by Biel Parklee.
Ever since I saw Los Angeles band Muna play their first East Coast headlining show at Mercury Lounge in New York in July, lead singer Katie Gavin's voice has been knocking around my head. It's a haunting, husky alto that recalls the Indigo Girls's Amy Ray or Imogen Heap, but rawer, lending urgency to the band's every track.
The set took place almost exactly a month after the June 12 shooting at the Orlando nightclub Pulse, killing 49 and injuring 53 more. Muna's song "I Know a Place," from their debut full-length record out early next year, had by then already become a staple of their live show. On this night, just before Gavin, 23, guitarist Josette Maskin, 22, and Naomi McPherson, 22, on synthesizer, launched into the first bars, Gavin paused to explain that the song — which imagines a place free of discrimination — had particular resonance in the wake of the shooting.
I looked around at the audience packed into the club. The song is emblematic of what Muna represents to so many of their fans: a safe harbor in an often hostile world. Their fan base is modest but intensely devoted — and when they set out on the road later this month with Toronto-based band Dilly Dally, both supporting Grouplove on an American and Canadian tour beginning in Las Vegas October 5 and continuing into November, they'll reach a wider audience than ever before.
"I'm so proud that we've been able to cultivate a fan base that is, like, so goddamn cute," Gavin told me on the phone from Arizona. She was out of town visiting her grandparents, while Maskin and McPherson were on the line from their homes in L.A.
"This project for us has always been about accurate self-expression and being able to be free and powerful women on stage," Gavin continued, adding that the safe space they cultivate at their shows is an extension of that philosophy.
At Lollapalooza, about two weeks after the band played in Manhattan, Muna stepped out on the stage in coordinating DIY black tops with "Fuck Trump" printed across the front in red paint. The three women had been running low on clean laundry towards the end of a long run on the road, so they spent a Saturday morning running errands to both American Apparel and Blick, the art supply store. The result was a kind of opening statement at their first-ever festival performance.
"I'm not going to get on stage and waste that opportunity to make a statement," Maskin said. "I know that people aren't excited about Hillary, but we really can't have someone who is so racist, someone who is so misogynist, someone who is so xenophobic, who doesn't care about human life. We really can't have that."
"It's important to just clarify that," she added. "Even though it might seem obvious."
I asked the trio if they felt an impetus to be politically outspoken. "What's the point if not?" McPherson said — she had designed the shirts, pulling double-duty as the band's in-house graphic designer.
Muna's moments of political outspokenness on a macro scale also align with the band's songs on a micro scale. Gavin is the band's primary lyricist; she writes in an almost claustrophobic second person, directing her triumphs and laments at an unnamed, genderless "you." In the opening lines of their latest single, "Loudspeaker," Gavin sings, "What you want from me / is all of my time wasted on you," while in "Winterbreak," another single off the band's Loudspeaker EP, she sings, "I think we both know this is the love we won't get right / still, if you said that you wanted, I know I'd always have one more try." It is, in its own way, a political statement: Gavin explained that she intentionally writes with such inclusive pronouns.
These blunt, quasi-diaristic lyrics nestle in a bed of synth-pop production — the bubbly tracks belying the somber substance of Gavin's words has earned the band its reputation for "dark pop." In "Loudspeaker," which is perhaps the most anthemic of the four songs the band has released since signing with a major label, she sings on the bridge, with a shimmering guitar in the background, "I don't know where the shame dies / but it's helping me to scream this is not my fault." In a recent interview with the BBC, she said the song was written following a non-consensual sexual encounter at a party. "Loudspeaker," she explained, attempts to work out and exorcise the shame she had internalized after the assault.
While the words are usually Gavin's, all three women sing. Heard live, their voices weave together in intricate harmonies, adding depth to the recorded material. Their influences are broad, though they tend towards female vocalists and lo-fi pop and folk: Kathleen Hanna's bedroom pop project Julie Ruin, Peaches, Feist, Joanna Newsom. (Basically, Gavin said, "women and queer people that were making shittily produced pop music. I don't think they'll take offense if I call it that.") That said, another lynchpin of Muna's live set is a vibrant cover of Stevie Nicks's "Edge of Seventeen." At their best, Muna is a combination of these influences and a strong pop sensibility detached from time and place, like a Fleetwood Mac sent from the future.
The three women have been playing together since they were undergraduates at the University of Southern California, where they all ended up living in the same apartment building. One night, plans to go drinking turned into a jam session.
"I don't know why, but I feel like as soon as we started the project, it was like, 'Okay, this is it,'" Maskin said. She was studying music at USC at the time, while McPherson, an African-American Studies and Interdisciplinary English double-major, and Gavin, studying music but also dabbling in American Studies, had both circled around music their whole lives before settling on it as a profession.
"I still don't know if I'm doing music," Gavin said later on. "I've always kind of wanted to run away from it and then come back to it, so that I don't do anything else."
But when they started putting music online and playing local gigs in college, things began to fall into place. "We weren't used to having such a natural groundswell [of support]," Gavin said. "It still takes us by surprise." Now they're about to embark on a major tour, with a full-length record slated for release in early 2017 from RCA. Amid it all, they continue to produce all of their own material — still not common practice among female musicians.
"For our opening statements to the world," Gavin said, "I thought it was very important that we have this self-contained effort so that we can tell other women that you can."
See W's most popular videos: